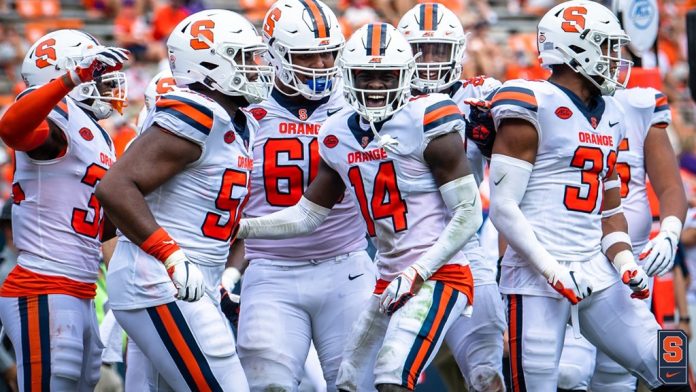 We made it folks. July is the final month of this year that doesn't have a college football game. The offseason is zooming by and soon preseason camp will be upon us. Since we're still about a month and a half away from kickoff, I wanted to drop my first record prediction for Syracuse Football. 
Like any English paper you did in high school, there's a process. Start with the brainstorming, then the outline, then the rough draft, and finally the final draft. That's the approach I'm taking here. College football is a very dynamic sport and changes every single day. 
Some teams are just one injury away from disaster, others are just on transfer portal recruit addition away from contention. It's difficult to put your predictions in pen and lock them up in the vault here in July because something new breaks everyday. So let's have a gander at how I see the season playing out for the Orange. Again this is just a rough draft.
Season Predictions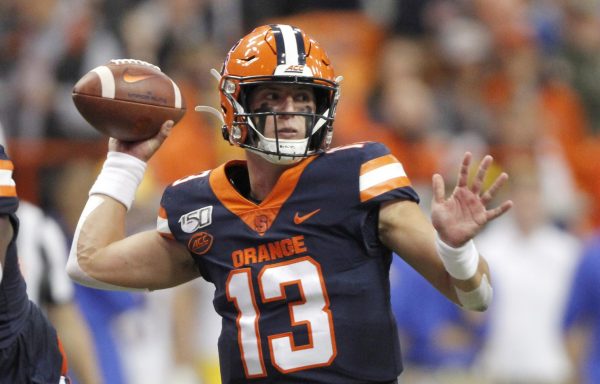 Sept. 4 @ Ohio W, two possession win 
Sept. 11 vs Rutgers L, two possession loss 
Sept. 18 vs UAlbany W, three possession win 
Sept. 24 vs Liberty (Friday) L, two possession loss 
So a 2-2 start for Syracuse early in the year. In order to make a bowl game, several pundits believe the Orange need to be at least 3-1 heading into October. I just don't see that happening though. SU should beat Ohio (that one's arguably a toss up) and UAlbany. 
I've seen a lot of people just penciling in a win for Rutgers. Well those people must think Chris Ash is still coaching there because the Scarlet Knights gained a lot of respect in the Big Ten last year. Greg Schiano and Company will beat SU, they simply have a better program right now and are starting to add talent to the roster.  
Finally there's Liberty, the Flames should be one of the best group of five teams again under Hugh Freeze. That one should be a high scoring game with Liberty winning a shootout.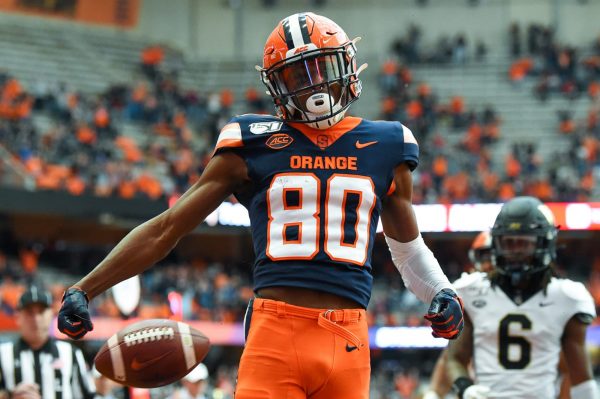 Oct. 2 @ Florida State L, three possession loss 
Oct. 9 vs Wake Forest L, two possession loss 
Oct. 15 vs Clemson (Friday) L, three possession loss 
Oct. 23 @ Virginia Tech L, two possession loss 
Oct. 30 vs Boston College W, two possession loss  
The tenth month of the year won't be kind to 'Cuse. It starts down in Tallahassee with a loss in Doak Walker Stadium. FSU's defense will have too much speed and athleticism for the SU offense. If Mackenzie Milton is a fraction of what he was at UCF then the Noles will have their best quarterback since Jameis Winston. 
Wake Forest comes to the Dome for the third consecutive season and beats the Orange for the second year in a row. Dave Clawson's team is very well coached and the offense should be clicking with Sam Hartman back under center, Christian Beal-Smith running the rock, and Jaquarii Roberson reeling in catches on the outside.  
This Clemson team won't be as good as they have been the past three years, but still talented. By mid-October they should be rolling, but this will be a competitive bout as it has tended to be with Dino Babers at the helm in CNY. 
SU then goes on the road to Blacksburg for what should be a great game. Ultimately, the Hokies pull away for a two possession win. Finally, the Orange return home to take on the Eagles at home for the third straight time. 'Cuse competed very well against Jeff Hafley and Company last year in a 20-13 loss. That was also with rising sophomore JaCobian Morgan at quarterback. This could be a hot take as BC is an ascending program, but give me Syracuse with the upset.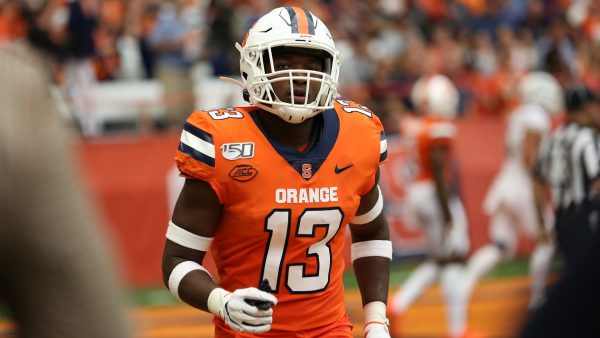 Nov. 13 @ Louisville (off bye) W, one possession win 
Nov. 20 @ NC State L, two possession loss 
Nov. 27 vs Pitt W, two possession win 
This is a terrible spot for a bye week. You'd love to see the week off come in the middle of the schedule before Clemson. Anyways, SU is sitting at 3-6 heading into that game against Louisville. There's still a chance at a bowl game.  
I have the Orange starting off on the right foot with a win against the Cardinals by one possession. It should be a very close contest in Kentucky. Last year Louisville blanked Syracuse 30-0. However, that was with Morgan starting for just the second time in his career. UL lost a lot of production on offense as well so I think 'Cuse gets the win here. 
For the final road game of the season, Syracuse travels down to Raleigh for a date with NC State. Despite some questions at quarterback and some defensive spots, I have the Wolfpack winning. There's just too much firepower at the skill positions and in the backfield for the Pack. This game should be fairly high scoring, SU just can't keep up. 
So the loss to NC State puts Syracuse out of bowl contention with seven losses. However, I'd argue it's already a step in the right direction for Babers. The step gets bigger with a season finale win over Pittsburgh. It'll be senior night at SU and so many 5th and 6th year players will be competing in their final college contest. Give me the Orange winning by 10 points. 
Recap 
So the final verdict is a 5-7 season for Syracuse, 3-5 in ACC play. That's a solid campaign for Babers and the Orange. I'd say this result is enough for him to keep his job. It's not like he padded the win column with non-conference cupcakes. He won two games there and three inside the conference. 
Again, this was just a rough draft. Some wins may become losses and some losses may become wins. After running through one time and lodging my crystal balls, I can say for all you SU optimists, there's certainly a path for six wins and a bowl game for 'Cuse in 2021.  
Drop your thoughts in the comments and send me your predicions on Twitter @john_eads3.