The college football season is creeping closer and of course, you know what that means — it's time to hand out some preseason accolades. In this feature, I will outline my top three All-ACC teams.
There is one minor difference between this and typical all-conference awards, though. I will be formatting this in 11 personnel (1 RB, 3 WR, 1 TE) because of how loaded the ACC is with weapons in the passing game. These teams should model the basic element of an actual football formation.
Before we get started though, let me explain to you the main criteria in which these teams were selected.
Eye Test: This is the most controversial proponent but also the aspect that makes someone's opinions unique. I utilized this approach with caution.
Advanced Statistical Analysis: Pro Football Focus provides a ton of metrics for their subscribers. I looked deep into the components of the grading system in order to make some difficult decisions.
Talent: Some players are destined to break out over time as they refine their skills. This is often the case, even with poor past performance.
Usage: Postseason awards are more reflective of a full body of work rather than efficiency. Therefore, players who are projected to receive a higher volume of touches will get an advantage.
Now that we got that out of the way, it is time to reveal the teams.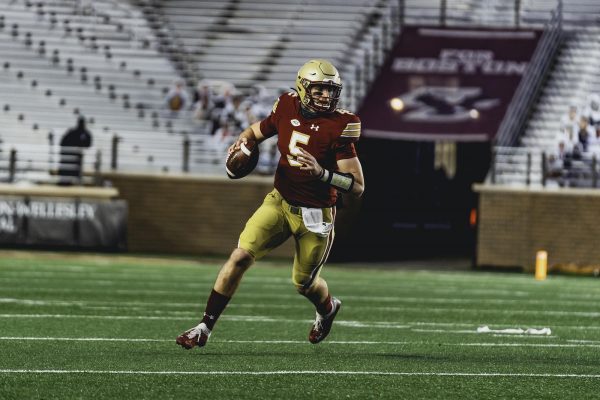 Quarterbacks
First Team: Sam Howell, North Carolina
Second Team: D.J. Uiagalelei, Clemson
Third Team: Phil Jurkovec, Boston College
If I were to rank the ACC quarterbacks, D'Eriq King would probably be in the top three. But he did not make the cut here for a couple of reasons.
First, he is coming off of his second major leg injury in his career. We would have to not only assume that he plays in Week 1 but that he hits the ground in full gear once again.
I also considered this from a volume standpoint. Clemson will obviously have a top tier offense and Boston College threw the ball 53.7% of the time last year compared to Miami's 49.3%.
The quarterback race is close enough so that those factors put me over the edge.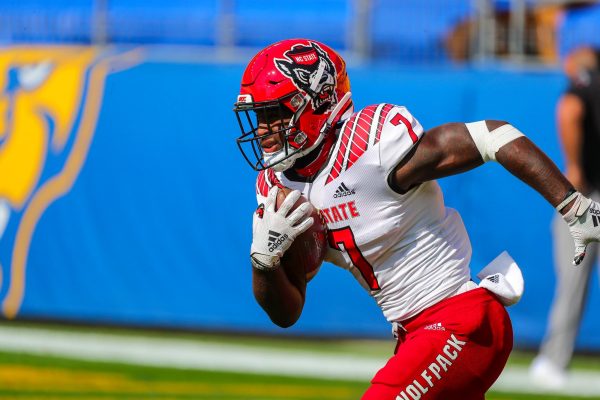 Running Backs
First Team: Jahmyr Gibbs, Georgia Tech
Second Team: Zonovan Knight, NC State
Third Team: Christian Beal-Smith, Wake Forest
Gibbs and Knight seem like common choices. Gibbs has an elite overall skill set, which includes playing a vital role in the receiving game.
Beal-Smith is probably my more "off-the-board" selection. UNC RB Ty Chandler was my first instinct, but his elusiveness rating and yards after contact numbers were rather underwhelming.
The Demon Deacons tailback, on the other hand, will get plenty of carries with the departure of Kenneth Walker, and has as good numbers as the other candidates. My only knock on him is his lack of production in the receiving and blocking game, but he will still be impactful on early downs.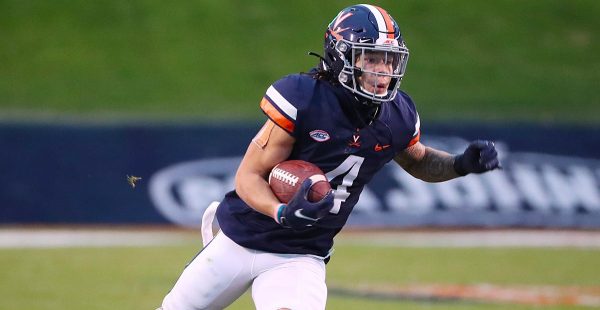 Wide Receivers
First Team
Justyn Ross, Clemson
Jaquarii Roberson, Wake Forest
Zay Flowers, Boston College
Second Team
Jordan Addison, Pitt
Billy Kemp, Virginia
Tre Turner, Virginia Tech
Third Team
Charleston Rambo, Miami
Mike Harley, Miami
Emeka Emezie, NC State
You can almost switch the entire third team and second team and it would make sense from a skill set perspective. However, I focused on the players who will be most emphasized in their offense. Miami and NC State both have fairly deep receiving rooms while Addison, Kemp, and Turner will be relied upon heavily to carry the load.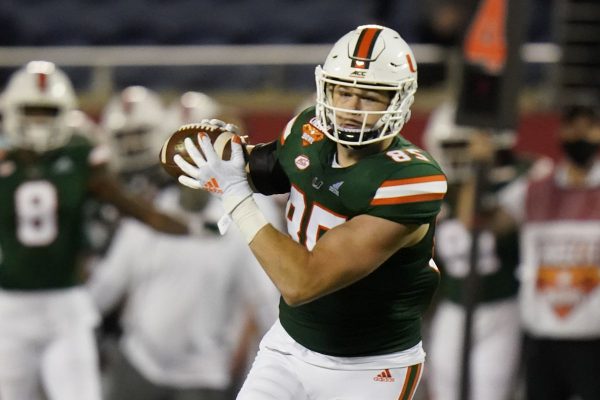 Tight Ends
First Team: James Mitchell, Virginia Tech
Second Team: Will Mallory, Miami
Third Team: Marshon Ford, Louisville
After the departure of a wave of NFL-caliber tight ends, Mitchell takes over as the most prominent prospect.
Mallory was great in Brevin Jordan's absence last year, making efficient use of his targets.
Ford is a fascinating case because he leads all returning tight ends in yards per route run, yet is often used as a pass blocker. He got the nod over Clemson's Braden Galloway, who is seemingly engaged in a position battle with Davis Allen.
Offensive Line
| | | | | | |
| --- | --- | --- | --- | --- | --- |
| | OT | IOL | IOL | IOL | OT |
| First Team | Luke Tenuta, Virginia Tech | Grant Gibson, NC State | Alec Lindstrom, Boston College | Joshua Ezeudu, North Carolina | Jordan McFadden, Clemson |
| Second Team | Ikem Ekwonu, NC State | Cole Bentley, Louisville | Olusegun Oluwatimi, Virginia | Navaugn Donaldson, Miami | Zion Nelson, Miami |
| Third Team | Zion Johnson, Boston College | Caleb Chandler, Louisville | Deontay Taylor, Florida State | Brock Hoffman, Virginia Tech | Zach Tom, Wake Forest |
I used mostly metrics for the linemen. For pass blocking, I looked at the rate of pressures allowed in previous seasons. For run blocking, I looked line yards per rush in the both the "zone" and "gap" scheme.
They were only sorted into two categories, Tackles and Interior Linemen, because I could not possibly leave Gibson off of the first team. If I were to sub-divide the linemen into guards and centers, only Lindstrom would make the cut.