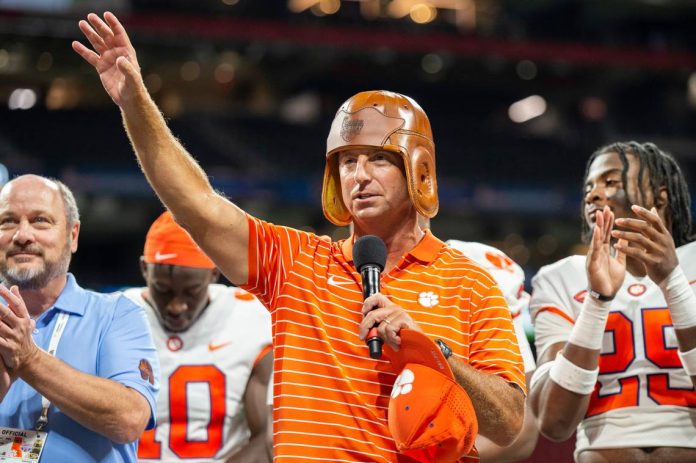 If you were wondering how Clemson head coach Dabo Swinney would take the crushing loss to unranked Duke in Week 1 and you bet on him diving head first into an endless pool of delusion, head to the window to cash your ticket. The Tigers, who were ready to reveal their newly revamped offense behind newly minted OC Garrett Riley, were crushed 28-7, barely moving the ball at all. But don't tell that to Dabo!
Dabo Swinney said he loved what he saw from the offense outside of a few mistakes: "If we do what we did offensively for the rest of the year, we won't lose another game. It's just that simple."

— Matt Connolly (@MattConnollyOn3) September 6, 2023
It's a one game sample, so it would be impossible to draw any season-long conclusions. But that didn't stop Dabo. So why should it stop us!
The Tiger offense mustered only 422 total yards. If they averaged that for the entire year, as Dabo alluded to, Clemson would've ranked 40th in the country. Just behind Memphis. If we look at yards/play (5.08 on the night), they would've been tied for 107th place with that offensive juggernaut Bowling Green. Seven points would obviously be last in the country in points/game. But that is apparently enough firepower to go undefeated the rest of the season.
Speaking of, let's give a looksee at ol' Clemson's schedule. Charleston Southern and FAU should be easy wins. But what's this? Florida St comes to town on 9/23? The same Seminoles that smashed Top 10 LSU to start the year? The same Seminoles that suddenly look like a national contender? What about later in the year at NC State, a place they've had trouble in the past? Or a tough Notre Dame team at the beginning of November? Even UNC no longer looks like a gimme.
Will 7 pts/game and a Bowling Green level offense be able to win all of those games? Under the umbrella of Dabo's delusion, the answer is a resounding YES!!!