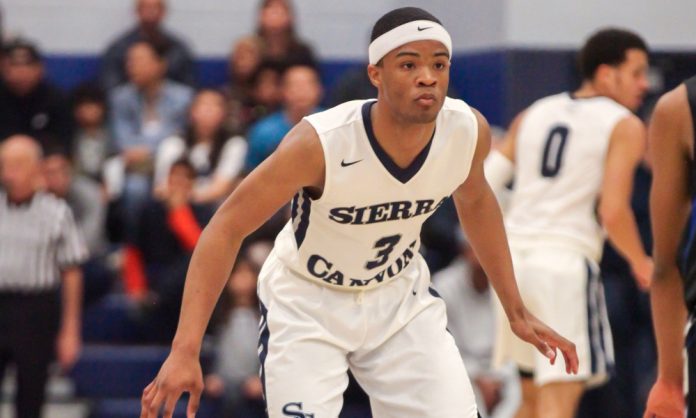 Cassius Stanley is one of the best guards in the nation for the 2019 class, and he released his Top 6 schools. Stanley is listed as the #15 player in the nation, #2 at his position, and #1 in the state of California. However, with a name like "Cassius Stanley" we would expect nothing less. It is probably the most ballin' name in the 2019 class (according to our rankings). The schools that were lucky enough to make the cut were: Oregon, USC, Arizona, Texas, Kansas, and UCLA.
Top 6️⃣ pic.twitter.com/GzUFIVayHN

— Cassius Stanley (@cassius_stanley) May 14, 2018
As a result of his performance on the court, Stanley had offers from all over the nation. So these teams are quite lucky to have made the cut. It is hard to find a more gifted athlete in the 2019 class than Stanley. Although he is a SG, he might be the best dunker in the entire class. According to our friends over at NBA draft room, "Stanley can fly out of the gym and has a ton of power. He could go down as one of the best dunkers of all time. His burst and insane bounce are unmatched (this size of Zion)." While we believe "best dunker of all time" might be a little over-the-top, you get the picture. The kid can jump out of the gym.
Mike's Take
Cassius Stanley might be the most fun player to watch in the 2019 class. He can drive to the hoop, has the handles of Kyrie, and can jam on almost anybody. While he might need to work on his 3-point shooting a bit, he will most certainly improve and become more than adequate. We expect for him to get a lot of open shots at the next level. Mainly because defenders will be afraid of him blazing right by them.
As for where Cassius might end up, it seems that he is open to all 6 schools. However, we fully expect for Cassius to stay at home in Los Angeles. USC has been on an absolute tear in recruiting recently, and we believe Cassius might fall that way. In fact, the Trojans received a commitment from 5-star center Onyeka Okongwu already. Okongwu will certainly be in the ear of Stanley and that might be hard for him to turn down. Ballers want to play with ballers. Stay tuned to find out where Stanley ends up!