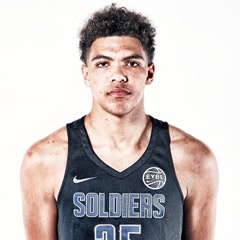 Just a week after announcing his top 6 schools, it seems that PF Taeshon Cherry has already made up his mind. The SoCal Slim Reaper's top 6 consists of Oregon, USC, Texas A&M, Gonzaga, Arizona, and SDSU. The majority of these schools were once considered leaders in this race and it could be any one of them that lands this gem. It is a surprise to see FSU and UCLA left off this list. Surely, both are disappointed.
I will be announcing my commitment tomorrow at 6 Pacific Time !! 🏀🙌🏽

— Tae Cherry (@tcherry002) June 29, 2017
Although Arizona really stepped up the heat in this recruitment, we see this coming down to Oregon and USC. Cherry is long-time friends with current Oregon commit Miles Norris, and the two might want to join forces in college. They would certainly create problems down low for the Pac 12 for years to come. That being said word out of San Diego is that USC has recently made a lot of headway with the sharp shooting forward, and we predict that he will wind up with the Trojans.
Just this week Seattle native, J'Raan Brooks, committed to the Trojans, and we expect for head coach Andy Enfield to keep the train rolling. The two big men would compliment each others games perfectly, and it would be a start to an amazing class for USC.