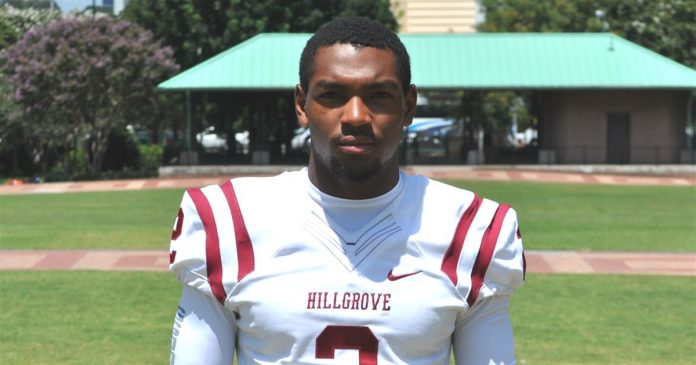 One of the nation's best prospects, Jaylen McCollough, has announced the final 4 schools in his recruitment, and it is clear that the Peach State native wants to play in the SEC. All four schools that made the cut are in the Southeastern Conference. With McCollough's talent, this comes as no surprise, as it was only a matter of time until the big name schools came calling. Jaylen is listed as a Top 100 player in the nation and the #4 at the safety position. Although McCollough had offers from all over the country, the schools that made the cut are: Tennessee, South Carolina, Alabama, and Auburn.
Final 4 Schools ‼️ pic.twitter.com/8iCJ9s1nbQ

— Jaylen McCollough (@Jay_Mccollough2) May 16, 2018
The hard-hitting safety dons the apropos nickname "Tank." In fact, the nickname has been around ever since he was an infant. Our friends over at SEC Country reported Jaylen as saying:
"I was just bigger than everything and I would knock everything down, like a tank. I broke a lot of things in the house. I know I broke some picture frames and vases, so the nickname stuck with me."
That nickname has carried on throughout his life, and it certainly has translated over to the football field. Not only does he have the ability to make big hits and help out in the run, he has great ball skills as well. Michigan State and South Carolina both expressed interest in Jaylen not at the safety position, but at the running back position. This is all just a testament to how great of an athlete McCollough actually is.
Mike's Take
There are some recruiting juggernauts in Jaylen's Final 4 and that comes as no surprise. The kid is a straight up baller and flies all over the field. Just watching tape from a single game of his you can tell that he always finds himself around the ball when on defense. In fact, his style of play reminds us a lot of past Alabama defenders Ronnie Harrison among a laundry list of others. This is why I believe he ends up as a member of the Crimson Tide. To me, it just makes too much sense as this kid will be able to come in and compete for a spot on one of the nation's best defenses. However, it is still early and each of these schools seem to have a solid chance to land Jaylen. Keep checking in to see where McCollough ends up!