We are two games deep into Syracuse Football's 2021 schedule. The Orange split its first two battles with a 29-9 win over Ohio and 17-7 loss to Rutgers on Saturday. There were signs of improvement in both contests, but also obvious flaws. Let's evaluate the good and the bad of the first 120 minutes of action and determine how far the Orange could go the rest of the way.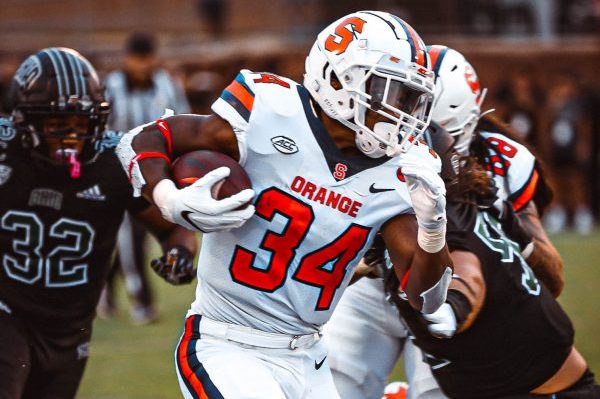 Things have played out exactly as I thought so far. Syracuse went on the road and controlled a lesser foe in Ohio. The Orange simply had to win and move on to the next game because that appetizer really wouldn't tell you anything as far as how good this team really is. Saturday's bout with Rutgers gave me a clearer indication of what we can expect from the Orange going forward. Let's get into that by starting with the stale vegetables followed by the savory desserts.  
The Bad
Missed opportunities is really what it boiled down to for SU. An early Taj Harris fumble in the red zone halted a promising drive that would've both given the Orange the lead and garnered confidence for the offense. Instead, Harris and Company trotted to the sideline and left at least three points on a silver platter for the Rutgers defense. 
Speaking of leaving points on the field, 2018 Lou Groza Award Winner Andre Szmyt missed a 43-yard field goal from the right hash. As one of the best kickers in all of college football, that's considered a chip shot and should be one that is routine by now. Even if that was the former walk-on's one and only attempt of the contest it's one that simply needs to be connected on. There's another three points right there left on Ernie Davis Legends Field.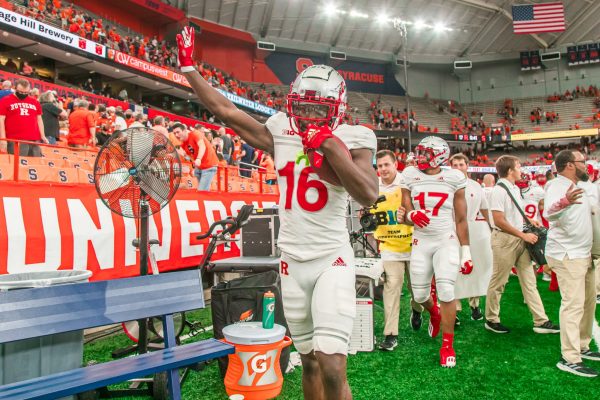 Sticking with kicking miscues, Rutgers returned the favor and missed a field goal of its own. So Syracuse gets those lost three points back right there, only to hand it right back to Greg Schiano and Company. Tommy DeVito fumbled on the play immediately after the missed attempt and the Scarlet Knights recovered. The SU defense miraculously held Rutgers to another field goal in the red zone. Three points gifted to the Scarlet Knights. 
The final nail in the coffin was when Dino Babers and Company decided to replace its productive punter James Williams with someone named Colby Parker, a guy who has never attempted a punt at Syracuse. Parker proceeded to shank it out of bounds and send it a whopping 8 yards (maybe).  
A lot of these things can be cleaned up, and really they need to if the Orange want to compete for a bowl game bid. It's frustrating because this team is littered with veterans and that extends to the coaching staff. This is year six for crying out loud. 
The Good 
It's not all bad. The Syracuse defense is phenomenal and getting off to a great start just like last year. The question is can the success be sustained, but let's enjoy it and talk about it while we can. SU held Rutgers to no points in the first half and didn't allow a touchdown against Ohio. Defensive coordinator Tony White's bunch has all the pieces to be dominant and give the team a chance to win every game it plays. 
The sickening part is that the defense DID play well enough for Syracuse to knock off Rutgers. SU held RU to just 3-15 on third down conversions. That's an area the Orange mightily struggled in last season. 'Cuse checked in at 111th in the nation and 14th in the ACC allowing opponents to convert 47.40% of their opportunities. A major reason why Su was successful was linebacker Mikel Jones. The IMG Academy product registered eleven tackles with two and a half tackles for loss. His performance earned him ACC linebacker of the week honors. If Jones and the Syracuse defensive dominance becomes a week to week thing and not an anomaly, we're talking about a six win team.  
Additionally, Sean Tucker and Taj Harris are showing the growth everyone expected in the offseason. Tucker set a new career high with 181 rush yards in the opener against Ohio and averaged over seven yards per carry. Harris has moved up into the top four for several of the records he had a chance to set entering the season. Against Rutgers, he led all receivers with eight catches for 122 yards.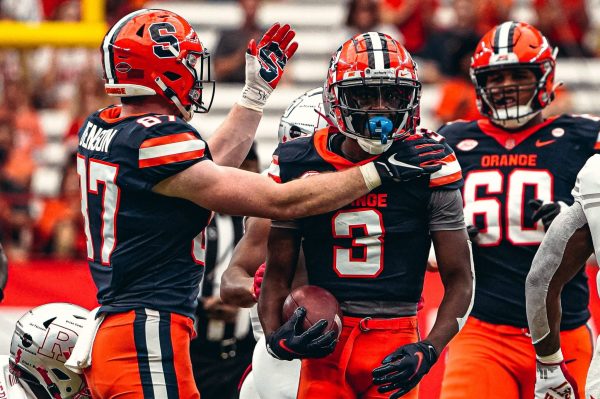 Final Verdict
In summation, the pieces are there for Syracuse to reach its ceiling, which should be set at six wins. The Orange will beat UAlbany this weekend by whatever score you name. The week after, Liberty will be an uphill battle. However, the 2-0 Flames haven't looked extremely dominant thus far. Also, if the 12th man is anything for that game like it was for the Rutgers contest, that'll be a huge lift for SU.  
Moving into ACC play, FSU is 0-2 and just lost to an FCS team. So…yeah. Wake Forest has been and is still a toss up for the Orange, as are games against Louisville and Pitt. On the other hand, Virginia Tech took down North Carolina, but just lost a dynamic playmaker in flex tight end James Mitchell to a season ending injury. NC State just lost starting linebacker Payton Wilson to a season ending injury as well. Point is there is certainly opportunity for Syracuse to seize the question: can they do it?  
Let me know by replying to this tweet!