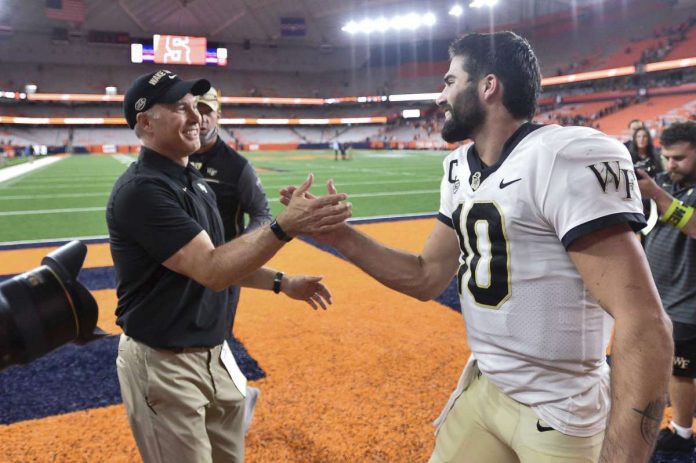 I got back on track last week by going 3-0. Yay me! Ok, I get it, no one cares as much as I do that I am 21-9 on the season but there were several tricky games in the triangle to prediction last week and I navigated them all correctly.
There was a huge question mark around the NC State program after their loss to Miami. How would they bounce back against Louisville? A win was not a guaranteed thing but the Pack answered the bell and definitively beat the Cardinals to get back on track. The Tar Heels are so up and down this year that it was not fully out of the question for them to beat Notre Dame on the road. Now granted they didn't, but losing to #11 (at the time) by 10 on the road is not a disgraceful thing. North Carolina gave the Irish a highly competitive game before finally falling short. Lastly, Wake Forest pummeling Duke was not all that tricky BUT college football is known for crazy upsets and missteps by highly ranked teams. Luckily for the Deacons that did not happen at the hands of Duke. They easily rolled on to continue their perfect season.
If I thought last week was tough to predict, then hand me the whiskey now, because in Week 10 things get ramped up a notch. All 3 games within the triangle feature a ranked team and the implications are large.
:Pours whiskey into lowball glass…sips: Ok! Prediction time….
---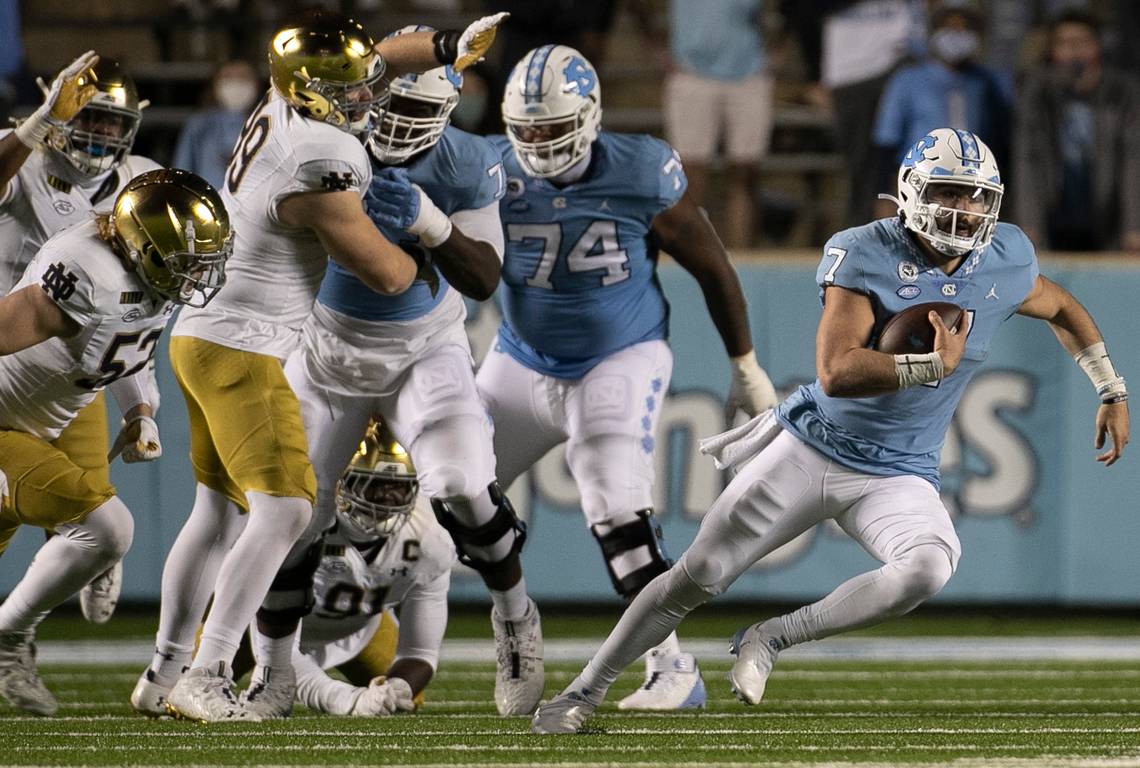 #9 Wake Forest @ North Carolina (Saturday Nov. 6th – 12pm)
This is an odd one because it is a non-conference game. I repeat, a non-conference game. I have no idea how or why this came to be to have a non-conference game against a team in your own conference, but here we are. Besides that nonsense, what matters in this contest is what is at stake for these two teams. For Wake Forest they are ranked within the Top 10 for the first time ever, an ACC Championship is within sight, and a trip to the CFP is not all that far fetched now. The Deacons have a lot riding on this game so that they can continue down the path of achieving these lofty, and now more attainable then ever, goals.
On the flip side, the Tar Heels are just trying to reach a bowl game and play spoiler for the remainder of the season. Besides Wofford, all of North Carolina's remaining opponents are ranked within the CFP rankings and are going to be tough wins. The Heels can salvage their season by making a bowl game and getting some late season upsets, but that has to start against Wake Forest.
So who wins this one? Well… I am not even going to look at stats or efficiency ratings and go on the illogical nature of college football instead. Like I mentioned before, this is a non-conference game. I do not see Wake Forest going 12-0 this year, I just don't buy that. I have them slipping up at least once. There defense is suspect at times- they gave up 56 points to Army…Army! who only runs the ball, and can be a liability for the Deacons. So, if there was a perfect game for Wake Forest to trip and fall, it is this one.
Hear me out… North Carolina is not a bad team. They are just wishy-washy and can look great one week and horrendous the next, but have shown that they can compete with highly talented teams like Wake Forest. If Wake Forest were to lose this game, they would take a hit in the rankings due to no longer being perfect, BUT they would still be undefeated within the ACC (technically) and still be in the catbird seat to represent the Atlantic in the ACC title game. If they were to get to that point the CFP could still be a possibly, but that is getting way ahead of myself.
In short, Wake is going to trip up sometime this season… and that happens this Saturday. The Heels get their marquee win of the season and Wake will no longer be perfect but will still have a shot at most, if not all, of their elevated goals. Heels win and cause a little bit of late season chaos.
Prediction: North Carolina 46, Wake Forest 45

---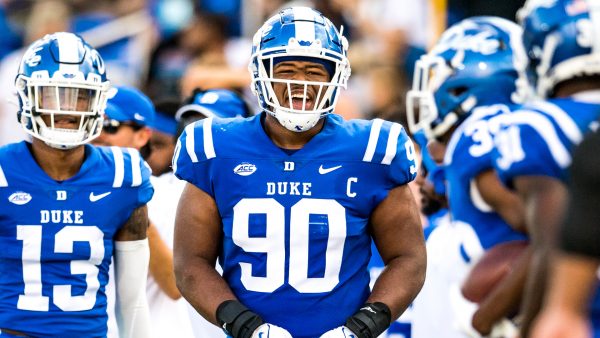 #25 Pittsburgh @ Duke (Saturday Nov. 6h – 12pm)
Pittsburgh travels to Durham for a date with Duke this Saturday… it ain't that complicated and shouldn't be overanalyzed. Duke has lost four in a row and is barely treading water at being competitive. Pittsburgh however, is starting to peak at the right time. Yes, I know they just lost to Miami, but Miami is also peaking at the right time and just happened to get the better on the Panthers. Prior to that though, Pitt had won four in a row and Kenny Pickett was putting up Madden like numbers. In fact he still is! Even in the loss to Miami, Pickett threw for 519 yards, 3 touchdowns with 2 interceptions. At this point in the season Pickett has thrown for 2,700 yards, 26 touchdowns (plus 3 rushing touchdowns) to just 3 interceptions. That is one hell of a year and he still has four games to go, against mostly subpar competition.
Ok I will stop gushing about Kenny Pickett now but to compliment the defense, Pitt ranks #36 in the nation in total defense. The Panthers are holding their opponents to 341 yards a game and just 5 yards per play. Not insanely good numbers, but good enough to hamper the limping Duke offense. Duke is due for a good showing, but don't count on it this week. The Panthers take this one and move one step closer to winning the Coastal.
Prediction: Pittsburgh 40, Duke 17

---
#19 NC State @ Florida State (Saturday Nov. 6th – 4pm)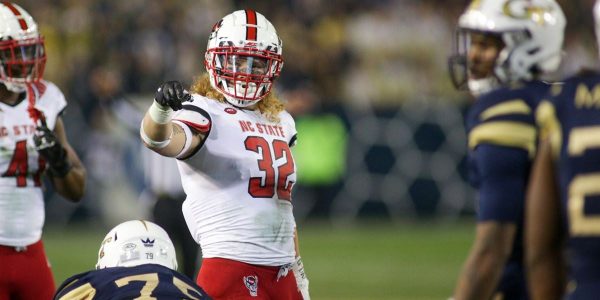 This is the definition of a trap game for NC State. The Wolfpack come into this one ranked #19 in the CFP and looming on the horizon is a monumental match-up with Wake Forest. Before they can really start talking about and focusing on Wake Forest, they must take care of business in Tallahassee. As we all know, in 2021 the Seminoles are nowhere near to the traditional powerhouse they have been in the past. But despite being 3-5, many of their games this season have come right down to the wire, win or lose. NC State is only a -2.5 favorite, as time of publishing, so many, myself included, expect this to be a close one.
There is one thing though that will separate the Wolfpack from the Seminoles, leading to a Pack victory. And that is turnovers. The Seminoles are -3 in turnover margin (tied for #96 in the country) while NC State has a +6 margin (tied for #16 in the country). NC State QB Devin Leary has done a tremendous job protecting the ball this year, by placing the ball only where his receivers can get it. As a result of that, he has thrown just two picks in 2021. Coupled with that, the Pack's running back tandem of Zonovan Knight and Rickey Person Jr. have fumbled just three times between the two, losing two. That is great all around ball security.
Florida State on the other hand has been more loose with the ball. Many times turning the ball over in crucial situations that have hindered the chances of a Seminole victory. To add to that, news came out earlier this week that one of Florida State's quarterbacks, Chubba Purdy, is transferring from the program. Therefore quarterback duties will fall squarely on the shoulders of Jordan Travis. Travis has played better as of late, but is still turnover prone. NC State's defense will pressure Travis a lot, putting him in situations where he will want to force throws or be fooled by coverages.
For Florida State to hang with NC State, they must be tight with the ball and not let NC State win the turnover battle. But when the final whistle blows, NC State will have won the turnover battle, plan on seeing the turnover bone more than once, and put up just a few more points than FSU to get the victory.
Prediction: NC State 33, Florida State 28

---
Some big games this weekend that involve teams from the triangle, so I better fill up that whiskey glass once more…better make this one a double… and get ready for all the action this Saturday. Cheers!
Follow me on Twitter at @SJWoolard for more ACC content and Week 11 predictions next  week.
Also, check out the latest episode of the Pypeline ACC Podcast!!