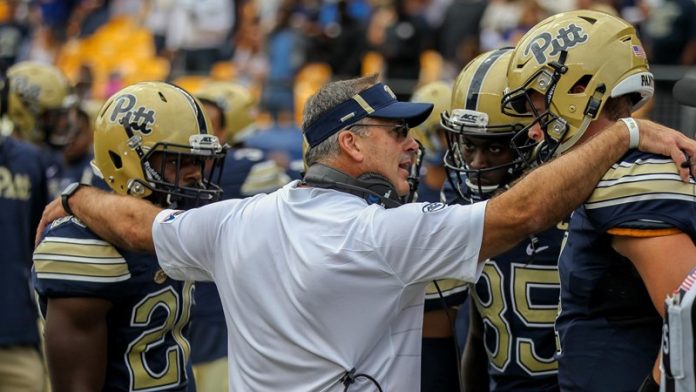 Pitt fans are familiar with this story. The Panthers grab a major victory in front of their home crowd in convincing fashion. Maybe this team is different, right?
Wrong. A crushing loss to Miami. Quite frankly, it's the same old Pitt. They'll always be relevant, but never get to that next level.
Ok, ok…let's take a step back from our misery and think this one out. Although there is more to be desired, Pat Narduzzi has definitely been consistent. Is it worth rolling with him year after year for stability purposes though? What are his strengths and where exactly do the issues lie. Let's evaluate.
What Duzz Does Well
In addition to his moderate success, Pitt has produced an NFL pipeline ("Pypeline" if you will). And that is a great pitch to make to recruits. They may even have some momentum from the 2021 NFL Draft going into the 2022 class.
| | | |
| --- | --- | --- |
| Year | Recruiting Ranking | NFL Draft Picks |
| 2015 | – | – |
| 2016 | 30 | 1 |
| 2017 | 37 | 5 |
| 2018 | 48 | 3 |
| 2019 | 55 | 1 |
| 2020 | 45 | 1 |
| 2021 | 55 | 6 |
| 2022 | 29 | – |
Additionally, while Narduzzi does not stand out as a game manager, his staff is top notch. Randy Bates (defensive coordinator), Charlie Partridge (defensive line), and Brennan Marion (wide receivers) are all among the best at what they do. And I consider that an aspect of recruiting; Narduzzi does a good job obtaining quality coaches and keeping them around. If he were to leave, a vast majority of them would follow him.
But at the end of the day, it's the results that matter. Seven years is a large enough sample size to draw conclusions on record alone. So is he really producing at a satisfactory level?
It's not entirely simple.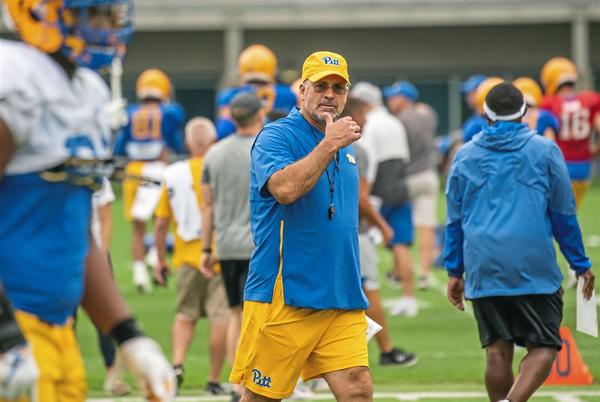 Expectations vs Reality
Every program has a floor and ceiling, based on resources, tradition, geography, etc. And within that floor and ceiling, each coach sets their own boundaries. The first step is to identify where exactly Pitt's is.
The history is definitely there. It's possible to make Pitt football a juggernaut because it's been done before. However, mediocrity has also been a Pitt thing in recent history that goes beyond the Narduzzi days. In every season since 2010, Pitt has won between five and eight games.
Essentially, it would take a special coach to bring them to back their historic success, and I'll tell you all this…as we sit in 2021, there is not a line of the nation's top coaches waiting to get a chance in Pittsburgh.
The Consequences of Drastic Change
I know there is a small group of Pitt fans that would go as far as to fire Narduzzi. In my midseason fans satisfaction survey, approximately 400 ACC fans were tasked with the question, "How do you feel about your team's head coach, on a scale from 1 to 5?" Approximately 35% of respondents that chose "Pitt" as their favorite team gave a rating of a 1 or a 2.
I see the reasoning. They've performed under their true ceiling for long enough and things will not drastically change any time soon. Consider this though:
What is the likelihood that a new coach would bring the Pitt program to a better state by 2025. It's possible, but it's risky. As I alluded to before, if Narduzzi is gone, so are his high-quality staff members and a significant portion of his key players. You would be tearing up the program and starting from scratch. And in most cases around college football, rebuilds either completely fail or take longer than desired.
The Bottom Line
I understand that Pitt fans, especially those who have followed the program for many years, have higher aspirations for the program. However, it does not make sense to move on from Narduzzi. The athletics department should continue to take the safe route and remain content with respectability, and small glimpses of long-term hope.