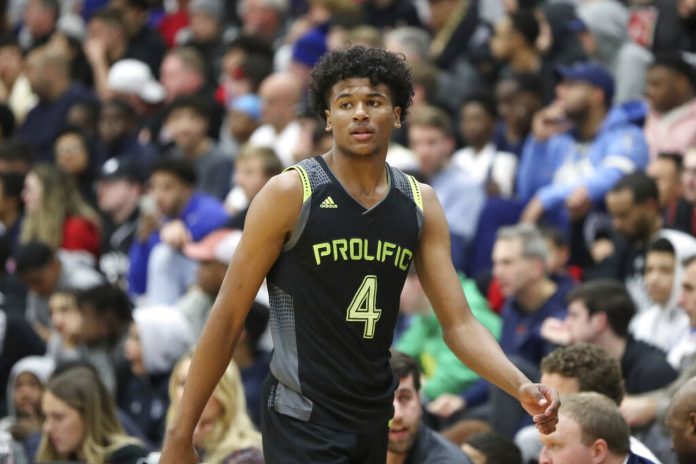 Jalen Green is a Top 3 player in the 2020 class. He will be announcing his college decision Wednesday at 1pm EST. While many assumed that he would be going to college, the recent buzz has been Jalen could be taking his talents to the professional ranks. This would not be the first time we saw a high school recruit skip college before heading to the NBA. In 2019, 5-star guard RJ Hampton opted to skip the college route and play for the New Zealand Breakers in Australia. If Jalen does stick to college, who are the options? Auburn University and the University of Memphis.
Auburn
Bruce Pearl and the Auburn coaching staff have not been shy on the recruiting trail lately. They have 5-star point guard Sharife Cooper coming and they have the #7 ranked recruiting class in the entire country. Adding Green would not only move Auburn's recruiting class into the Top 5, they would trot out one of the top teams in the country. A few months ago it looked like that Green would be heading to Auburn, but recently Memphis and turning pro have been receiving the most buzz. Anything can happen though. Do not count out Bruce Pearl and his staff just yet.
Memphis
Memphis has always been seen as the top option for Green's services. He even took two official visits to the school back in 2018 and 2019. Jalen Green has always been Penny Hardaway's top recruiting target in the 2020 class. The relationship that Green has with the coaching staff is a major factor that can not be overlooked. Is it enough to keep Jalen away from the professional ranks? Maybe. But the professional buzz is growing louder and louder everyday. Adding Green would give Penny his second commit for the 2020 class as they already have JUCO forward Ahmad Rand committed to play for the Tigers next season.
Prediction
In the end, the chance of making money right away is too much to pass up. As much as Auburn and Memphis want to add Green to their rosters next season, Jalen Green will be playing professionally next year.