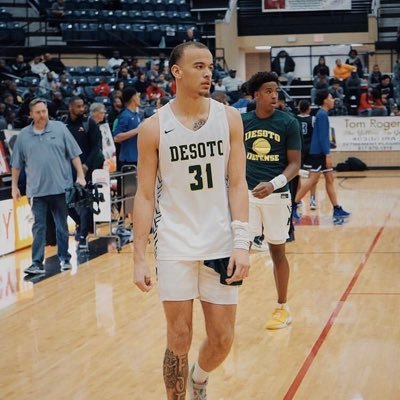 The life of a student athlete is not for the faint of heart. It requires the individual to put a lot of time and effort into the game of basketball. Not only is this difficult, there is a lot of stress for student athletes trying to balance their classwork while also developing their basketball skill-set. Like many say, being a student athlete is like having a part-time job in addition to school. This is why committing to a particular program is such a difficult decision. A student athlete wants to make sure that they can accomplish all their athletic goals but also make sure that they have the support they need to succeed in school.
— Duncan Powell (@DuncPowell_) September 27, 2019
Duncan Powell, a four-star versatile forward, commit to the Arkansas Razorbacks on September 26th, 2019. This gave Arkansas their first commit of the 2021 recruiting class. Fast forward several months and Powell decided to open his recruitment back up. This is not a reflection of how he felt about the program. In fact, "I think I rushed into the decision. I just want to make sure I find the right fit for me before making a decision." Powell said. Powell opened his recruitment up on April 8th, 2020 and has since received interest from Arkansas, Auburn, Creighton, Dayton, Illinois, Murray State, North Carolina A&T, New Mexico, Old Dominion, Richmond, Texas State, Tulsa, UNLV, UNC Greensboro, Utah State, UTSA, and Virginia Tech. Currently, Powell is ranked as the 85th best player nationally by Rivals.com in the 2021 recruiting class.
Recruitment is 100% open. pic.twitter.com/YlasUwx1Nn

— Duncan Powell (@DuncPowell_) April 8, 2020
Skills and Attributes
During his junior season at DeSoto High School in DeSoto, Texas, Powell averaged 21 points per game, 8 rebounds per game, and 5 assists per game. Powell had intentions of playing for the Arkansas Woodz AAU team during this spring campaign but it was cancelled due to the COVID-19 pandemic. Depending on which site you refer to, Powell is listed as about 6'8″, 200 pounds. Additionally, he is listed as a power forward. However, he likes to think of himself as more of a versatile forward that can play the guard and forward positions. In fact, he played the guard position quite a bit during his junior year.
2021 Arkansas commit & Nat'l Top 100 / 4* Duncan Powell @DuncPowell_ (6-7 CF) had a game-high 17 pts to go w/10 rbs, 2 ast, 1 stl in a 47-42 DeSoto (TX) win vs. Bishop Lynch on Thurs at Whataburger tourney in DFW … these 3 second-half triples were clutch in a back-&-forth game! pic.twitter.com/T428YFDKga

— Kevin McPherson (@ARHoopScoop) December 26, 2019
At first glance, Powell has the ability to be a strong shooter at the collegiate level. He seems to have enough athleticism to keep up with guards while also having the size to compete with forwards and big men. Additionally, Powell excels in the low-post because of his strong footwork. This is intriguing because he played a lot of minutes at the guard position a season ago. Thus, I decided to ask Powell if his go to instinct in a one on one situation was to post-up or take the man off-the-dribble. "That's a tough one. If you would've asked me a year ago, I'd say go to my post-up game. But, I've been working hard on my ability to take my man off-the-dribble. So, now I'd say off-the-dribble." Powell said.
Freshman Duncan Powell continues to impress! One of TX top 2021 prospects! #TexasHoopsTv | #ThePlatform | @Trill4DunC 🔥 pic.twitter.com/cgFoI2Nohf

— TexasHoopsTelevision (@TexasHoopsTV) May 24, 2018
Recruitment
As stated previously, Powell reopened his recruitment because he felt that he made a decision too quickly. Just like all student athletes, Powell wants to go to a program where he feels as though he is wanted. "Right now, my recruitment is 100% open. I want to go to a program that wants to recruit me. Honestly, whichever program shows me the most love is the one that I want to go to." Powell said. With that said, I asked Powell if he has any other factors that could sway his recruitment. One thing that stood out to me was his close bond to 2021 Illinois football commit, Samari Collier. "Samari and I do everything together. When people ask for us at school they say "Where's Samari and Duncan?". The fact that he committed to Illinois really could be a big part of my decision." Powell said. Additionally, Powell addressed playing time, coaching, national television exposure, and academics as other factors that he will be considering.
"I definitely want to be able to compete for playing time as a freshman. It's a do or die factor. Coaching is another thing that is important to me. I want a players coach that is all about winning. I want to play basketball after college at the next level, so I want to be with a coach that has put guys into the league before. And yes, TV exposure is another good thing because it can help me achieve my dreams of playing at the next level. Academics are important. I'm thinking of majoring in psychology and business. But academics won't be the deciding factor."
Illinois Interest
https://twitter.com/jakeweingarten/status/1249079255528603648
Powell received interest from Illinois on April 11, 2020 saying, "Coach Antigua texted me saying that he was interested." Powell said he watched Illinois a couple of times this season. "I watched Illinois against Michigan State this season. They have that number 11 guy. He's really good. I also noticed that the team doesn't seem to have a traditional wing. That definitely interests me." Powell said. He also spoke about the possibility of playing against one of his former opponents, Adam Miller. "I played against him when I played AAU. He's good. I don't know him personally, but he's one of the guys that I'd like to play on a team with." Powell said. Powell has yet to receive an offer from Illinois, however this may change once there is more clarity about the projected amount of scholarships available for the 2021 recruiting class.
Final Thoughts
Powell is the type of player that will excel in any system because of his versatility. It has only been a few days since he has opened his recruitment. So, naturally, it is safe to assume that he will receive more interest. The COVID-19 pandemic could be a contributing factor as to why more bigger name programs have not reached out for Powell's services. "I think it has hampered my recruiting process. A lot of coaches want to see you in person and because of the Coronavirus, they can't." Powell said.
Finally, Powell is in the midst of setting up some virtual unofficial visits to Creighton and New Mexico. He said that he could set up more virtual visits in the future. Powell also made it clear that he is yet to use any of his five official visits. This could come in handy in the future when he gets closer to making a decision. For now, Powell is enjoying his recruiting process and plans to release a list of his top schools in the Fall.
For more on Illinois Basketball, follow me on Twitter @asethi03.