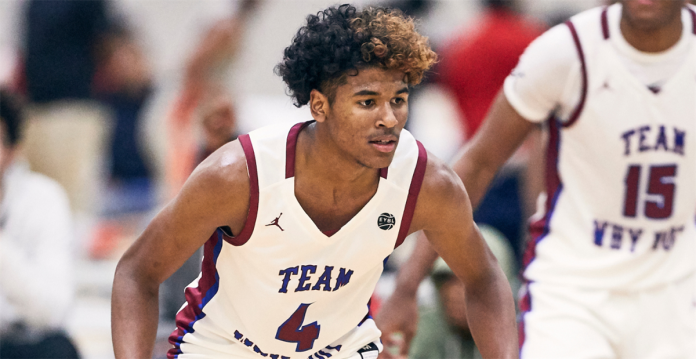 Five-star guard Jalen Green is a Top 3 player in the 2020 class. He has not released a list of top schools yet. However, Memphis, Auburn, Oregon, USC, and Fresno State are all currently recruiting Green the hardest.
Memphis
The Tigers have been seen as the favorite for Green for a while now. They have been recruiting him as long as any other school, and he took his first official visit to Memphis back in 2018. He has stated multiple times that coaches Penny Hardaway and Mike Miller are "like family to him". At Memphis, Green would be the main focus of the offense and he would get to be coached by two former NBA players. The Tigers will be in this recruitment until the end.
Auburn
Auburn is one of the new teams that started recruiting Jalen this year. One of Jalen's best friends, 5-star point guard Sharife Cooper, is committed to the Tigers. Bruce Pearl has been to see Jalen multiple times during the recruiting period. I really like the Tiger's chances here because Jalen Green will get to play alongside top point guard, Sharife Cooper. Green would also get to play against top notch talent in the SEC.
Oregon
Oregon has also been seen as favorite for Jalen Green during his recruitment. He would get the chance to stay closer to home. Also, he would get the chance to play for one of the best head coaches in college basketball, Dana Altman. Playing in the Pac-12 could also be very intriguing to Jalen as well. The Ducks should not be counted out.
USC & Fresno
Jalen has taken official visits to both USC and Fresno State. Both of the schools are in Jalen's home state of California. Playing at home could be a major factor in his recruitment, but I don't see him playing at either of these schools.
Final Prediction
As we broke down each of the schools recruiting Jalen, I have to say Memphis and Auburn are the front runners. My prediction for Jalen Green right now is Auburn. The Tigers give him the best chance at competing for a National Championship and helping him get to the NBA. Green is planning to make his college decision around March after his basketball season.