The college football season is back! As Fall camp got underway at the start of August, teams have been preparing for this moment to go out there and show why 2022 is their year! This is no different for West Virginia football and 4th year head coach, Neal Brown. The Mountaineers under Brown's guidance have been plagued by bad offense. On the other hand, the defense has been a bright spot, as they have set the standard for years to come on that side of the ball.
There has been quite a few moving pieces on the offensive side of the ball; headlined by incoming transfer quarterback JT Daniels from Georgia and also new offensive coordinator Graham Harrell from USC. The defensive side of the ball looks to repeat the past success they have had since Brown took over under the guidance of Defensive Coordinator Jordan Lesley. Moving pieces on this side of the ball has been common the past few seasons, but the standard has remained the same. Jordan Lesley has been able to "reload" in a sense and maintain a tough, gritty defense. The theme for this season's defense is speed and athleticism.
Offense
Offensive Line
As referenced above, moving pieces seems to be the headline for this side of the ball for WVU. The offensive line, anchored by center Zach Frazier, is the only position with all starters returning. The offensive line was a young and inexperienced group last season that took its lumps and bruises. This unit looks to build from last year and rise to one of the better units in the Big 12 Conference in 2022.
Wide Receivers
The receiving corps lost last year's leading receiver, Winston Wright Jr. to the transfer portal, along with a few other contributors. As bad as that sounds, this is not a cause of concern for WVU in 2022. Bryce Ford-Wheaton, Sam James, and upcoming star Kaden Prather look to headline this position this season. Bryce Ford-Wheaton is a tall and strong receiver looking to be the go-to man. Sam James, who has moved to inside receiver, is a fast and athletic receiver who looks to show off his speed not only on the offense, but special teams as well. Kaden Prather is an upcoming star for the Mountaineers. As a true freshman last season, he played in all 12 games and started in four of those. His speed and size is something that coaches have been raving about and he looks to have a breakout season. A few other names to watch out for in the receiving room are Reese Smith, Cortez Braham, and Preston Fox. They will also be in the mix making big plays in 2022.
Running Backs
The running back room lost offensive MVP Leddie Brown from a season ago, but looks to remain stable with Tony Mathis returning. Behind Mathis, they return Justin Johnson Jr. and Jaylon Anderson. CJ Donaldson is also a running back, who moved over from tight end this offseason.
Quarterback
The quarterback position, headlined by incoming transfer JT Daniels, looks to be more consistent after the transfer of Jarret Doege. The quarterback play a year ago was inconsistent and a weak spot that held the offense back. With the addition of Daniels and a revamped scheme under Graham Harrell, WVU looks to be much improved at this position and on offense in general. Garrett Greene, Will "Goose" Crowder, and incoming freshmen phenom Nicco Marchiol make up the rest of the depth at this position. At the time of this writing, a starting quarterback has not been announced for the Week 1 game against Pittsburgh, but this is JT Daniels' spot to lose. I would be very surprised if JT Daniels is not the starter going into the season.
Defense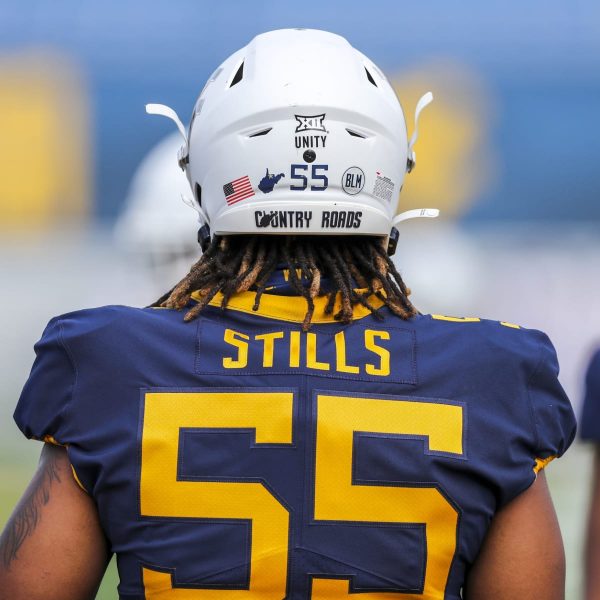 Defensive Line
The defense under Jordan Lesley has been a consistent unit for the past few seasons. With turnover from year to year, this group has proved to not take a step back and continue to keep them in seemingly every game with the inconsistent offense that has plagued the team. Up front, the defensive line returns a good bulk of their production from a year ago headlined by WV native Dante Stills. Taijh Alston, Jordan Jefferson, Jalen Thornton, Sean Martin, Asani Redwood, and Taurus Simmons all provide a slew of depth for the Mountaineers. This should be one of the stronger units for the football team.
Linebackers
At linebacker, transfer Lee Kpogba looks to be an All-Big 12 linebacker. His size and speed has impressed the coaches and he will be the anchor at MIKE linebacker. Alongside him will be returning Jared Bartlett, Lanell Carr, Exree Loe, Lance Dixon, and incoming Miami transfer Tirek Austin-Cave. This unit is one of the faster linebacker units seen in recent years at WVU. They provide a lot of sideline to sideline speed with athleticism. This group too, should be a strong unit in 2022.
Secondary
As for the defensive secondary, this is where things become unknown. The inexperience at this position is well documented, but there is some potential here. Let's start with returning cornerback Charles Woods, who graded out as the highest cornerback in the entire country according to PFF (Pro Football Focus) last season. Woods looks to be an All-American this year, as he has been labeled the best cornerback in the Big 12 by his coaches. Outside of Woods, the rest of the returning personnel is new faces, with many coming in via the transfer portal. Audrey Burks, Malachi Ruffin, Andrew Wilson-Lamp, Marcis Floyd, Davis Mallinger, Jasir Cox, Wesley McCormick, and Rashad Ajayi make up the remaining cornerback/safety room. The coaches made it a point to hit the portal at this position in the off-season, recruiting experienced players to come in and help immediately. Although there is a lot of inexperience at WVU, there is a lot of experience in general for a few of these players playing at other schools in the past. The coaches have raved about the speed and ability to play more man coverage this season with this bunch. So although there is "inexperience," this group has the potential, speed, and size to make up for that.
Special Teams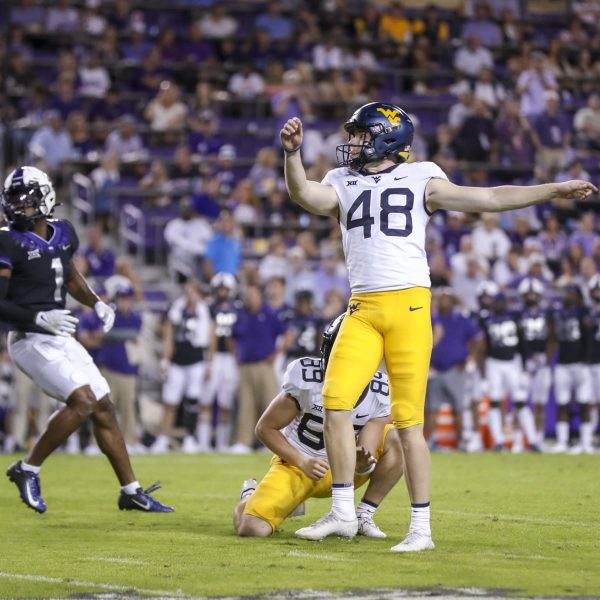 With the best name in college football, Casey Legg is the returning kicker for the Mountaineers. After going 19/23 with a long of 49 yards in 2021, Legg is back to prove he is one of the better kickers in the country in 2022. Incoming transfer Parker Grothaus from Florida State looks to be the kickoff specialist, something the Mountaineers really struggled with last season in regards to field position. There is a battle for the punting duties between Kolton McGee and Oliver Straw. Special teams needs to be better this season, field position wise.
Season Projection/Prediction
I fully expect the defense to be another strong point for the team in 2022. They have proved in the past that they can have some turnover and follow it up with another good season. As for the offense, they should be more consistent and explosive. With the addition of OC Graham Harrell and JT Daniels, that should give this offense a spark and a downfield threat. In season's past, not being able to hit the long ball let defensive backs creep up and play more towards the line of scrimmage. Teams can't do that against WVU's offense this season without getting burned. They say a good football team starts up front on both sides of the ball. The defensive line will be one of the strongest units for the Mountaineers, if not the strongest – and even after an up and down season for the offensive line, all 5 of the starters return there. They should have strong lines on both sides of the ball with a more explosive offense. This is a good formula for an overall better season.
This is Neal Brown's most important year at WVU, and Week 1 against Pittsburgh is his most important game at WVU. In year 4 of a coaching era, the team is mostly made-up of players he recruited. Neal Brown has recruited very well for WVU standards and has gone out and gotten transfer pieces that will help fix problems from seasons past. My prediction: Brown and WVU get it done in 2022. The Mountaineers will go 9-3 or 8-4, just missing the Big 12 Championship Game and finishing 3rd or 4th in the conference. This will provide Head Coach Neal Brown with a little breathing room and momentum moving forward.