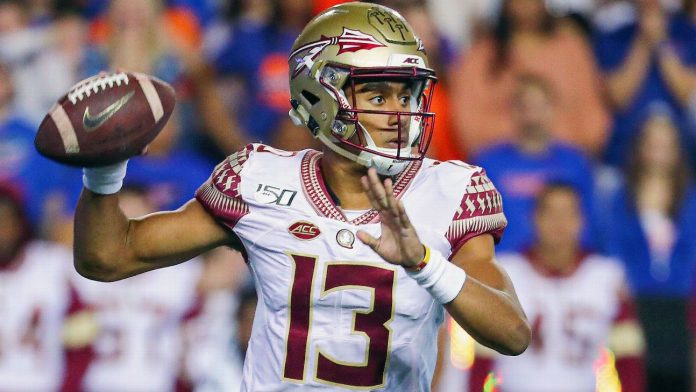 Games
Austin Peay vs Western Kentucky
Nebraska vs Northwestern (Ireland)
Idaho State vs UNLV
Wyoming vs Illinois
UConn vs Utah State
Duquesne vs Florida State
---
Quarterbacks

Top Plays
Austin Reed (Western Kentucky) $9,000
Reed was just named the WKU starting QB, beating out West Virginia transfer Jarret Doege. WKU has an excellent match-up vs Austin Peay. And although offensive coordinator Zach Kittley is gone, expect the Hilltoppers to score loads of points.
Jordan Travis (Florida St) $8,800
Travis has a A+ match-up. He will have no problem carving up the Duquesne Defense. My only worry with this play is the Noles could be up big at halftime, and Travis could rest in the second half.
Logan Bonner (Utah St) $8,600
Bonner and the Utah State offense will score a lot of points in 2022. This is a good match-up vs Uconn, and I'd rather have Bonner at $8,600 than Travis at $8,800.
Good Plays
Doug Brumfield (UNLV) $7,400
Expect Brumfield to be the UNLV Starting QB vs Idaho State. This is an excellent match-up and you get good value at $7,400.
Casey Thompson (Nebraska) $7,200
Don't expect Northwestern to be very good this season and Thompson has some talented weapons around him on offense. If you want an averaged priced QB who has a high ceiling, this is the play.
Under the Radar Plays
Tommy DeVito (Illinois) $7,100
DeVito transfers in from Syracuse and he will be QB1 for Illinois. The Illini have an excellent match-up vs Wyoming who lost a lot of production on defense. DeVito could easily get you 15 Fantasy Points, but his ceiling is capped because the Illini will run the ball 70% of the time.
Ryan Hilinski (Northwestern) $5,800
If Northwestern is going to beat Nebraska, they'll need a good game from Hilinski. At this price he's worth a shot because even if NU loses, they might be throwing while trying to catch up.
Longshots
Tyler Vander Waal (Idaho St) $5,300
Vander Waal is a former transfer from Wyoming. Expect Idaho State to lose and be throwing to catch up. If that happens, Vander Waal could get you a reasonable amount of points. At this price, I'd be happy with 12 points.
Avoid
Darius Perrantes (Duquesne) $4,800
I love Perrantes as a player. He's a dual threat QB who will excel vs FCS Competition. However, this is a tough match-up vs FSU. Yes, he's cheap at $4,800, but I'd be surprised if he got 8 points.Skip to conten
---
Running Backs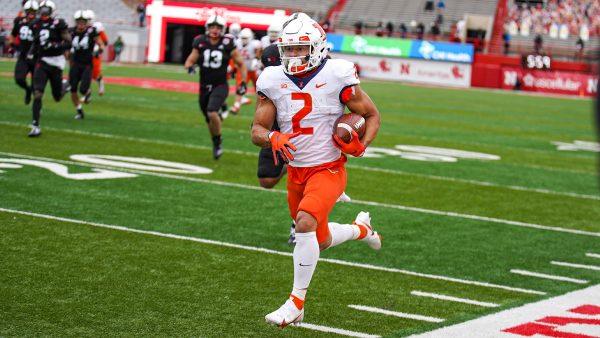 Top Plays
Calvin Tyler Jr (Utah St) $8,100
Tyler Jr has a good match-up vs UConn. I could see him getting 15-25 touches and 1-3 TDs.
Chase Brown (Illinois) $7,900
Brown is the workhorse RB for the Illini, and I expect him to dominate vs an inexperienced Wyoming defense.
Good Plays
Kye Robichaux (Western Kentucky) $7,000
Robichaux has an excellent match-up vs Austin Peay and should be a safe bet for 10-20 points.
Anthony Grant (Nebraska) $6,700
I've heard great things about Grant this offseason, and I expect him to make a big impact this season for Nebraska. Expect the Cornhuskers to get a lead, pound the rock, and win the game.
Under the Radar Plays
Trey Benson $6,500, Treshaun Ward $6,100, Lawrance Toafili  (Florida St) $5,300
The FSU RBs have a great match-up vs Duquesne. Ward is my favorite play, but Toafili is a good play as well for the discounted price.
Evan Hull $6,300 & Cam Porter (Northwestern) $5,700
Northwestern wants to establish the rushing attack vs Nebraska, and these two should get plenty of opportunities. I'm not overly excited about these plays, but they could get you 7-15 points a piece.
Titus Swen (Wyoming) $6,000
I expect Illinois to beat Wyoming handedly, but Swen will get plenty of volume. Expect him to have 20 touches or so no matter the outcome.
Longshots
Josh Samuel (Austin Peay) $5,200
Samuel plays for Austin Peay, and he should get plenty of touches. I like this as a volume play and a revenge play (Samuel use to play for WKU).
Josh McCray (Illinois) $5,100
If the Illinois/Wyoming game plays out how I think it will, then Illinois will have a big lead which will lead to plenty of touches for McCray.
Avoid
Nathan Carter (UConn) $5,600
I don't like this play for Carter as Uconn plays Utah State. Expect the Huskies to be trailing and throwing to catch up.
---
Receivers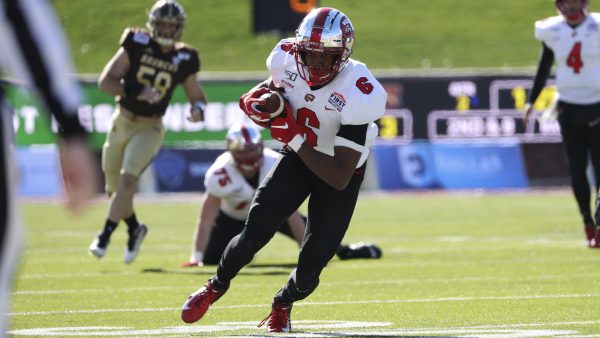 Top Plays
Malachi Corley (Western Kentucky) $7,600
Corley is the top returning WR for WKU and he should get plenty of targets. His match-up vs Austin Peay is also a plus.
Mycah Pittman (Florida St) $7,500
Pittman transfers into FSU from Oregon. He has an opportunity to be WR1, and I expect Jordan Travis to establish a connection with him early on.
Justin McGriff $6,800 & Brian Cobbs (Utah St) $6,000
McGriff and Cobbs both have excellent match-ups and a QB who's a gunslinger. McGriff has an established connection with Logan Bonner and Cobbs is a transfer from Maryland.
Good Plays
Isaiah Williams (Illinois) $7,300
Williams is a versatile and explosive athlete who should get plenty of opportunities vs Wyoming.
Omar Manning $6,900 & Trey Palmer (Nebraska) $6,200
Manning and Palmer should be the top two wide receivers for Nebraska. Personally, I like the upside of Palmer and believe he could be in line for a HUGE 2022 season.
Jaylen Hall (Western Kentucky) $6,600
Hall has a match-up that I like, and he should see plenty of targets. Last season, he averaged over 12.5 FPPG.
Under the Radar Plays
Kyle Williams (UNLV) $6,300
Williams is listed as questionable, so check the injury report before playing him. If he plays, he should have a productive day vs Idaho State.
Joshua Simon $5,800, Michael Mathison $5,600, Josh Sterns $5,500, Daewood Davis $4,800 & Joey Beljan (Western Kentucky) $3,800
All five of these WKU WRs/TEs are excellent plays. The only question is which one or two has the best game. Each one has an excellent price tag, and if I had to pick I like Simon and Sterns.
Ricky White (UNLV) $5,100
White is a transfer from Michigan State who I expect a big season from in 2022 for UNLV. I love the value you get at $5,100 for White.
Longshots
Keelan Marion (UConn) $4,600
Marion should get plenty of touches if UConn is trailing. Don't forget, star receiver Cam Ross is also out for the season.
Travis Vokolek (Nebraska) $4,300
Vokolek is a proven and established security blanket for the Cornhuskers. At this price all you need is 8 points or so.
Johnny Wilson (Florida St) $4,100
Wilson is a transfer from Arizona State who now plays for Florida State. This is an excellent value play at $4,100.
Kaleo Ballungay (UNLV) $3,900
Ballungay is a player a lot of people don't know about, but I'm expecting a big season from him. UNLV has a great match-up, and I wouldn't be surprised if he gets you 10+ points.
Mock Lineup
QB: Casey Thompson $7,200
RB: Chase Brown $7,900
RB: Josh McCray $5,100
Receiver: Keelan Marion $4,600
Receiver: Brian Cobbs $6,000
Receiver: Josh Sterns $5,500
Flex: Ricky White $5,100
SuperFlex: Logan Bonner $8,600