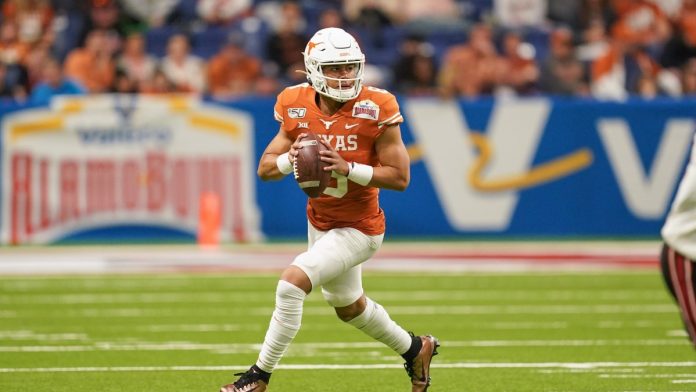 We have done the DFS homework for you, and here are is our breakdown for Saturday's slate of games in college football. We are using DraftKings numbers, so you have $50,000 to pick 8 players ($6,250 AVG). We are specifically targeting the CFB $200K Saturday Kickoff $50K to 1st contest.
Note: Last week I finished 75th out of 12,500 and won $80. I was one player away from the $50K.
Games
Arkansas at Georgia
Tennessee at Missouri
Texas at TCU
Michigan at Wisconsin
Louisville at Wake Forest
USC at Colorado
Cincinnati at Notre Dame
Ole Miss at Alabama
Oregon at Stanford
Texas Tech at West Virginia
Oklahoma at Kansas State
Ohio State at Rutgers.
---
Quarterbacks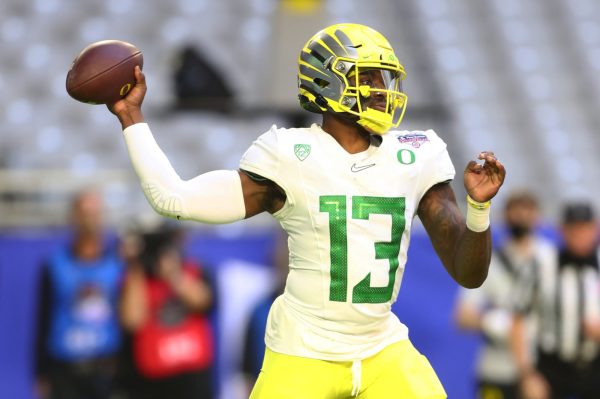 Top Plays
Bryce Young (Alabama) $10,000 – I always hate paying such a high price for a QB, but this is one I'm willing to pay for. Young goes up against Ole Miss and this game could be a shootout.
Malik Cunningham (Louisville) $9,500 – I'm not willing to pay this much for Cunningham. His match-up isn't the best and there are better options that are cheaper.
Matt Corral (Ole Miss) $9,200 – If Ole Miss wants any chance to win this game they need Corral to have a big game. I wouldn't mind stacking him with a Rebels WR.
Max Duggan (TCU) $9,000 – Duggan is averaging 25.6 FPPG and has a match-up vs Texas. This isn't a bad play but there are cheaper options I like more.
Spencer Rattler (Oklahoma) $8,800 – Rattler and the Sooners offense hasn't been as good as we thought they'd be coming into the season. In fact, Sooners fans were chanting for backup Caleb Williams last week. Rattler has to have a huge game soon, and this match-up is decent.
Casey Thompson (Texas) $8,400 – This is a play I really like. You get Thompson for a good price and he's been performing. Last week, he had 43 Fantasy Points vs Texas Tech. And while I don't believe he will have that big of a game this week, he can still get you 20-30 points.
CJ Stroud (Ohio St) $8,300 – Keep an eye on the injury report here of you play Stroud. I'm personally staying away!
Anthony Brown (Oregon) $8,000 – Brown is averaging 21.6 FPPG this year. He's not going to get you 40 points, but he's a good bet for 15-25 points this week.
Best Value
Sam Hartman (Wake Forest) $7,500 – I love this play. Hartman is always undervalued by DraftKings and always has solid production.
Connor Bazelak (Missouri) $7,300 – Bazelak has a match-up vs the Vols and this game could be higher scoring.
Kedon Slovis (USC) $7,100 – Jaxon Dart is better than Slovis, but he's currently hurt. I know Slovis has looked subpar, but he goes up against Colorado and could easily get you 15+ points.
Hendon Hooker (Tennessee) $6,800 – Hooker and the Vols could get in a shootout vs Missouri. I was impressed with how Hendon played vs a tough Gators D, and Missouri struggles vs the run. Hooker could put together a 200 passing yards 2 TDs and 50 rushing yards and a rushing TD type game.
Low Price Dart Throw
Graham Mertz (Wisconsin) $5,200 – Mertz has been horrendous lately. He's throwing TDs to opposing teams more than his own. BUT he's still a starting QB for dirt cheap. He has a bad match-up vs Michigan, and you'd only want to play him to load up at your other positions.
---
Running Backs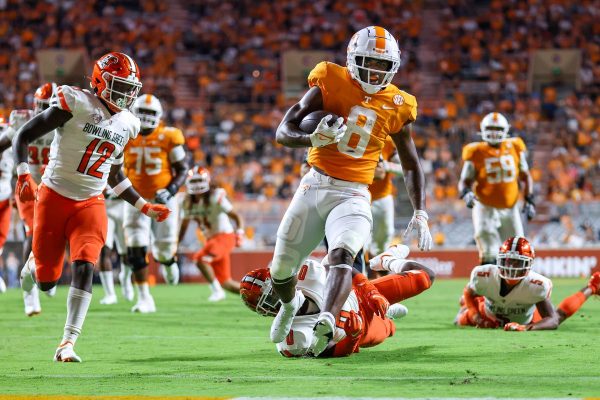 Top Plays
Bijan Robinson (Texas) $8,700 – Robinson is the bell cow RB for the Longhorns. He's averaging 29.3 FPPG this season and just scored 30.1 last week.
Tyler Badie (Missouri) $8,200 – Badie is averaging 32.6 FPPG this season and has been consistent every week.
Best Value
Blake Corum (Michigan) $7,600 – Last week was Corums worst game of the season. He only had 68 rushing yards and didn't find the endzone. I'd be surprised if he went two straight weeks without getting a TD.
Zach Evans (TCU) $7,400 – Evans is a good bet for 15-25 fantasy points this week vs Texas.
CJ Verdell (Oregon) $7,000 – Verdell is averaging 21.9 FPPG but he's coming off his worse week of the season only getting 10.5 points vs Arizona. He's probably a safe bet for 15 points or so this week.
Leddie Brown (West Virginia) $6,900 – This is a fantastic play. You get Brown at a discount and he has a good match-up vs Texas Tech.
TreVeyon Henderson (Ohio St) $6,600 – This is my favorite RB play of the week. Henderson has established himself as the Buckeyes #1 RB and his price is still cheap.
Brian Robinson Jr (Alabama) $6,500 – Robinson is coming off an injury, but if he starts he could be in line for a big game.
Tiyon Evans (Tennessee) $6,200 – Missouri is HORRIBLE vs the run and was just shredded by Boston College. Evans could be in line for a big game.
Jerrion Ealy (Ole Miss) $6,100 – Ole Miss could get in a shootout with Alabama or be trailing and playing catch up. Ealy could be in line for some extra targets in the passing game.
Low Price Values
Kyren Williams (Notre Dame) $5,000 – Williams is the #1 RB for Notre Dame and they face off vs a good Cincinnati team. I don't love the match-up, but for this price I love the value.
Roydell Williams (Alabama) $4,500 – Williams could be a good value play if Brian Robinson Jr doesn't play.
---
Receivers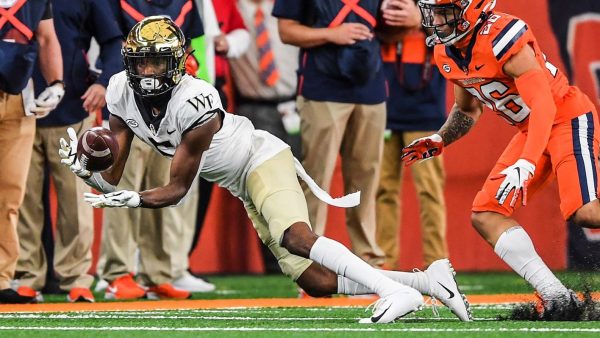 Top Plays
Drake London (USC) $8,500 – London is averaging 30.1 FPPG this season. He's an elite player with a good match-up.
Jameson Williams (Alabama) $7,700 – Williams only has 12 catches this season, but he's also a threat on special teams. I expect him to get multiple catches this week vs Ole Miss in a shootout.
Best Value
Dontario Drummond (Ole Miss) $7,500 – Drummond is the #1 receiver in a high powered offense. Expect him to get plenty of targets vs Alabama.
Chris Olave (Ohio St) $7,300 – Olave is averaging 22.5 FPPG this season.
John Metchie III (Alabama) $7,100 – Metchie III is in store for a big game vs Ole Miss. He's one of my favorite plays of the week.
Garrett Wilson (Ohio St) $6,900 – Wilson could get you 6 catches for 125 yards 2 TDs or 4 catches for 60 yards. With so many weapons on the Buckeyes you never know who will have the big week.
Quentin Johnston (TCU) $6,800 – Johnston is averaging 17.4 FPPG this season and has a decent match-up vs Texas.
Xavier Worthy (Texas) $6,200 – Worthy is a true freshman who's starting to catch the attention of CFB fans. Last week, he had 5 catches for 100 yards 3 TDs and has another good match-up this week.
Kaylon Geiger (Texas Tech) $5,800 – Geiger is starting to emerge as a top weapon for Texas Tech. The Troy transfer had 5 catches for 100 yards and 1 TD last week. With Henry Colombi at QB, now you could see Geiger get more touches.
Treylon Burks (Arkansas) $5,600 – This might be the cheapest Burks will ever be. Yes, his match-up is horrible, but he's one of the best WRs in college football and Arkansas could be behind and passing more than usual.
Michael Mayer (Notre Dame) $5,500 – Mayer got off to a hot start with 57.1 Fantasy Points the first two games. The last two games he only as 14.6. He has a tough match-up, but he's a big red zone threat and one of the top receivers in CFB.
Jaquarii Roberson (Wake Forest) $5,200 – Roberson is the WR1 for Wake Forest even though A.T. Perry has emerged lately. Roberson has a ton of value for this price.
Value Longshots
Braylon Sanders (Ole Miss) $4,800 – Sanders is averaging 11.3 FPPG this season and could see more targets this week if Ole Miss gets down to Alabama.
Marvin Mims (Oklahoma) $4,800 – Mims only has 10 catches this season for 193 yards. His production has fallen off drastically and this could be the cheapest he will ever be. This has potential to be a home run play.
Marshon Ford (Louisville) $4,700 – Ford is one of Malik Cunningham's favorite targets. He's averaging 12.2 FPPG this season and has a lot of value for the price.
Jahleel Billingsley (Alabama) $3,600 – This is a must play this week in my opinion. You get a player who has a good opportunity for a TD and he's dirt cheap.
Lineup
QB: Bryce Young $10,000
RB: TreVeyon Henderson $6,600
RB: Leddie Brown $6,900
WR: Jahleel Billingsley $3,600
WR: Marvin Mims $4,800
WR: Braylon Sanders $4,800
Flex: Tiyon Evans $6,200
SuperFlex: Kedon Slovis $7,100