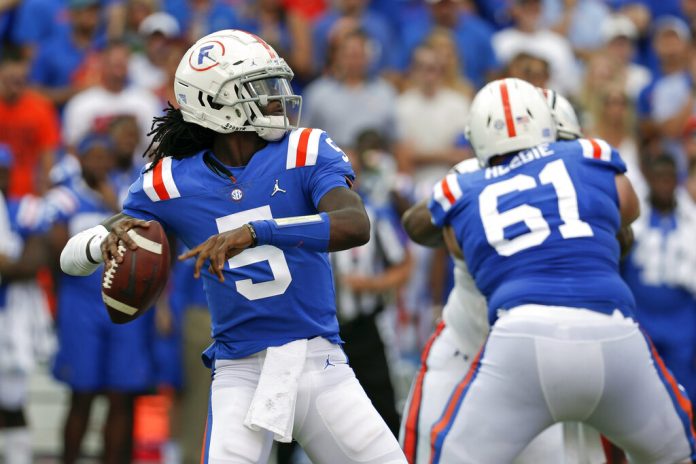 We have done the DFS homework for you, and here are is our breakdown for Saturday's slate of games in college football. We are using DraftKings numbers, so you have $50,000 to pick 8 players ($6,250 AVG). We are specifically targeting the CFB $250K Mini Mid-Season Main Event $50K to 1st contest ($20 entry).
Games
Texas A&M at Missouri
Florida at LSU
Auburn at Arkansas
Oklahoma State at Texas
UCF at Cincinnati
Michigan State at Indiana
Nebraska at Minnesota
Kentucky at Georgia
Miami at UNC
BYU at Baylor
Pittsburgh at Virginia Tech
Purdue at Iowa
---
Quarterbacks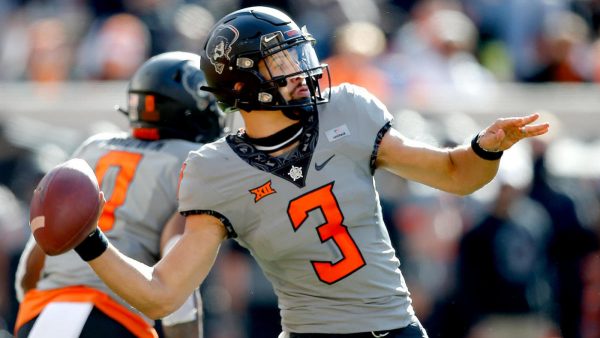 Top Plays
Sam Howell (UNC) $9,200 – Howell has a high ceiling, even though he's been inconsistent this season. I like the match-up. Howell has a big game.
Kenny Pickett (Pitt) $8,400 – Pickett is having a big season, and the Panthers will struggle to run the ball vs VT. Expect a big game for Pickett and the passing attack.
Emory Jones (Florida) $8,300 – Jones gets you a good amount of points rushing each week, and he has a favorable match-up vs LSU.
Desmond Ridder (Cincinnati) $8,100 – Ridder is always a solid play. Expect Jerome Ford to have a big game at RB. So I'd play him instead of Ridder. But you can never go wrong with this play. Ridder will get you 15-30 points every single week.
Best Value Plays
Adrian Martinez (Nebraska) $7,900 – Martinez has been playing well and racking up fantasy points. He's averaged 34 fantasy points his last two games. He's a good bet for 20-30 points this week.
Casey Thompson (Texas) $7,800 – Thompson went off last week for 36.1 points. His match-up this week is tougher. But for this price, he's still a good value.
KJ Jefferson (Arkansas) $7,500 – Jefferson had 53.5 fantasy points last week. He's a threat on the ground and on the goal line. His match-up isn't as good as last week's, but he should still get you 15-25 points.
Payton Thorne (Michigan St) $7,300 – I really like playing MSU RB Kenneth Walker III this week. But if you want to get contrarian, play Thorne. He's averaging 23.9 FPPG and has been consistently solid.
Spencer Sanders (Oklahoma St) $7,100 – Sanders has a good match-up vs Texas this week and this price is reasonable.
Tyler Van Dyke (Miami) $6,900 – UNC hasn't been that impressive and Van Dyke has a good price. He probably won't be highly owned and will be a good contrarian play.
Value Longshots
Zach Calzada (Texas A&M) $6,300 – Calzada has a great match-up vs Missouri and he's dirt cheap for a QB.
Gerry Bohanon (Baylor) $6,300 – Bohanon doesn't have a great match-up, but it's also not a terrible one. Last week, he shredded WVU and should get you 15-20 fantasy points.
Bo Nix (Auburn) $6,000 – Bo Nix is an excellent play this week because of this cheap price.
Tanner Morgan (Minnesota) $5,400 – If you want to punt the QB position this week, then Morgan is your play. He has a great price and could still get you 15+ points.
---
Running Backs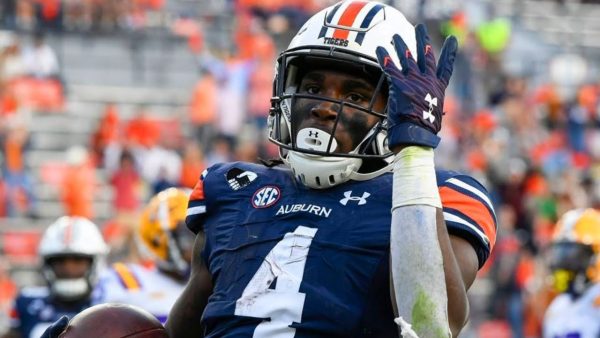 Top Plays
Bijan Robinson (Texas) $8,900 – Robinson is an elite talent, and even though he doesn't have the best match-up, he will still find a way to produce in DFS.
Best Value Plays
Jerome Ford (Cincinnati) $7,200 – I love this play this week. Ford is a TD machine and could easily get you 2 scores or more.
Jaylen Warren (Oklahoma St) $7,100 – Kennedy Brooks ran all over Texas last week, and he hadn't done much all year before that. Warren has looked impressive and should find a way to be productive on Saturday.
Kenneth Walker III (Michigan St) $6,700 – HOLY S***! What a steal here! This is a MUST play.
Isaiah Spiller (Texas A&M) $6,600 – Missouri absolutely sucks vs the run. This is a steal for just $6,600. Go play Spiller this week.
Tyler Goodson (Iowa) $6,500 – Goodson is the focal point of the Hawkeyes offense and will get plenty of touches. This is also a good value price for him.
Ty Chandler (UNC) $6,300 – In an offense that has potential to score 35+ points, expect Chandler to get quite a few touches and find the end zone.
Value Longshots
Tank Bigsby (Auburn) $5,800 – If you want an excellent value play at RB, this is the one. Bigsby has a ton of upside.
Israel Abanikanda (Pitt) $5,600 – Abanikanda has 21.5 & 23 Fantasy Points in his last two games.
Raheem Blackshear (Virginia Tech) $5,200 – Blackshear is a threat in the passing attack, and VT hasn't been a deep threat throwing team this season. Expect Blackshear to get a few catches and 10+ rushes.
Devon Achane (Texas A&M) $5,100 – Achane consistently gets 15 points a week. He has a great match-up vs Missouri who has already fired their Linebackers coach because they're so bad vs the run.
---
Receivers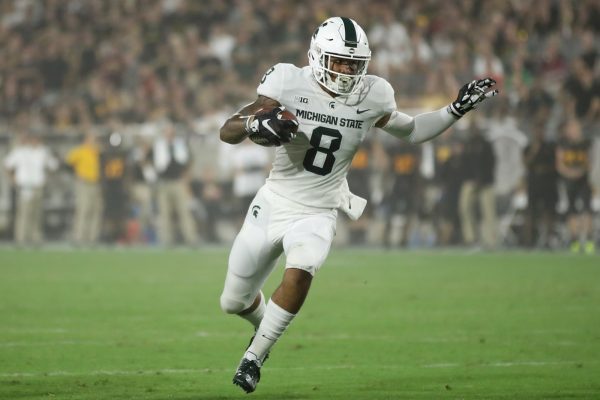 Top Plays
Josh Downs (UNC) $8,700 – Downs has an excellent match-up, and he finds ways to produce every week.
Jordan Addison (Pitt) $8,000 – Addison produces every week averaging 29 FPPG. His matchup isn't the greatest vs VT especially if Jermaine Waller guards him but he will still get 6+catches.
Xavier Worthy (Texas) $7,400 – Expect Worthy to be a popular play this week. You can't go wrong playing him, but his match-up is tougher this week than last week.
Alec Pierce (Cincinnati) $6,800 – Pierce is a big red zone threat and a top target for Ridder.
Treylon Burks (Arkansas) $6,600 – Burks doesn't have a great match-up, but he's capable of scoring and producing fantasy points vs anyone.
Jalen Nailor (Michigan St) $6,200 – Nailor went off last week for 48.1 Fantasy Points. Michigan State has a QB who can spread the ball around and I'd expect another good week for Nailor.
Charleston Rambo (Miami) $6,100 – Expect Miami to be trailing in this game and for them to have to air it out. Rambo is a top receiver on the team and I expect him to get 5+ catches.
Ty Fryfogle (Indiana) $5,300 – Fryfogle is only averaging 11 FPPG this season, but he's always a home run threat with a chance for a big game. I also love the match-up vs Michigan State, so I'm definitely playing him this week.
Tyquan Thornton (Baylor) $5,200 – Thornton went off last week for 41.7 points. While that won't happen two straight weeks, Thornton will be an excellent value play.
Tre Turner (Virginia Tech) $5,000 – Turner is a big play threat for VT and he gets involved in the run game often with jet sweeps. He has a good price and should be a decent play.
Demetris Robertson (Auburn) $4,500 – If Bo Nix has a big game, there's a good chance Robertson does as well, and this price is very cheap.
Value Longshots
Ainias Smith (Texas A&M) $4,400 – Smith had 26 fantasy points last week. If the Aggies get it going through the air vs Missouri, Smith will be the beneficiary.
Peyton Hendershot (Indiana) $4,300 – I played Hendershot last week as a cheap dart throw, and he got me 13.8 points. I expect him to have a similar impact this week, as he's always a red zone threat.
Jalen Wydermyer (Texas A&M) $3,900 – Wydermyer is dirt cheap, but has high upside. He's always a red zone threat.
Brian Thomas Jr (LSU) $3,700 & Malik Nabers (LSU) $3,000 – These two plays are attractive this week because LSU will be without WR Kayshon Boutte.
Lineup I Like
QB: Zach Calzada $6,300
RB: Kenneth Walker III $6,700
RB: Jerome Ford $7,200
WR: Ainias Smith $4,400
WR: Malik Nabers $3,000
WR: Josh Downs $8,700
Flex: Isaiah Spiller $6,600
SuperFlex: Spencer Sanders $7,100