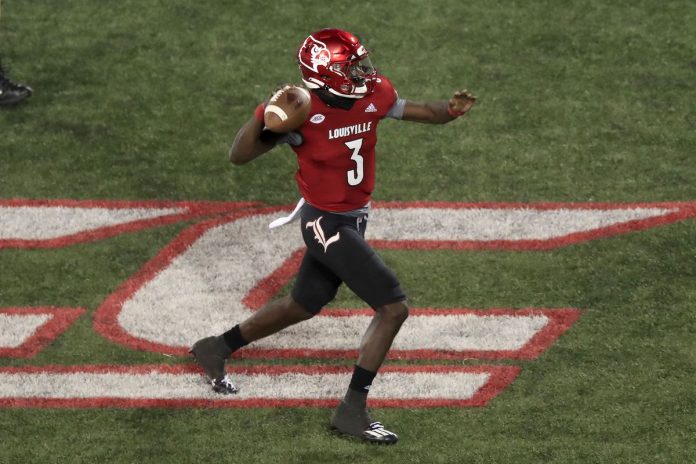 We have done the DFS homework for you, and here are is our breakdown for Saturday's slate of games in college football. We are using DraftKings numbers, so you have $50,000 to pick 8 players ($6,250 AVG). We are specifically targeting the CFB $200K Saturday Kickoff $50K to 1st contest.
Games
South Carolina at Tennessee
Oklahoma vs Texas
Arkansas at Ole Miss
West Virginia at Baylor
Maryland at Ohio State
Michigan State at Rutgers
UVA at Louisville
Georgia at Auburn
Boise State at BYU
Wake Forest at Syracuse
Wisconsin at Illinois
Penn State at Iowa
---
Quarterbacks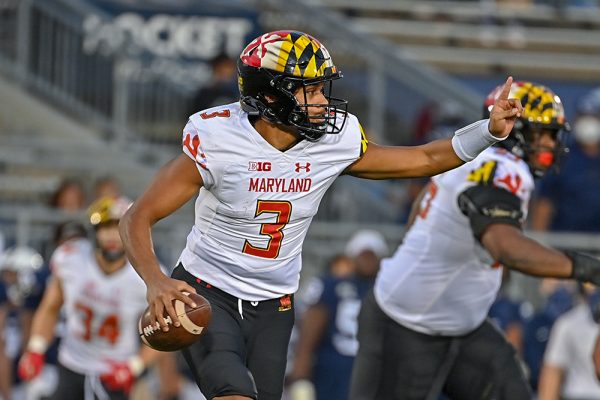 Top Plays
Malik Cunningham (Louisville) $9,700 – Excellent match-up and Malik has been on fire lately.
CJ Stroud (Ohio St) $9,500 – Stroud has a good match-up vs Maryland and he's coming off of a 37.5 point performance.
Brennan Armstrong (Virginia) $9,200 – UVA has struggled to run the ball which has resulted in 224 pass attempts from Armstrong. He has a good match-up and should easily get you 20+ points.
Spencer Rattler (Oklahoma) $8,300 – Rattler is averaging 22.2 FPPG this season. He will need a big game vs Texas and he costs a reasonable price.
Best Value
Hendon Hooker (Tennessee) $7,900 – Hooker was phenomenal last week vs Missouri. His match-up is tougher this week, but he's still a good value play. And he adds extra points with his rushing ability.
Sam Hartman (Wake Forest) $7,700 – Hartman is criminally undervalued every week on DraftKings. He's averaging 24.6 FPPG and has another decent match-up.
Casey Thompson (Texas) $7,400 – Thompson only scored 12.2 points last week but had 43 points the previous week. This game vs OU could be a shootout, and Thompson is a good value play.
KJ Jefferson (Arkansas) $6,900 – Jefferson should get back on track this week vs the Ole Miss Defense.
Garrett Shrader (Syracuse) $6,700 – Shrader has rushing upside and scored 43.7 points last week.
Value Longshots
Gerry Bohanon (Baylor) $6,100 – Bohanon is averaging 22 FPPG this season and goes up against a WVU team who has a good defense. This isn't the best match-up, but the price is reasonable.
Taulia Tagovailoa (Maryland) $6,000 – Tagovailoa was HORRIBLE vs Iowa. I doubt many people play him this week. If the Terps want to stay in this one, they'll need to throw and make big plays. If they get down big, they'll need to throw. Either way, this could be a good value play.
Luke Doty (South Carolina) $5,500 – Doty is a super cheap play this week and a good option, if you want to build a lineup with higher ranked players at RB/WR.
Avoid
Matt Corral (Ole Miss) $10,000 – This price is just too much for me and the Arkansas defense is serviceable.
Sean Clifford (Penn St) $7,100 – I don't trust any QB against the Hawkeyes Defense.
Bo Nix (Auburn) $6,200 – Playing a QB against the UGA Defense would 100% result in a losing lineup.
Spencer Petras (Iowa) $5,700 – The PSU defense is legit. I don't want anything to do with him this week.
---
Running Backs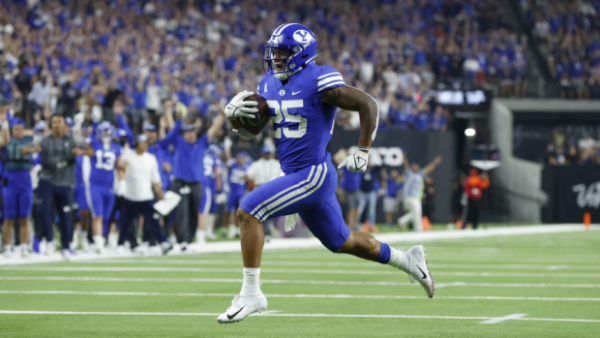 Top Plays
Bijan Robinson (Texas) $9,300 – Robinson is extremely expensive this week, but he's the #1 RB play and a workhorse for the Longhorns.
Kenneth Walker III (Michigan St) $8,100 – Walker III is averaging 27.1 FPPG this season and has a decent match-up vs Rutgers.
Tyler Allgeier (BYU) $7,800 – Allgeier scored 48 points for me last Friday night, and while he doesn't have the best match-up, he will get plenty of touches.
Treveyon Henderson (Ohio St) $7,500 – Henderson is such an exciting player. He will have a big game vs the Terps.
Best Value
Sean Tucker (Syracuse) $7,200 – Tucker is going to get plenty of opportunities, and this is an excellent value play for the price.
Tiyon Evans (Tennessee) $6,900 – Evans went slam off Saturday vs Missouri, and I had him in every lineup. He scored 36.6 Fantasy Points. This week he has a tougher match-up, but he's still a value for the price.
Tyler Goodson (Iowa) $6,700 – I don't like this match-up vs PSU. However, if someone scores for the Hawkeyes on offense, I'm betting it's Goodson.
Leddie Brown (West Virginia) $6,500 – Brown has a tough match-up, but he's the focal point of the offense. I'm not playing him this weekend, but he's a viable option.
Zamir White (Georgia) $6,000 – Zamir is the #1 RB for a team that's going to win running the ball a lot. Last week he scored 24.8 points. This week he will get 10-20 points.
Value Longshots
Jerrion Ealy (Ole Miss) $5,500 – Ealy is always a threat in the receiving game, and for this price, I really love the value.
Henry Parrish Jr (Ole Miss) $4,800 – Parrish Jr is a player you're playing for roster construction and hoping he gets in the end zone.
Jalen Mitchell (Louisville) $4,600 – Mitchell is the #1 RB for Louisville and his match-up is good. I love this play this week.
AVOID
Chase Brown (Illinois) $6,900 – I'm not playing Brown vs the Wisconsin defense.
Tank Bigsby (Auburn) $5,700 – The Georgia front seven is dominant. I see no value in this play.
---
Receivers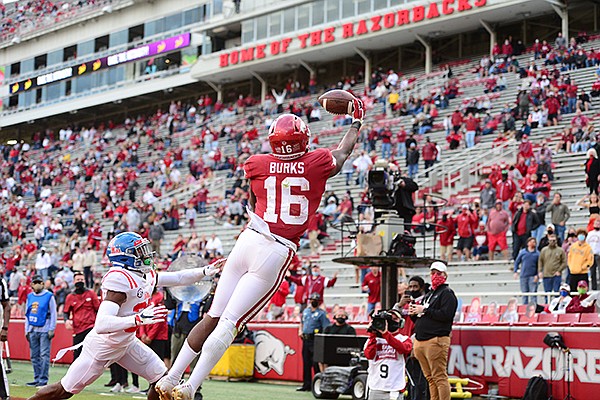 Top Plays
Chris Olave (Ohio St) $7,600 and Garrett Wilson (Ohio St) $6,800 – Ohio State is going to beat Maryland and probably score 5 TDs or more. There's a good chance both of these guys get into the end zone.
Khalil Shakir (Boise St) $7,100 – Shakir is an elite WR. His match-up isn't the best, but he has a high ceiling.
Dontayvion Wicks (Virginia) $7,000 – Wicks is the #1 receiver in a high powered offense. I love this play.
Best Value
Brock Bowers (Georgia) $6,700 – Bowers has emerged as one of the best Tight Ends in CFB. He's averaging 19.9 FPPG, and he's a big red zone target.
Billy Kemp IV (Virginia) $6,500 – Kemp is a do it all player for UVA. Last week, he scored 18 points, and that's his average for the season.
Jaquarii Roberson (Wake Forest) $6,400 – Roberson is averaging 15 FPPG and has high upside each week.
Treylon Burks (Arkansas) $6,300 – I look for Burks and the Arkansas offense to bounce back this week vs Ole Miss.
Jelani Woods (Virginia) $5,700 – Keep an eye on the injury report this week. If Woods plays, he has a good match-up vs Louisville.
Value Longshots
Taylor Morin (Wake Forest) $4,900 – Morin had his best fantasy game last week and he's had his best two games in the last two weeks.
Keytaon Thompson (Virginia) $4,600 – Thompson is averaging 13.4 FPPG this season. For this price, that's a good deal.
Marvin Mims (Oklahoma) $4,400 – Mims has the potential to be the #1 Fantasy WR this week. He still doesn't have a TD this season, but I'm expecting a big breakout game anytime now.
Rakim Jarrett (Maryland) $4,100 – I love this play. Great value and the Terps could be throwing often.
Lineup I Like
QB: Taulia Tagovailoa $6,000
RB: Treveyon Henderson $7,500
RB: Jalen Mitchell $4,600
WR: Marvin Mims $4,400
WR: Rakim Jarrett $4,100
WR: Keytaon Thompson $4,600
FLEX: Bijan Robinson $9,300
SuperFlex: CJ Stroud $9,500