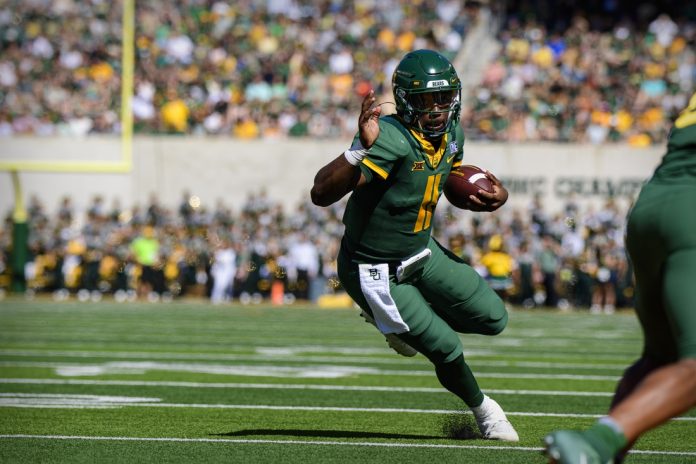 We have done the DFS homework for you, and here are is our breakdown for Saturday's slate of games in college football. We are using DraftKings numbers, so you have $50,000 to pick 8 players ($6,250 AVG). We are specifically targeting the CFB $150K Saturday Kickoff Main Event $50K to 1st contest ($20 entry).
Mississippi St at Auburn
West Virginia at Kansas St
Oklahoma at Baylor
UCF at SMU
Rutgers at Indiana
Michigan at Penn St
Northwestern at Wisconsin
Georgia at Tennessee
Miami at Florida St
Iowa St at Texas Tech
Minnesota at Iowa
Purdue at Ohio State
Maryland at Michigan State
---
Quarterbacks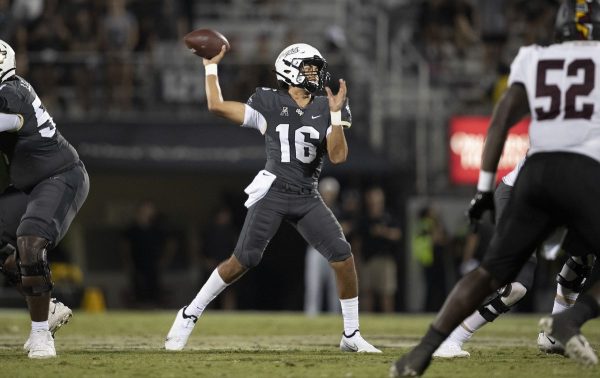 Top Plays
Caleb Williams (Oklahoma) $10,000 – 10K is too much for me. The match-up isn't the greatest and this kills your roster construction.
CJ Stroud (Ohio St) $9,400 – This price is too much for me. The match-up is okay, but Stroud can be inconsistent.
Tanner Mordecai (SMU) $8,700 – I'm not sure I've ever recommended not playing any of the three highest priced QBs, but I'm definitely recommending it this time. Mordecai could very well have a big game, but he disappointed last week.
Tyler Van Dyke (Miami) $8,000 – TVD has been on fire lately, but there's too many value options at a lower price for me this week.
Best Value Plays
Stetson Bennett (Georgia) $7,500 – Could Tennessee actually make this a game? It's possible. The Vols are able to score and UGA could throw more than usual. Bennett is averaging 16 FPPG, but it's possible he gets 20+ in this one.
Will Rogers (Mississippi St) $7,400 – One thing's for sure- Rogers is going to sling it around a ton. This isn't a good match-up, but the volume is there.
Gerry Bohanon (Baylor) $7,200 – Bohanon has been spectacular all season. He has a great price tag and the match-up is superb.
Payton Thorne (Michigan St) $7,000 – Thorne is averaging 21.5 FPPG this season and this is a match-up he could take advantage of.
Brock Purdy (Iowa St) $6,800 – Purdy has an extraordinary match-up and is a steal at this price. Get him in your lineups.
Longshot Plays
Hendon Hooker (Tennessee) $6,500 – Yes, this is the toughest match-up in CFB for a QB. However, Hooker has been phenomenal this season and will be forced to throw a ton.
Mikey Keene (UCF) $6,400 – Keene could be a low price contrarian play. He won't be highly owned and has a match-up with upside vs SMU.
Bo Nix (Auburn) $6,100 – Last week we got bad Bo Nix. This week, he has a good match-up and should bounce back. I love this play, especially for the price.
Taulia Tagovailoa (Maryland) $5,900 – Last week vs Penn State, Taulia had 18.9 points, which wasn't too bad for his price. This week he has a match-up vs Michigan State where he could easily get you 20+ points.
Aidan O'Connell (Purdue) $5,400 – O'Connell went off last week for 35 Fantasy Points. This match-up is tougher, but he will have to throw to keep up with the Buckeyes most likely. I love the game script, I love the price.
---
Running Backs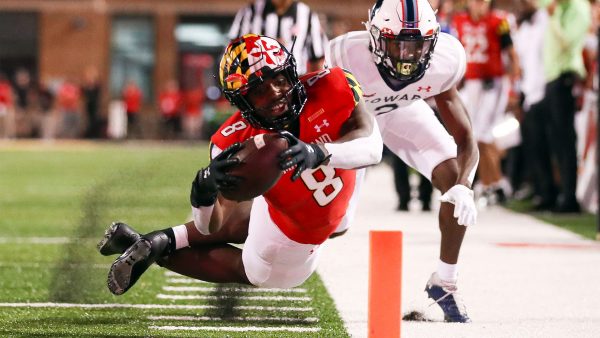 Top Plays
Deuce Vaughn (Kansas St) $9,700 – Vaughn has 120 fantasy points the last three weeks. That's 40 points a game, which is outstanding. Now, those games were against TCU, TTU and KU, three bad defenses. This week the match-up vs WVU is tough, but at this point I believe Deuce is match-up proof.
Breece Hall (Iowa St) $9,500 – I LOVE this play this week. Yes, it's costly, but the match-up vs Texas Tech is great.
Kenneth Walker III (Michigan St) $8,900 – Walker is averaging 29.2 FPPG and always has a high ceiling with a high floor, meaning he could go off for 45 points, but usually always gets you at least 20 points.
Treveyon Henderson (Ohio St) $8,500 – I'm big on this play. Henderson will get plenty of touches with many opportunities to score.
Braelon Allen (Wisconsin) $8,200 – Allen has 106.1 Fantasy Points the last 5 games. He's stepped up as the top RB option for the Badgers. I don't love this match-up or price tag, and I'll look elsewhere for RBs this week.
Jaylan Knighton (Miami) $7,900 – Knighton has 115.4 Fantasy Points the last four games and has been one of the hottest players in CFB recently. He's in store for another quality fantasy outing vs FSU.
Best Value Plays
Kennedy Brooks (Oklahoma) $7,700 – This isn't the greatest match-up for Brooks. However, in an offense capable of scoring 30+ points each week, he could be a good contrarian play.
Tyler Goodson (Iowa) $7,300 – Goodson is the heart of the Hawkeyes offense, and he will get you 20+ touches.
Abram Smith (Baylor) $7,100 – Smith averages 22.5 FPPG and goes up against a vulnerable sooners defense. This game has shootout potential and smith will be heavily involved.
Zamir White (Georgia) $6,800 – White is only averaging 13.3 FPPG, but the Dawgs haven't needed to rely on him because they've been beating the hell out of everybody. If Tennessee can keep this game competitive, then UGA might rely on Zamir more than usual.
Leddie Brown (West Virginia) $6,100 – Brown has been up and down this season. In his last four games he has a 5-point game, two 33-point games, and a 7 point game. He's worth taking a shot on for this price.
Tank Bigsby (Auburn) $5,800 – This is an excellent play, great price, decent match-up, and a lot of upside.
Tayon Fleet-Davis (Maryland) $5,100 – There's not many good cheap options at RB this week, but Fleet-Davis is averaging 15 FPPG and has a decent match-up vs Michigan State.
---
Receivers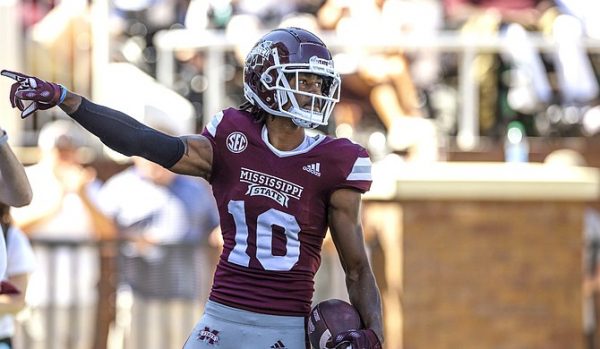 Top Plays
Jahan Dotson (Penn St) $8,800 – Dotson had a HUGE game last week with three TDs, and he's always a good play. But there's no way I'm paying this much, especially with the match-up vs Michigan.
Charleston Rambo (Miami) $8,000 – Rambo has been great since TVD became QB1. In his last three games, he's averaging 31 FPPG.
Jaxon Smith Njigba (Ohio St) $7,800 – After last week's 48-point fantasy game, DraftKings jacked up JSN's price. He's an excellent player capable of going off again, but there's cheaper options that I like more.
Makai Polk (Mississippi St) $7,600 – Polk is averaging 20.9 FPPG and he's always going to get a lot of volume. But I don't like this match-up vs Auburn.
Xavier Hutchinson (Iowa St) $7,400 – I love this play this week. Hutchinson is never highly owned and produces 19 FPPG. The match-up vs Texas Tech is also a big plus.
Best Value Plays
Ryan O'Keefe (UCF) $7,200 – O'Keefe gets involved in the run game as well as catching passes. He's a good contrarian play with a lot of upside.
Danny Gray (SMU) $7,100, Rashee Rice (SMU) $5,700, & Reggie Roberson (SMU) $4,800 – I like the value here for Roberson below 5K. One of these players will go off. Pick your poison.
Tyquan Thornton (Baylor) $6,800 – I really love this play vs Oklahoma, and I also like a Bohanon/Thornton stack.
David Bell (Purdue) $6,700 – 6,700 feels like an absolute steal for David Bell. He will get plenty of targets and will have to find the end zone, if the Boilermakers are going to win.
Chris Olave (Ohio St) $6,600 – I'm going to have a few shares of Olave. This is a fantastic bargain for the price.
Marvin Mims (Oklahoma) $6,400 – Mims had 32.5 Fantasy Points in Oklahoma's last game. He's a top target for Caleb Williams with high upside.
R.J Sneed (Baylor) $4,500 – Sneed is a good low price option with a good match-up in a game that could be high scoring.
Rakim Jarrett (Maryland) $4,500 – Jarrett is going to have a huge game soon. He's the most talented receiver on the Terps' roster, and he's dirt cheap at 4.5K.
Longshot Plays
Milton Wright (Purdue) $4,000 & Payne Durham (Purdue) $3,800 -Expect Aidan O'Connell to throw 40+ times vs Ohio State. These two will get a lot of targets and at this price all they need is a TD or a few catches.
Will Mallory (Miami) $3,400 – If you're playing Mallory, then it's just for roster construction, and you're hoping for 10 points or so.
Stacks I Like
Gerry Bohanon $7,200 & Tyquan Thornton $6,800
Brock Purdy $6,800 & Xavier Hutchinson $7,400
Bo Nix $6,100 & Tank Bigsby $5,800
Aidan O'Connell $5,400 & David Bell $6,700
Mock Lineup
QB: Aidan O'Connell $5,400
RB: Breece Hall $9,500
RB: Keaontay Ingram $6,400
WR: David Bell $6,700
WR: Tyquan Thornton $6,800
WR: Gary Bryant Jr $4,500
Flex: Rakim Jarrett $4,500
SuperFlex: Bo Nix $6,100