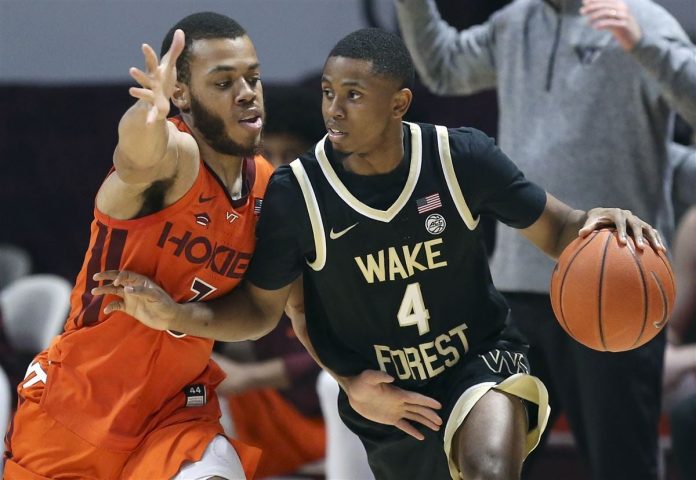 Last season, the Demon Deacons unsurprisingly struggled as new head coach Steve Forbes began establishing a new culture in the program. However, there is a newfound optimism surrounding Wake Forest in year two of Forbes' promising tenure. 
Senior guard Daivien Williamson will look to take on a primary role on the court as arguably the Deacs' most prolific scoring option. He has been used as a combo guard since his days at East Tennessee State, averaging double figures in each of his last two seasons. 
I sat down with Williamson to discuss his game and what we may see differently this upcoming year:
Speed and Quickness
There was no denying that at 6'2", Williamson was far from the biggest player on the floor. But he utilizes his skill set well given his natural limitations.
"One of things I've always been good at is beating guys off the dribble and making plays for my team," he explained. "In transition my speed and creativity helps me get around defenders and finish around the basket against these biggest defenders."
Williamson puts his traits on full display here. First, he recognizes a few seconds have already elapsed and the ball will have to be inbounded quickly. He reads the direction of the play and uses his athleticism to force the turnover.
At that point, the game plays into his hands. As a result of his speed and quickness, it turns into a one-on-one play and even a quick guard like Xavier Johnson is unable to contest the lay-up.
Shooting the Rock
As a pure shooter, Williamson is working to improve his 38% career three-point mark to above that 40% plateau. But his shot creation ability is certainly evident. Williamson was assisted on just 34.4% of his field goals last season, which is the below the 20th percentile of the ACC. 
His shooting splits also indicate that he was usually making good decisions with the ball.
| | | | |
| --- | --- | --- | --- |
| | Share | FG% | eFG% |
| At The Rim | 38.4 | 55.1 | 55.1 |
| Mid-Range | 17.7 | 47.2 | 47.2 |
| Three Point | 43.8 | 37.1 | 55.7 |
As is common with basketball players at all levels, mid-range shots are the most inefficient of these three categories. Williamson recognizes this and favors shots from behind the arc or in the paint, thus producing at a higher rate. 
A Perfect Schematic Fit
Williamson followed Forbes from East Tennessee State to Wake due to how well he molds into his system. Forbes runs a free, fast-moving offensive attack that resembles a five-out. 
"He trusts his players enough to make the right plays," Williamson said. "Having your head coach have that much confidence in his team, I think that allows you to flourish on that side of the ball."
A New Dimension
Williamson has drawn contact at a relatively high rate throughout his career but finishing plays is another aspect he hopes to improve upon. 
It is clear that he plays with a fearless mentality but the ability to turn those scenarios into three point plays will bring his game to the next level.
And Williamson has worked towards that exact goal this off-season. "Since last season I've put on about 20 pounds, and it's really helped my game," he said. "I will continue to get stronger as the season arrives."
As a more well-rounded offensive player as a shooter, finisher, and playmaker, Williamson will be a frustrating player to defend in the ACC.