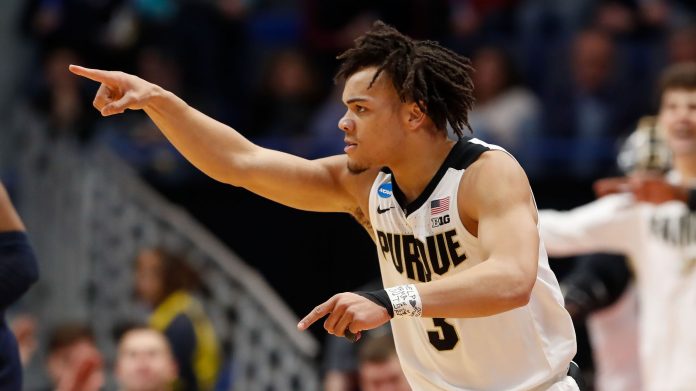 The NCAA Tournament is on to the Sweet 16. Pypeline contributors Brandon Buckman, Aarman Seth, Sunil Karnik, and Jason Gibbs had a round table discussion on the Thursday games.
#1 Gonzaga vs #4 Florida St. (West)
Sunil: I will start with my predictions for the FSU game. Do you all think they can pull off the upset? Do they at least cover the +7?
Jason: First prediction: Gonzaga by 100.
Sunil: You mother lover.
Aarman: I have to agree with that Jason.
Sunil: FSU won by 15 last year. Just saying.
Aarman: FSU is playing great, lead by their star guard Terrance Mann. I just love the Zags right now. They have everything you want on a team. Size, depth, and multiple players that can take over a game.
Sunil: Mann is the man.
Aarman: Great balance.
Sunil: Cofer's dad dying has been rough on the team.
Brandon: Not sure if FSU can pull it off without Cofer.
Jason: The Zags' Brandon Clarke will be the steal of the NBA draft. Scoring, rebounding, and an elite defender. I know Hachimura gets the headlines because of his backstory, but Clarke is legit.
Aarman: If Perkins can slow Mann down, I don't see anyway FSU can win.
Sunil: Ok, I say FSU wins by 21. I had them winning by 25, but you guys talked me down.
Aarman: Everything freezes over.
#2 Tennessee vs #3 Purdue (South)

Sunil: Purdue vs Tennessee? Game is in Louisville
Brandon: Admiral Schofield and Grant Williams will be too much for Purdue to handle. Tennessee has 5 starters all in double figure scoring as well
Aarman: Not so fast! I love Purdue's backcourt of Carsen Edwards and Ryan Cline.
Jason: Schofield's length will be tough on Edwards for Purdue on the switches.
Brandon: Carsen Edwards did just drop 42 on Nova.
Aarman: And now he's presumably out of his slump.
Sunil: FSU beat Purdue so I think they are legit.
Jason: Somehow all things come back to FSU.
Sunil: Purdue is too dependent on one guy. Tennessee has some playmakers.
Jason: Those playmakers are often cancelled out by their coach, Rick Barnes.
Do NOT trust him.
Aarman: I don't like Tennessee almost blowing double digit leads against Colgate and a struggling Iowa team.
Brandon: I'm taking Tennessee 71-64. I expect a few memorable performances in this one.
Aarman: I'll go with the minor upset of Purdue defeating Tennessee 85-78.
Sunil: Tenn wins 76-65.
Jason: Tenn 74 Purdue 70. Zero units on it!
#2 Michigan vs #3 Texas Tech (West)
Sunil: Michigan is slightly overrated to me.
Brandon: Texas Tech's Jarrett Culver is a STAR. He's averaging 19 points a game.
Jason: Culver = *stock way up*.
Aarman: Michigan is great.
Jason: B1G homer alert!
Aarman: Michigan's Iggy B is a crucial part of that team. He can be the X-factor.
Brandon: UM assistant Luke Yaklich is a defensive mastermind. I think he'll have Culver figured out.
Sunil: TX Tech's D is legit.
Aarman: Agreed, Sunil, but these are similar teams. Especially how they play defense first.
Brandon: This will be a defensive battle like Michigan vs. Florida. Low scoring.
Jason: Over/under is 126.
Aarman: I was impressed by Texas Tech against Buffalo. If they can make tough shots they win.
Sunil: I want Michigan to win cause I want revenge. FSU vs Michigan round two in the Elite Eight.
Aarman: Unfortunately, Zavier Simpson has been unstoppable, and I'll pick the Wolverines.
Brandon: Tech made Buffalo look bad. And I thought Buffalo was good enough for the Final Four.
Sunil: Yeah, I picked the Bulls to upset them, and the Red Raiders beat the tar out of them.
Aarman: Same.
Sunil: I am going TX Tech wins 36-30.
Aarman: Lmao, Michigan wins 65-52.
Brandon: Chris Beard was Big 12 COY, and it's hard to go against him. But Michigan is better. Wolverines 65-60.
Jason: Last note on TT/UM: since losing to Kansas in Phog on 2/5, TT has the #1 Adj OFFENSE in the country. Texas Tech wins 62-60.
#1 Virginia vs #12 Oregon (South)
Brandon: Thoughts on Virginia and Oregon?
Jason: The o/u is 119. First team to 18 wins.
Sunil: Virginia routes them. They are my pick to win it all.
Brandon: If Virginia wins the natty, could you imagine that story line? From last season's tournament to this year, that'd be awesome. I had the Cavs winning last year (RIP me), but I chose them again this year. I'm taking Virginia 64-58.
Jason: Once the Wahoos got their sea legs, they've been been great. They had an aneurysm in the 1H vs Gardner Webb. But once they got over that hump, they've been the team they've been all year. Props to Oregon, though. They've come on like gang busters. They were mediocre in a bad conference, but they've turned the corner come March.
Sunil: Yeah, Oregon may just be happy to be this far. UVA has fire in their bellies.
Brandon: After last year, anything less that a national championship for Virginia would be viewed as a failure. They are focused on the prize.
Jason: Payton Pritchard will have to have a solid game for the Ducks if they have a chance. He/they will HAVE to limit their turnovers. Else, it will be lights out.
Sunil: I gotta ask this… Does Kyle Guy have the most punchable face in the country?
Brandon: I love Kyle Guy!
Jason: Outside of Coach K, I'm assuming?
Brandon: Lol!
Jason: Guy is just one of those guys that you love him if he's on your team, and hate him if you have to play him.
The X-factors
Jason: Yes. Let's get a quick x-factor for each game.
Sunil: The x-factor for FSU will be Trent Forrest. If he can make some shots and defend, we win easily.
Jason: Easily?? Wow! Brandon, who are your x-factors?
Brandon:
Mich/TTU: Zavier Simpson (Wolverines)
Zaga/FSU: Brandon Clarke (Zags)
Tenn/Pur: Carsen Edwards (Boilermakers)
UVA/Ore: Louis King (Oregon)
Jason: Mine are:
Mich/TTU: Zavier Simpson (Wolverines)
Zaga/FSU: Brandon Clarke (Zags)
Tenn/Pur: Jordan Bone (Vols)
UVA/Ore: Kyle Guy + his face (Wahoos)
That's a wrap! Join us next time for the next Pypeline Roundtable.