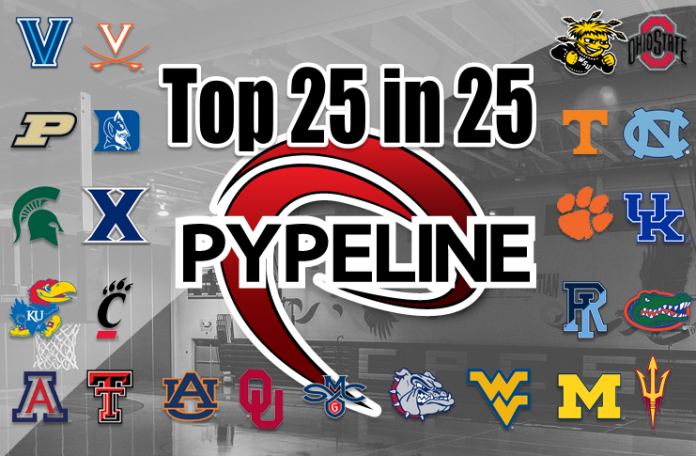 Catching up with the weekend's Top 25 college basketball action in 25 sentences.
#1 Virginia 62 Notre Dame 57 – The Cavaliers set the record for most ACC victories in a season, as they fought off a pesky Fighting Irish club that could be dangerous now that Bonzie Colson is back healthy.
#2 Michigan St 63 Wisconsin 60 (Fri) – In the Quarterfinals of the B1G tourney, despite a heroic effort by the Badgers' Ethan Happ (22 pts), the Spartans marched on, surviving a potential game-tying 3-pointer at the buzzer.
#15 Michigan 75 #2 Michigan St 64 (Sat) – For a team ranked 9th in Adjusted Defense, the Spartans got blitzed in the 2nd half, allowing 49 points to their rival Wolverines, losing in the B1G Tournament Semifinals.
#3 Xavier 65 DePaul 62 – The Musketeers had 20 turnovers that kept the game close, but ultimately Trevon Bluiett's 22pts & 6 rips helped Xavier set a school record for Big East victories and secure the Big East title.
#4 Villanova 97 Georgetown 73 – The Hoyas were dreaming of a major upset as they led the Wildcats 10-9 early in the first half…until Villanova blew their doors off the rest of the game.
#5 Duke 74 #9 North Carolina 64 – Have you heard of this Marvin Bagley guy (21 pts, 15 rips), because he seems like he might possibly be above average? In the Tar Heels' defense, they lost the game because of an obscure rule buried deep in the rule book that states that in a college basketball game you also have to play a 2nd half (up 10 at halftime, outscored 49-29 in the 2nd half).
Oklahoma St 82 #6 Kansas 64 – Despite having won the Big 12 regular season title an NCAA record 14th year in a row, the Jayhawks' streak of never having been swept under Bill Self is over, as the Cowboys, having already won in Allen Fieldhouse earlier this year, win in Stillwater going away.
#7 Gonzaga 83 Loyola Marymount 69 – In the Quarterfinals of the WCC, it was domination for the Zags, as they shot 61.2% from the field, 60.0% from 3, while outrebounding the Lions 41-26.
#8 Purdue 82 Rutgers 75 (Fri) – The Flying Edwards Brothers, Carsen & Vincent, (note- not actually related) dropped 26 pts each, as Rutgers was within 3 with 2+ mins left, before the Boilermakers salted it away in the B1G Quarterfinals.
#8 Purdue 78 Penn St 70 (Sat) – In the B1G Semifinals, Boilermaker (-8) bettors ended up with the push, aka the sister-kisser, when the Nittany Lions ended the game on a 14-4 run, including a "meaningless" 3 at the buzzer.
#15 Michigan 75 #8 Purdue 66 (Sun) – We're not really sure what the opposite of #BoilerUp #HammerDown would be (#BoilerDown #HammerUp?), but whatever it is that's what the Boilermakers did in the B1G Championship game against the Wolverines, shooting only 4-17 from deep for one of the best 3-pt shooting teams in the country.
#10 Cincinnati 62 #11 Wichita St 61 – A game that was for all the American Conference marbles, Cincinnati took home the crown, as the Bearcats shot a worse FG%, worse FT%, got outrebounded, had less assists, and more personal fouls, yet somehow, someway, gutted out a Conference Title victory. In a game decided by 1-pt, over the final 5:31, the Shockers scored 3 points…ouch, oof, owie!
#12 Texas Tech 79 TCU 75 – The Red Raiders ended their 4-game losing streak, as G Keenan Evans dropped 23 pts and finally looked like himself again, after having to wear two different sized shoes because of a toe injury last week.
Penn St 69 #13 Ohio St 68 – It's hard to beat a team three times in a season…unless you're Penn St, playing Ohio St, and you have Josh Reaves:
Carr ➡️ Reaves FOR THE WIN!pic.twitter.com/2C2eGWvJLa

— NCAA March Madness (@marchmadness) March 3, 2018
#14 Auburn 79 South Carolina 70 – The Tigers, coached by Bruce Pearl, won a share of the SEC title with Tennessee, formerly coached by Bruce Pearl, in some sort of weird Bruce Pearl-ception.
#15 Michigan 77 Nebraska 58 (Fri) – Muhammad-Ali Abdur-Rahkman & Moritz (Mo) Wagner (that's a lot of letters!) each had over 20 pts, as the Wolverines held the Cornhuskers to only 30% shooting.
#15 Michigan 75 #2 Michigan St 64 (Sat) – The Wolverines had 5 guys with at least 12 points, leading a total team effort win over the rival Spartans.
#15 Michigan 75 #8 Purdue 66 – Jon Teske provided a YUUUGE spark off the bench with 14 pts after scoring 19 pts in the previous 11 games COMBINED, as the Wolverines became on the 3rd team in B1G history to win the Conference Tournament in back-to-back years.
#16 Tennessee 66 Georgia 61 – Tennessee won a share of the SEC title, a victory so sweet that it almost made Vol Nation forget about Butch Jones…almost.
Davidson 63 #17 Rhode Island 61 – It was a "meaningless" game for the Rams, as they already had the #1 seed in the A10 Tournament wrapped up, and they played like it, losing to Davidson.
Syracuse 55 #18 Clemson 52 – In a do-or-die bubble win, the Orangemen pulled out a huge victory, as the Tigers reminded everyone that they're a football school.
#19 Arizona 66 California 54 – DeAndre Ayton put up 26 pts & 20 rips, becoming the all-time leading freshman scorer in Wildcats' history, as the allegations are CLEARLY affecting his play negatively.
Texas 87 #20 West Virginia 79 OT – The Fighting Huggy Bears went up against a Mo Bamba-less Longhorn team that needed this type of win to get into the Dance and got the job done behind 57% FG, 58% 3PT, and 22pts each from Kerwin Roach & Matt Coleman.
San Diego St 79 #21 Nevada 74 – The Aztecs had an answer for every 2nd half run the Wolfpack had, as the lead would shrink to 2 then balloon to 8, and perhaps causing Nevada to need to win a game in the Mountain West Tournament to ensure a bid to the Dance.
#22 Saint Mary's 69 (Nice!) Pepperdine 66 – The Gaels were (-15.5) pt favs vs a terrible, 6-win Pepperdine squad, and pulled out a win, despite during the final minute Saint Mary's made 1-4 FTs, had 2 turnovers and scored just 1 point.
Florida 80 #23 Kentucky 67 – Complete domination by the Gators was on display when they went 8 mins in the 2nd half and only scored 2 points…and still won by 13!
Marshall 76 #24 Middle Tennessee 67 – The Blue Raiders only had two Conference USA losses all year…and both were to the Thundering Herd.
#25 Houston 81 Connecticut 71 – Winners of 8 of their last 9, including a victory over the American Conference champions Cincinnati, the Cougars (Nice!) are fire hot right now, finishing off a pesky UConn squad with a 14-4 run.