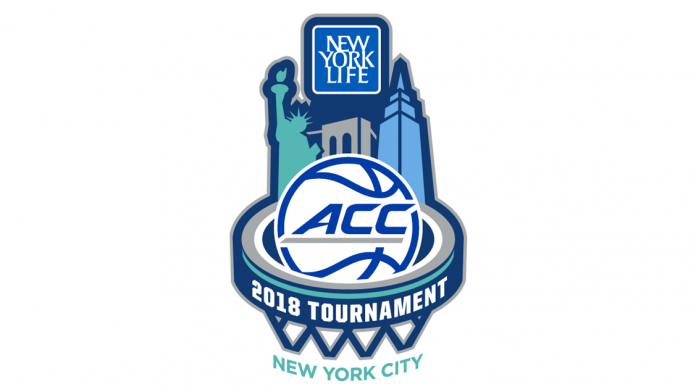 The Look Back
#1 Virginia 75 Louisville 58
After playing a 1-pt game their last time hooking up, as detailed by our award winning coverage*, there was the possibility of another barn burner. Virginia was having none of it. Up 11 at HT, wins by 17, the Cards never led at any point from 12+ mins on in the 1st half. Game. Over.
Obviously, everyone knows about the stout Virginia packline defense (#1 in the country in Adjusted Defense), but the Cavaliers scored their second most points of the season in conference play. If the Cavaliers plan on scoring 70+ points/gm along with that defense, it's probably a wise idea to start investing in tickets from Vegas for Virginia to cut down the nets.
#19 Clemson 90 Boston College 82
Clemson stumbled to the finish line. They went 2-4 in their last 6 games. However, they caught a break as the upstart Eagles got past NC State. And they took advantage, as Gabe DeVoe (25 pts) & Shelton Mitchell (21 pts) paced the Tigers.
#5 Duke 88 Notre Dame 70
Covered in yet more of our award-winning coverage*, we explained how Notre Dame could do damage in the Dance. The key would be IF they could get there. The showing versus Duke did not help their cause. It's going to hard to beat Duke's zone by shooting 5-23 from behind the arc. Matt Farrell was the biggest culprit, going 4-13 from the field, including 3-11 from deep.
Say what you want about one-and-dones and whether or not they should be allowed to go directly to the NBA, but it's sort of hard to make an argument that Marvin Bagley (33 pts, 17 rips) isn't wasting his time playing in college. He's averaging 20.7 pts & 11.2 rips per game. In the ACC no less. Our advanced stats tell us that is rated as "very, very good."
#12 North Carolina 82 #24 Miami 65
In a weird game that didn't see the Tar Heels score for the first 7 mins of the game, digging themselves into a 14-0 hole & causing head coach Roy Williams to bench all of the starters at the same time, North Carolina then outscored Miami, a team that recently beat them on UNC's home court on Senior Night, by 31 points the rest of the game.
And all of that happened without much contribution from Joel Berry who went 4-14 from the field. Not to be outdone, Luke Maye scored 2(!!) points by going 1-15(!!!) from the field. In his last three games, Maye, last year's Elite Eight hero vs Kentucky, has gone 11-39 (28%) from the field, including 1-8 from deep.
The Look Ahead
#1 Virginia vs #19 Clemson
When these two teams met earlier this year, Virginia won 61-36. It was total domination by the Wahoos' defense. Clemson went scoreless the final 6:32 of the 1st half. Then, for good measure, they went scoreless for 7:50 in the 2nd half. And for the cherry on top, they then went scoreless for another 4:11 later in the 2nd. We're not saying that's bad, but we've seen less scoreless streaks at a ComicCon Convention.
The key for Clemson to have a chance will be Gabe DeVoe. He has star potential for the Tigers, but can disappear at times during games. He can't afford that against the Cavaliers. It'll take a Herculean effort from him to get his team a W.
Virginia (-8) will be a #1 seed regardless of the outcome. However, inside the team, the Cavaliers still feel they have a lot to prove. Despite their #1 ranking in the country, they still feel disrespected. They won't take the Tigers lightly.
The total opened at 118.5, the sixth lowest total for a P5 conference game this season. It has since been bet down to 117. Points will be at a premium.
The public will be all over Virginia & the over. So we'll go the other way:
Prediction: #1 Virginia 58 #19 Clemson 51
#5 Duke vs #12 North Carolina
As we discussed in our award-winning coverage* (we have won so many awards) when these two teams met last week, Carolina/Duke is up there in the pantheon of greatest rivalries in sports. In that preview, we talked about Duke's dominance inside and how we didn't think UNC would hit enough threes to get the W in Cameron. That proved to be true, and the same bullet points apply just 6 days later.
Duke F Wendall Carter is questionable for the game with a foot injury. Our guess is that he plays. How effective he'll be might be a moot point with Marvin Bagley's dominance.
Forward Theo Pinson has possibly become the most important player on the Tar Heel squad. He's always been the glue that holds their defense together. However, now he's been contributing on the offensive end, too (25 pts vs Miami). He will be tasked with guarding Bagley because of his length and athleticism. If Carter's injury limits him so that the Heels' Luke Maye isn't a defensive liability, and Pinson can "relatively" keep Bagley in check, the Tar Heels will have a shot at pulling off the upset.
With Duke switching to a 2-3 zone, the entire game will hinge on North Carolina's ability to hit 3-pointers. In the 1st half vs the Blue Devils in their last game, they were hitting them and, as a result, had a 10-pt lead at the half. They didn't hit them in the 2nd half and got blown out. We already detailed Luke Maye's struggle shooting the ball lately. However, Joel Berry hasn't been far behind. In his last 3 games, he's gone 9-34 (26.5%) from the field, including 3-20 (15%) from 3. Yikes! That obviously can't happen against Duke and still expect to come away with a victory.
Duke (-4.5) is favored. The line seems a bit low, which makes us pause. Our (total) guess is that the Tar Heels get it going from deep. Law of averages, right?
Prediction: #12 North Carolina 82 #5 Duke 79
* – Full disclosure: the writing awards that we've won were fashioned out of old Greek yogurt lids that we found in the trashcan in the break room. We rinsed them off, molded them into awards, and then presented them to ourselves for a job well done. But they were awards, nonetheless.