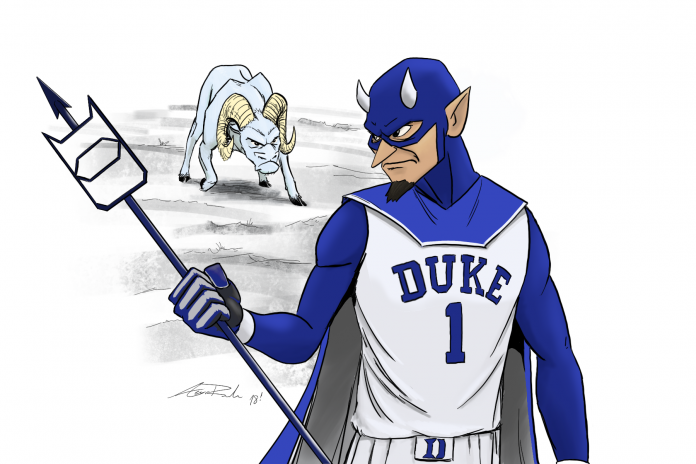 Artwork courtesy of Aaron Rench. Follow him on IG @youarelookinglive
Duke/Carolina. It's up there in the pantheon of the greatest rivalries in all of sports, along with Alabama/Auburn, Michigan/Ohio State, and Fergie/National Anthem.
As the old adage goes, you can throw the records out when these two teams get together. Although, it does seem pretty late in the season for both teams to have a 0-0 record. Regardless, it's going to be fun to watch.
Both teams are coming off last second losses. Duke on the road at Virginia Tech, UNC at home versus Miami. The Blue Devils have already secured a double bye in the ACC tournament. The Tar Heels would secure one with a win. Both are looking to improve their seeding for the NCAA tournament. Not to mention, both teams hate each other with the fire of a thousand suns people watching the "What's a computer?" girl from that Apple commercial.
In the first game between the two, won by the Tar Heels 82-78, the Blue Devils actually shot a much better percentage for the game (48.4%-39%). However, UNC hit two more 3-pointers (11-9), the difference in the game. Carolina also out rebounded Duke, despite being vastly undersized. The Tar Heels inexplicably lead the nation in rebounding difference, which is odd considering that they play mainly a smaller line up.
Both teams are in the Top 5 in Adjusted Offense. However, ever since Marvin Bagley went down for 3 games, Duke has switched to a primarily zone defense. When Bagley came back, the zone remained, and it has seemed to iron them out on the defensive side of the ball. However, when the Tar Heels played at Syracuse just two games ago, they had relatively little trouble scoring against the Orangemen's famous 2-3 zone. They primarily used Luke Maye and Theo Pinson as catalysts to attack the zone from the foul line. It will be interesting to see if the Blue Devils study that tape and make adjustments.
Since it's at Cameron Indoor, our guess is it's going to be rowdy. But that's just a guess. There's no way to predict these things accurately. It's also Grayson Allen's last home game, as his college career winds down (cue all non-Duke fans across the country celebrating). The two teams are evenly matched. In the last 10,000* games vs each other, both teams are 5000*-5000*, with only 0.4* points separating them in total points scored (* – all numbers approximate). The keys to the game will be:
Can the Tar Heels at least neutralize the Blue Devils on the boards?
Will Carolina hit their 3s, the key to beating any zone?
Is the combination of Bagley, Wendall Carter Jr, and Marques Bolden too much inside for UNC to handle?
In his final home game, will Grayson Allen trip someone, just for old times' sake?
The answers are No, Not enough, Yes, and we hope so, just for the comedy.
Prediction: Duke 84 North Carolina 80
PS – This is one of our all-time sneaky favorite UNC/Duke clips. It's not Jeff Capel's miracle half court shot, or Austin Rivers' game winner, or Danny Green's dunk in Cameron, or Michael Jordan, Christian Laettner, or any of the other superstars that have been on each team throughout their storied histories. No, it's a clip of Gerald Henderson purposely smashing Tyler Hansbrough in the face, bloodying his nose, and then everyone's former favorite announcer Billy Packer talking for FIVE SOLID MINUTES about how it was an accident, and Henderson was going for the ball. Everyone with a pair of eyes that wasn't blind (and even possibly some that were) could see it was an intentional foul.  And Jim Nantz's radio silence every time Packer brings it up is awkward announcing gold.