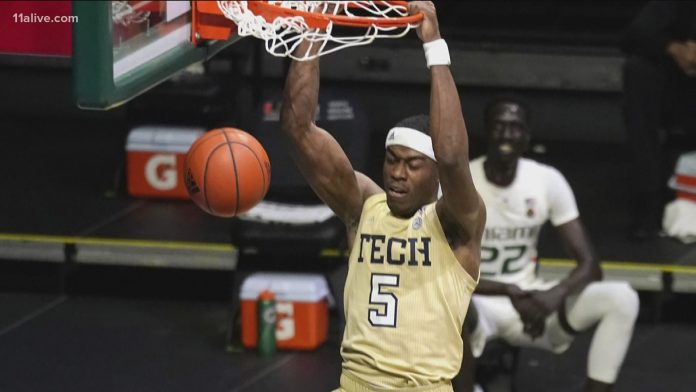 Covid has struck again. This time affecting the Georgia Tech Yellow Jackets big man Moses Wright.
ACC Player of the Year Moses Wright, who leads Georgia Tech in scoring and rebounding, will reportedly miss Friday's game because of COVID-19 issues https://t.co/6ZF6c9Ihkn

— Sports Illustrated (@SInow) March 18, 2021
BREAKING: Georgia Tech will be without star big man Moses Wright for the Yellow Jackets first-round game against Loyola Chicago, sources told me and @Brett_McMurphy.

— Jeff Goodman (@GoodmanHoops) March 18, 2021
Sources confirm that Georgia Tech's Moses Wright is OUT for this weekend's NCAA Tournament games due to issues related to COVID-19. Significant Round of 64 news.

— Jon Rothstein (@JonRothstein) March 18, 2021
ACC player of the year Moses Wright will miss Georgia Tech's first NCAA Tournament game in 11 years, per @GoodmanHoops and @Brett_McMurphy https://t.co/cZSdDosgbM

— Ken Sugiura (@ksugiuraajc) March 18, 2021
Wright, who was named ACC Player of the Year, helped keep the Jackets season alive and catapulted the team to their first ACC Championship since 1993.
A win in the first round for Loyola-Chicago would be an upset, as the line has moved all the way up to Loyola -5.5, after the Wright news dropped.
You don't have to scroll back too far in the history books to see when Loyola-Chicago made the NCAA Tournament in 2018 as a No. 11 seed. In the Round of 64 that year, the Ramblers were matched up against No. 6 seed Miami. The Ramblers made it past the Canes, 64-62.
The Ramblers continued their winning ways all the way to the Final Four after defeating #3 seed Tennessee, #7 seed Nevada, and then the #9 seed Kansas St. However, the Cinderella story came to an end when it lost to Michigan in the Final Four.
With Wright being out, who is also the team's leading scorer and rebounder, it could spell trouble for the Jackets. Whoever wins this game will then almost certainly have to face top seed Illinois, barring an enormous upset.
Illinois is a superior team than both the Ramblers and Jackets. In order for either one of the two to knock off the top seed, it would need a near-to-perfect game from everyone. However, the Jackets won't get the chance because:
Round of 64 prediction:
You won't like it, but …..
Ramblers 69, Jackets 60