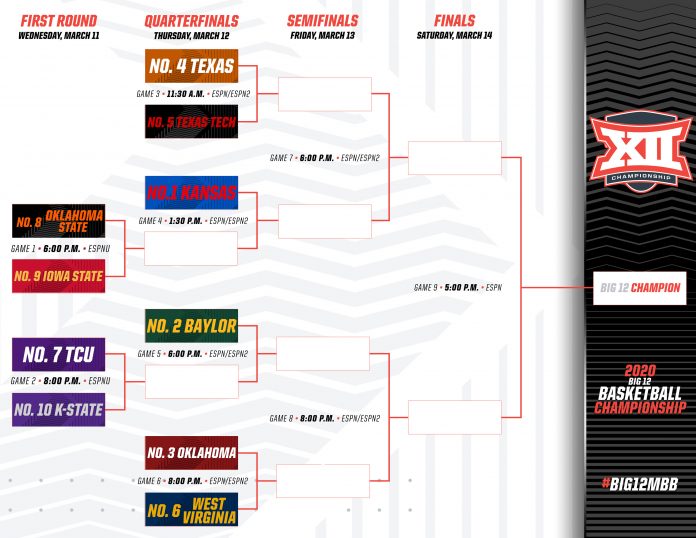 The field is set. The schools have all been seeded appropriately. The Big 12 Basketball Tournament is here and tip-off begins on Wednesday, March 11, in Kansas City, Missouri. Seeds 7-10 will battle on Wednesday to decide who advances into the quarterfinals to take on the remaining field. The quarterfinals will take place on Thursday, the semifinals on Friday, and the championship on Saturday.
Wednesday (March 11, First Round):
No. 8 Oklahoma State vs No. 9 Iowa State
 7:00pm ET ESPNU
 Line: Oklahoma State -5
Both the Cowboys and Cyclones have had a tough year this year. The Cowboys got off to about as bad a start as they could, going 0-8 in their first 8 conference games. Since then, the Cowboys have gone an impressive 7-3 to really bounce back with wins over teams such as Texas Tech, Oklahoma, and Texas. On the other side, the Cyclones have struggled all year, mainly because of youth and injuries. Finishing the regular season at 12-19 (5-13), this is their worst season since the 2001-02 season when they went 12-19, too. The Cyclones have had a lot of recent success under both Fred Hoiberg (2010-2015) and current coach Steve Prohm. The Cowboys and Cyclones will have to win the tournament to get into the NCAA Tournament.
Prediction:
Both teams are 13-16 ATS, with one team surging in the second half of the conference schedule vs a team who has struggled all season long. All signs point to the Pokes.
Oklahoma St 70  Iowa St 59
No. 7 TCU vs No. 10 Kansas State
 9:30pm ET ESPNU
 Line: TCU -1.5
TCU has been very inconsistent this season to say the least. They have looked like a potential NCAA Tournament team at times and have also looked like they don't even belong in the NIT at others. They sport some impressive wins over teams such as Texas Tech, West Virginia, and Baylor. But they also have many embarrassing losses on their resume such as losing by 32 to West Virginia, 20 to Oklahoma, and 46 to Texas Tech. As for Kansas State, the Wildcats have been the worst team in the conference all the way through. They have one impressive win over West Virginia, but that's it. The Wildcats and Horned Frogs will have to win the tournament to get into the NCAA Tournament.
Prediction:
Despite being the worse of the two, Kansas State is projected to keep this game very close because the game ultimately takes place in their backyard. TCU guard Desmond Bane (16.6ppg) will need to carry his Horned Frogs to victory for them to have a chance. If he doesn't score 15+, TCU won't win. I am going with the slight favorite in this one and picking TCU to win. Kansas State has been too bad all season for me to believe they can win this game, even in Kansas City.
TCU 63  Kansas St 56