We are all familiar with the fact that Notre Dame has struggled recently, compared to the rest of Mike Brey's 21-year tenure. The Irish have not have not made the NCAA Tournament since the 2016-17 season.
However, this year's roster looks promising. The Irish lead the ACC in returning possession minutes by a significant margin. Nate Laszewski, Prentiss Hubb, and Dane Goodwin are all seniors that are primed for huge seasons. Brey also added Yale transfer and defending Ivy League Player of the Year, Paul Atkinson.
If you look deep into it, Notre Dame's offense should be and has been elite.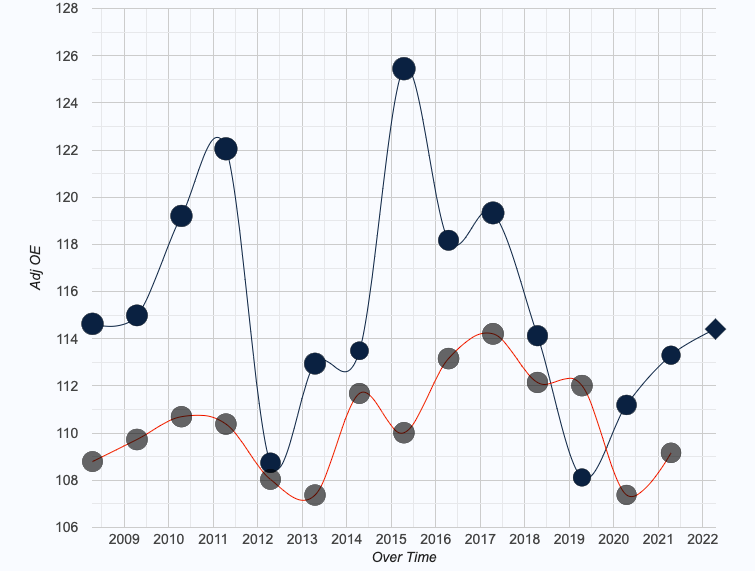 Even during their down years, the Irish have been well above average as a scoring attack. Torvik even projects Brey's squad to have the seventh ranked offense in the entire NCAA this upcoming season.
The issue lies on the other end on the court. In each season of this tournament drought, Notre Dame's defense was ranked in the bottom third of the conference. I do not need to go out on a limb to say that this unit has held them back from success.
And without adjustments, this pattern may continue. So let's look deeper into the problem and figure out how it can be addressed.
The Ball Screen Revolution is Causing Issues
HoopMath defines transition as within ten seconds of a steal, rebound, or made basket by an opponent. Here is the data I derived, regarding Notre Dame's defense:
| | | |
| --- | --- | --- |
| | Transition | Non-Transition |
| eFG% | 52.2 (5th ACC) | 50.5 (11th ACC) |
| eFG%, reb | 48.8 (5th ACC) | 46.7 (6th ACC) |
| eFG%, score | 64.7 (14th ACC) | 50.7 (13th ACC) |
| eFG%, steal | 54.5 (4th ACC) | 65.3 (15th ACC) |
The most glaring takeaway is that from a holistic perspective, the Irish struggle most in extended possessions. Looking through the film, the explanation is rather simple: it is the inability to defend ball screens.
Look at this sequence. The two plays look almost identical: same screener, same defender, same ball-handler, same location on the floor, etc. The only difference is the result. On the first play, the ball-handler glides past the screen for an easy floater. On the next play, the defender overcommits allowing for a wide open step-back jumper.
NC State is known for their heavy ball screen usage, but even the less ball-screen inclined teams were able to take advantage of Notre Dame in this way. Georgia Tech is at the bottom 25th percentile in total ball screens over the past three seasons (via HoopVision), but had plenty of success this way against the Irish.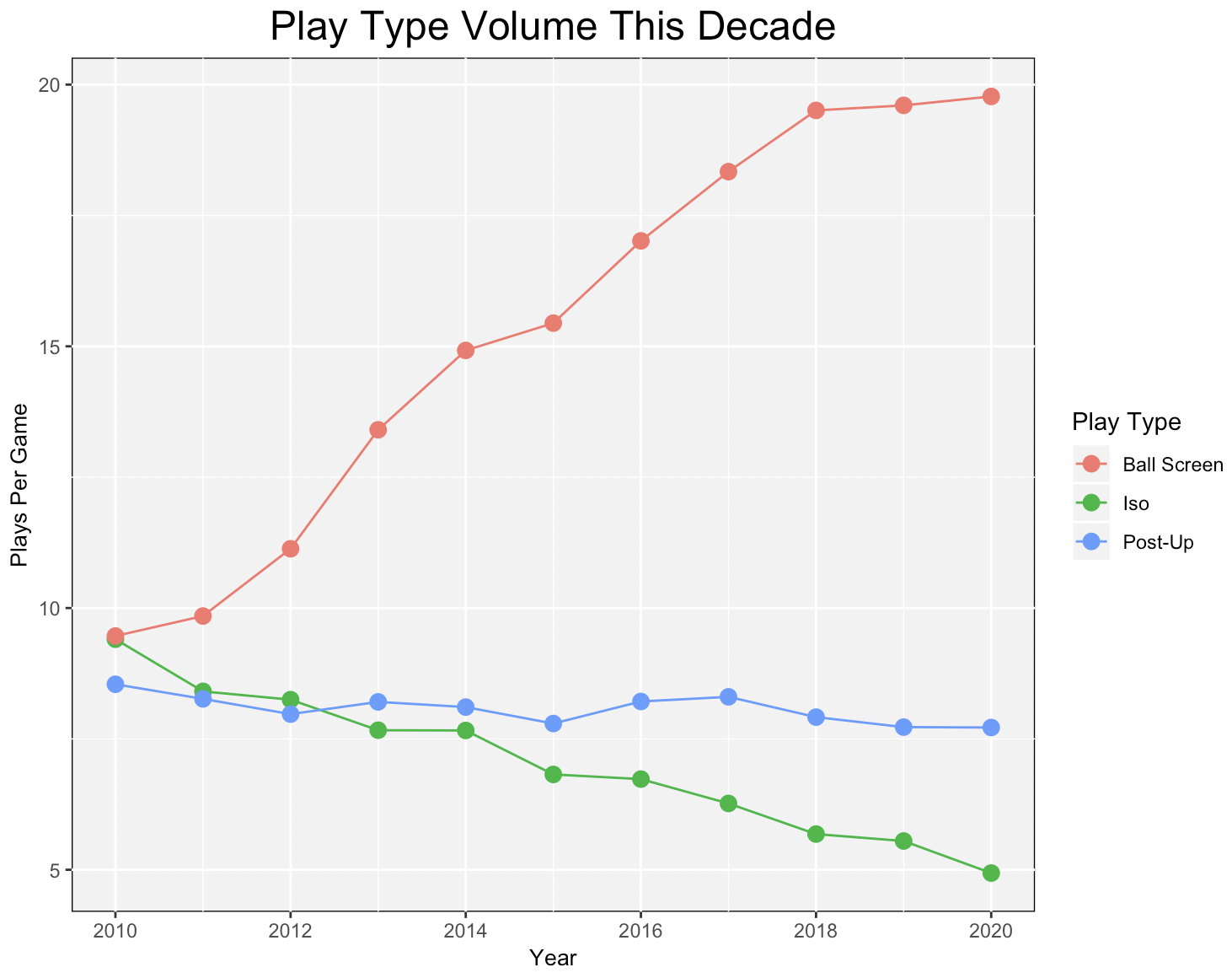 The overall trend in college basketball is the increased emphasis of ball screens to create offensive opportunities. Perhaps, Mike Brey has struggled to adjust to this change in the game.
One and Done
Another issue was the fact that when opponents would miss their initial shots, they would get second opportunities at a high rate. Brey's squad was 246th in defensive rebounding in Division I last season.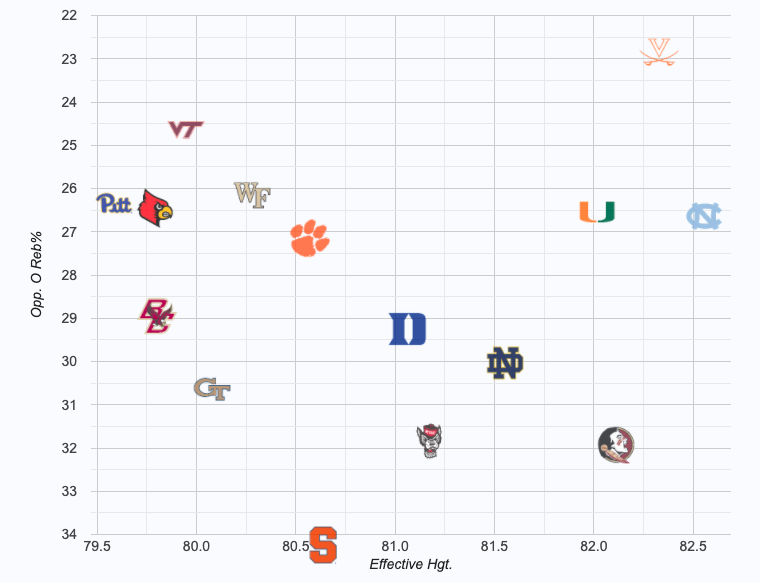 The fact that Notre Dame is the top third of the ACC in height, yet in the bottom third in rebounding rate is certainly telling. A lot of people point to lack of physicality to explain some of the Irish's defensive woes and this is a prime example of it.
Lack of Intensity
There is a well-known saying that paraphrases to "offense is about talent, but defense is about will." While that is not entirely true, the Irish have been held back by a lack of intensity.
As much as I have talked about Notre Dame's interior defense, their three-point percentages are significantly worse. A lot of this has to do with the inability to guard on-ball. This possession seems to epitomize their entire 2020-21 season.
An interesting tidbit I came across was the fact that Notre Dame fouled at the lowest rate in the entire country last season. While this is certainly a positive thing, perhaps they can sacrifice this trend to a certain extent in order to play more physical.
A Few Key Additions
While this talk about the way Notre Dame defends has been mostly negative, there are certainly positive signs.
First, Brey added defensive specialist Anthony Soloman to the staff this offseason. Soloman has lacked success as a head coach but has certainly brought that much needed element in his previous stints as an assistant at Notre Dame. In fact, Brey described it as "maybe the best hire I've made."
Soloman aims to make adjustments in the Irish's defensive positioning. He will implement a concept known as "ice," which will limit the effect of pick-and-roll action and take away the middle third of the court.
It also would be foolish not to mention the addition of the above mentioned Paul Atkinson. Not only did he lead the Ivy League in Torvik's overall efficiency rating but had the third highest defensive efficiency in the conference. Atkinson stands at 6'10" as a strong but athletic rim protector who can guard stretch bigs at a high level. He should also help improve the defense rebounding.
Notre Dame has struggled to stop most offenses but there are reasons for optimism. If they can they can improve from poor to decent, the offense should carry them to vast success.