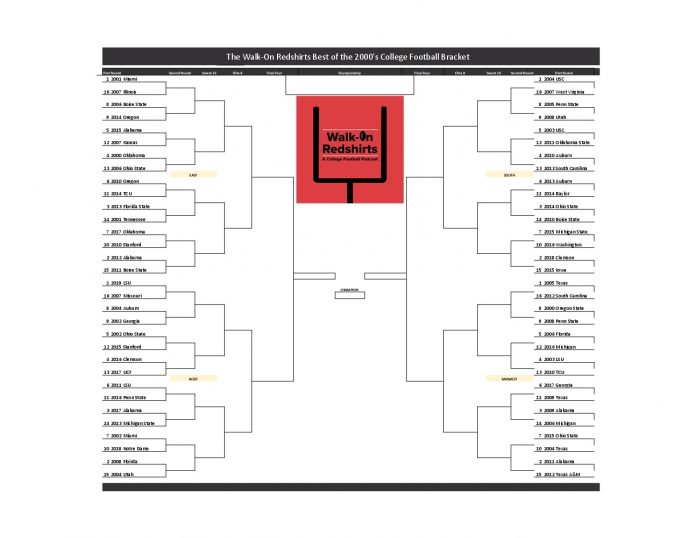 In honor of March Madness (and it being cancelled), the Walk-On Redshirts wanted to take a look at what a bracket might look like if you took the top teams from the 2000s and put them in a tournament. How would Boise State, Utah, UCF, and TCU fair against some former National Champions?
In the first round, we have a few intriguing match ups. How about 2008 Florida vs 2004 Utah, Urban Meyer is coaching against himself. 2003 USC vs 2011 Oklahoma State looks like a prime 5 vs 12 upset in the making with Oklahoma State nearly making the National Title game that year. Many believed LSU was one of the best teams ever from this past season, would they be able to make it out of their region without a slip up?
A notable 2 vs 15 match up is 2011 Alabama vs 2012 Texas A&M. Would Johnny Football be able to beat Alabama from the previous year? Illinois was up and down in 2007, but could Juice Williams work his magic again and upset Miami?
Let us know your thoughts! Also, follow along with the polls to see who comes out as the winner! Be sure to vote everyday until we crown a champion. And follow The Walk-On Redshirts for all our off season content!