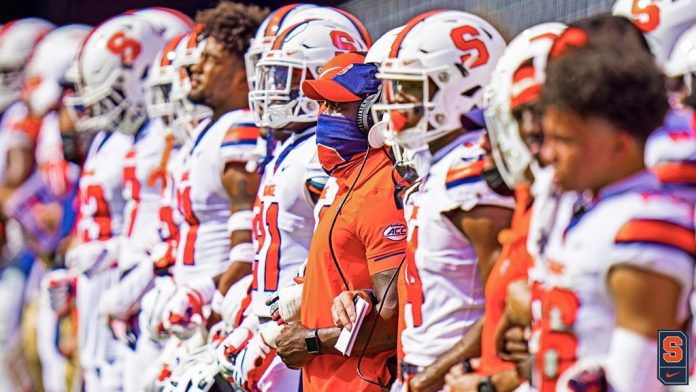 Earlier this week I dropped my first prediction for how Syracuse's 2021 football season would go. Today the predictions continue but instead of crystal balling wins and losses, I'm predicting three offensive players that could enjoy breakout campaigns this fall. 
2020 Breakout Studs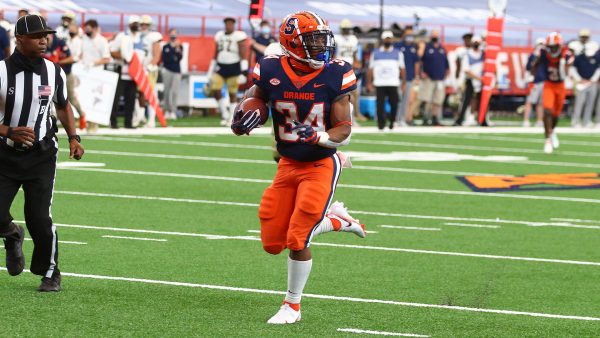 Last year SU fans saw true freshman running back Sean Tucker burst onto the scene. The Maryland native seemingly had all the stars align as veterans Jarveon Howard and Abdul Adams opted-out of the season altogether. Then experienced tailbacks Jawhar Jordan and Markenzy Pierre dealt with injuries and inconsistent play. Tucker entered stage left and ran with the starting job, literally.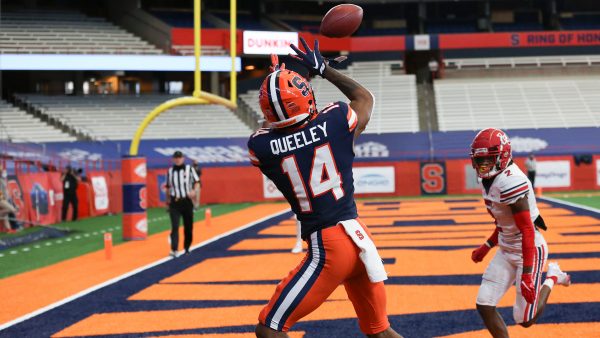 The same can be said about wideout Anthony Queeley who emerged as SU's number two option on the outside. The Florida native didn't record a single catch during the 2019 season, and enjoyed some big performances this year. Queeley caught 37 balls for 378 yards and a pair of scores and is now SU's number two option through the aerial attack.  
Aside from Tucker and Queeley there isn't really another breakout star on the offensive side of the landscape. Nobody else really stands out on paper. You could pick RB Cooper Lutz for the contributions he made as a runner and receiver. 
Instead, OL Matthew Bergeron gets the nod as SU's third breakout star from last year. The rising junior started all eleven games at tackle last year (three on the left, three on the right) and provided some consistency up front. The Canadien figures to play a huge role in the step forward everybody believes the o-line will take this fall.  
Who Breaks Out This Year?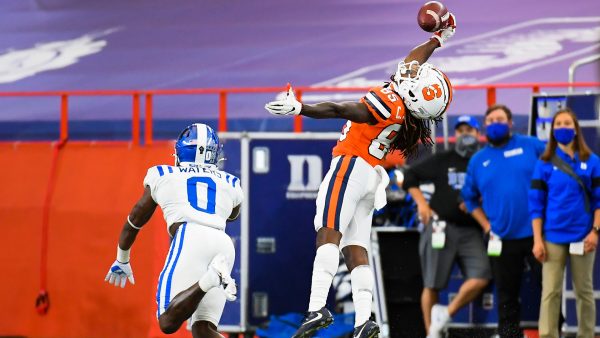 WR – Courtney Jackson
My first pick for offensive breakout player (in no particular order) is projected starting slot receiver Courtney Jackson. The rising redshirt-sophomore got some opportunities last season on certain packages and looked decent. He dealt with drops and some inconsistent play, but that's to be expected from a young receiver. 
Now that the Pennsylvania native has some experience under his belt, he could enjoy a big year in 2021. Keep in mind there's no more Nykeim Johnson on the roster to take his reps away. Jackson is 5'10″, 173 lbs with short area burst and quickness. He could play a big role in the passing game and has the speed to be dangerous if he gets in space. The pass catcher recorded 10 receptions for 69 yards in 2020.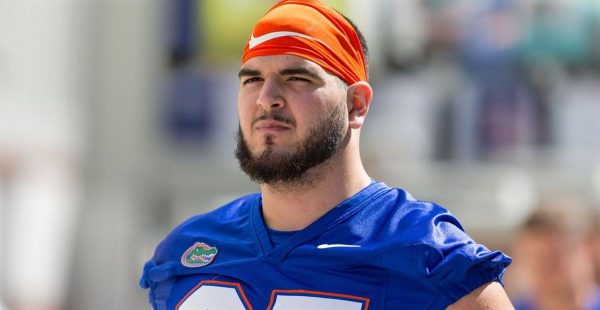 IOL- Chris Bleich 
The former SEC offensive lineman was a huge get for Syracuse last year. Many thought the former 3-star recruit would receive immediate eligibility for the 2020 season but that didn't happen. So Bleich stood on the sidelines and watched a putrid offensive line get shredded. 
The Pennsylvania native should shore up the interior of the O-line and contribute to whoever starts at quarterback having time in the pocket. The three hundred-pounder played in nine games back in 2019 for the Florida Gators and started eight. Bleich has played against some of the best defensive line talent in the country and should be a huge asset for SU.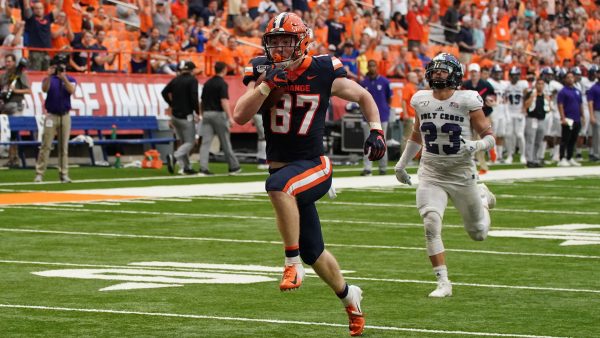 TE- Luke Benson
Who else do you put here? Maybe another wideout like Damien Alford but SU already has legit options in the receiver room in Taj Harris and Queeley. You could go with either QB Tommy DeVito or Garrett Shrader, but who knows which guy gets the starting job?
Benson is the safe pick and really needs to be one that comes to fruition. There was a quote from The Athletic's State of the Program article revolving around tight end production and usage and Syracuse and it's pretty disturbing. This quote comes from an anonymous opposing coach.
"They're predictable since they don't utilize tight ends and don't have a ton of creativity in their offense." 
That's just a snippet from what's in that quote and in that piece. SU really doesn't utilize the tight end at all. That's a problem because you know wideouts are running routes or blocking, it's pretty obvious off the snap. Tight ends however are the swing man. They could be blocking, they could be going out on a route, or maybe even both on some plays. 
This position will always put a defense in conflict and SU seemingly never takes advantage of it. Last season both Benson and former SU player Aaron Hackett (transferred to TCU) combined for 16 catches, 126 yards, and four touchdowns. That needs to be Benson's stat line for three or four games, not a whole season. Again that included Hackett's number.  
Benson has flashed athletic ability to be a threat in the passing game. He has more playmaking ability than Hackett did. This is Benson's job now in 2021 so he should be getting all the tight production and opportunities. Maybe if Syracuse can develop a dangerous running game, that will set up opportunities for Benson in play action or chip and release situations.   
Those are my picks for top three offensive breakout players. Let me know in the comments who I forgot to include or who shouldn't be included. Stay tuned for the defensive picks. There are quite a few options to pick from as the talent cupboard is fully stocked for defensive coordinator Tony White. And as always, remember to follow me on twitter @John_Eads3.