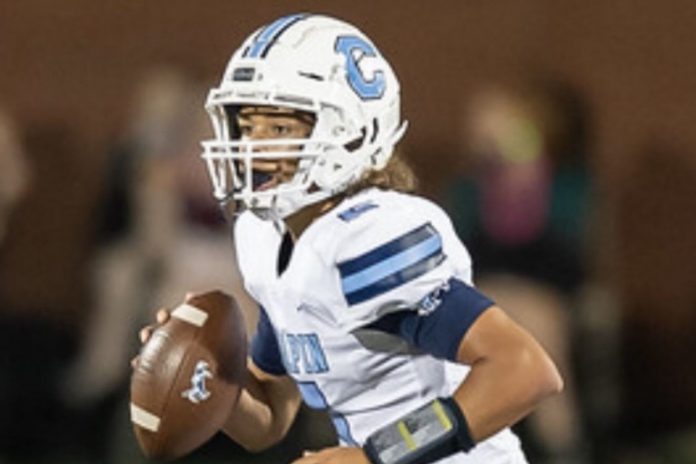 Young Jayden Bradford is far from his collegiate football days at the moment, but the whole country will know when he arrives.
The Wolfpack were first to offer the Class of 2024 Quarterback. Other than NC State, he currently holds offers from Georgia State, Virginia Tech, Georgia Tech, and Vanderbilt. He's also attended camps at in-state universities Clemson and South Carolina.
The rising Sophomore at Chapin High School is coming off a strong freshman season where he threw for 916 yards and 7 touchdowns on 65% completion percentage. He also added 122 rushing yards and 3 touchdowns on the ground.
He is a 6'1", 180-pound dual-threat QB. He'll undoubtedly add size to his frame between now and when he steps on a collegiate campus.
What are the chances he suits up for the Wolfpack?
As a rising sophomore, there's plenty of football ahead before he makes his decision. NC State was the first program to offer the obviously talented prep QB. While that alone doesn't mean the Pack have an huge leg up on the recruiting competition, it certainly doesn't hurt.
There's something to be said for the commitment and belief a coaching staff has in a player, when they offer him before he can even drive a vehicle. It shows that NC State trusts what they see. Dave Doeren and Company didn't sit back and wait to see what other programs were interested in Bradford. They had him at camp, liked what they saw, and believe in his development. So they offered him. They didn't play any games. They put their money where their mouth is.
Other Chapin High School players committed to the Wolfpack: 2021 Interior offensive lineman Thornton Gentry (enrolled) and recent 2022 running back Bennett Galloway.
Be sure to check out Jayden's highlights.
For more NC State content, follow us on Twitter at @LightItRed