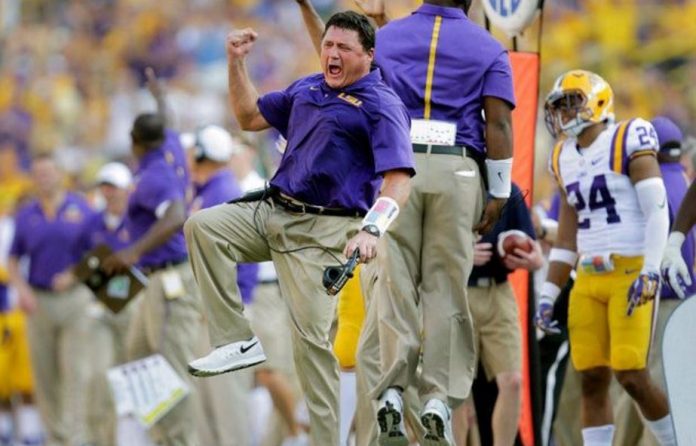 1. Alabama (Last week: 1)
Last Week: W over Texas A&M 47-28
Alabama won handily vs the Aggies, but it is evident that the gap between 1 and 7 or 8 is not very big. Looking like Alabama vs LSU could be 1v2. The Crimson Tide face Tennessee at home this week.
2. LSU (5)
Last Week: W over Florida 42-28
LSU trailed in the second half, but 21 straight points got them the big win and vaulted them to #2. The defense needs to improve some, but the Tigers are playing at a very high level right now. Up next, the Tigers travel to Miss State.
3. Ohio State (4)
Last Week: Bye
The Buckeyes enjoyed a bye week to get ready for a Friday night road game at Northwestern. They also picked up 1 spot and are now #3.
ARE YOU SERIOUS, @_CeeDeeThree 😱😱

The @OU_Football WR hauls in the flea flicker and puts the Texas defense on ice for the TD. pic.twitter.com/Giw0Hvdra2

— FOX College Football (@CFBONFOX) October 12, 2019
4. Oklahoma (3)
Last Week: W over Texas 34-27
Oklahoma playing actual defense is scary sight. This team is a clear National Title contender the way they are playing. Up next, WVU comes to town to face the Sooners.
5. Clemson (2)
Last Week: W over Florida State 45-14
Although, Clemson blew out the Seminoles, a couple of teams are playing at a higher level. A case could be made to put Clemson lower, but the 31 point win stopped me from doing so. Up next, the Tigers travel to Louisville, who have surprised offensively this year.
6. Wisconsin (7)
Last Week: W over Michigan State 38-0
Wisconsin has the best defense in the nation. Four shutouts through 6 games and a blowout against the Spartans. The Badgers face Illinois on the road this week, as the trip to Columbus on Oct 26 looms large.
7. Penn State (8)
Last Week: W over Iowa 17-12
Penn St snuck out a win in Iowa City to stay undefeated. However, the big blowout win vs Maryland doesn't look as impressive, after the Terps got blown out by an undermanned Purdue team. So the Nittany Lions stay out of the Top 5. Penn St welcomes in the Wolverines for Whiteout this weekend.
BRADEN LENZY GOT WHEELS 💨 pic.twitter.com/sYYgYds90E

— Notre Dame on NBC (@NDonNBC) October 13, 2019
8. Notre Dame (10)
Last Week: W over USC 30-27
Notre Dame held on for the win in the rivalry game vs the Trojans. The Irish get a bye week to prepare for the big road trip to Michigan.
9. Auburn (12)
Last Week: Bye
Auburn moved up 3 spots this week after UGA, Texas, and Florida lost. A pretty productive bye week. The Tigers still face 3 teams in my Top 11, which is a tough road. They travel to Arkansas this week.
10. Oregon (13)
Last Week: W over Colorado 45-3
The Ducks blew out the Buffs at home and jumped 3 spots to #10. Now starts a big 3-game stretch (at Wash, vs Wazzu, at USC). If the Ducks get through it, they may still have a shot at the CFP.
Wide left!

South Carolina takes down No. 3 Georgia in Athens! pic.twitter.com/Eg85pwbjiL

— ESPN (@espn) October 12, 2019
11. Georgia (6)
Last Week: L vs South Carolina 20-17
That's a backbreaking loss for a team that still has to play Florida, Missouri and Auburn. A big upset loss, but they have to bounce back this week at home vs Kentucky.
12. Utah (14)
Last Week: W over Oregon State 52-7
Utah looked good vs Oregon St and still has an outside shot at the CFP. This week is a huge division game at home against Arizona State. This is the game I had circled to decide the division in the preseason.
13. Florida (9)
Last Week: L vs LSU 42-28
A tough loss on the road, where they led 28-21 at one point. The Gators only drop a couple of spots to #13, but still have to face Georgia. Up next, is a road trip to rival South Carolina, who just beat Georgia.
14. Boise State (15)
Last Week: W over Hawaii 59-37
Another step towards my 12-0 prediction. A solid win over a pretty good Hawaii team. The Broncos are the current frontrunner for the G5 NY6 bid. However, they travel to BYU this week, which is always a tough place to play.
Ballgame.#SicEm pic.twitter.com/BTS56OEf7J

— Baylor Football (@BUFootball) October 13, 2019
15. Baylor (18)
Last Week: W over Texas Tech 33-30
Baylor snuck out a win at home vs TTech in 2OT, but continue to win, and they move into the Top 15. This week they travel to Oklahoma St, which will be a huge game, followed by a bye week.
16. Michigan (16)
Last Week: W over Illinois 42-25
Michigan had a little bit of a scare as they let a 28-0 lead slip to 28-25, but the pulled away late for the win. This week the Wolverines travel to Penn St and in a Whiteout setting it will be very tough to find a W.
17. Minnesota (22)
Last Week: W over Nebraska 34-7
Minnesota blasted a struggling Nebraska team and is beginning to play really well. Don't look now, but they could and should be 8-0 heading into a home game vs Penn St Nov 9th. The Golden Gophers travel to Rutgers this week to move to 7-0.
Jayden Daniels can score with his 💪arm and feet🏃‍♂️🌬️

Arizona St. 38
Washington St. 34 pic.twitter.com/MQIi9VCecj

— Official Bookmaker (@bookmaker_eu) October 12, 2019
18. Arizona State (21)
Last Week: W over Washington State 38-34
The Sun Devils got another good win, this time vs Washington State. ASU continues to move up in the rankings. Up next is a huge game at Utah that could decide the division.
19. Cincinnati (23)
Last Week: W over Houston 38-23
The Bearcats beat an interesting Houston team by 2 scores and are cemented at the #2 slot for G5 NY6 bid. Up next, Cincinnati plays Tulsa at home at Nippert Stadium.
20. Texas (11)
Last Week: L vs Oklahoma 34-27
Texas had trouble scoring the entire first half vs the Sooners and ultimately fell short. The Longhorns have lost to my #2 and #4 teams by a total of 14 points, so they stay ranked. Up next, Texas faces Kansas at home.
21. Appalachian State (26)
Last Week: W over UL Lafayette 17-7
Rank App State! The defense had an excellent game and they got the win vs a good Ragin Cajun offense. Up next, App St welcomes UL Monroe to Boone for another big SBC game.
22. Tulane (NR)
Last Week: W over Connecticut 49-7
Roll Wave! Tulane is playing very well right now and has made their first ever appearance in my Top 26. The Green Wave has a very tough finish (Memphis, Navy, Temple, UCF, and SMU). They will look to keep it going at Memphis this week, which is a huge divisional game.
23. SMU (25)
Last Week: Bye
SMU got a bye week to prepare for now ranked Temple, as they look to continue their undefeated season and possible push for the G5 NY6 slot. The Mustangs' defense is still allowing a bunch of points, which needs to be addressed.
24. Temple (NR)
Last Week: W over Memphis 30-28
The Owls won a huge home game vs Memphis, but it was very controversial with Memphis clearly converting on a 4th down pass that was somehow called incomplete. Nonetheless, the Owls are ranked and play at SMU this week in a huge conference match-up.
25. Washington (NR)
Last Week: W over Arizona 51-27
Washington got a bounce back win vs Arizona, but with 2 losses their CFP chances are gone. Up next, they get Oregon at home. This team does still have a shot at the Pac 12 Title.
This play was ruled "incomplete" costing Memphis Football the game vs. Temple.

What do you think? pic.twitter.com/3pGltxQJ6W

— Grind City Media (@grindcitymedia) October 12, 2019
26. Memphis (19)
Last Week: L vs Temple 30-28
As mentioned above, the Tigers lost on what was a suspect incompletion call late. The Tigers fall a couple of spots, but have a huge divisional home game vs Tulane this week. The loser will be in a tough position to try to make the AAC Title Game.
-Next Teams Up-
San Diego State
Last Week: W over Wyoming 26-22
Pittsburgh
Last Week: Bye
California
Last Week: Bye
Louisiana Tech
Last Week: W over UMass 69-21
UAB
Last Week: W over UTSA 33-14
Navy
Last Week: W over Tulsa 45-17