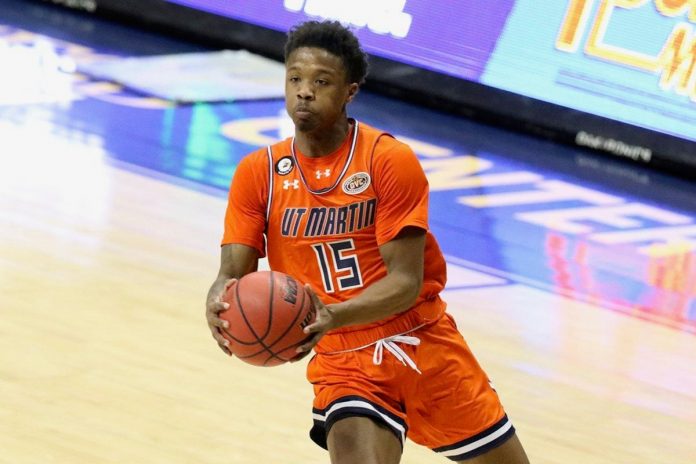 It's clear that Cam Holden is a player that teams need to go after hard after he announced his decision to enter the transfer portal and leave UT-Martin.
The 6'5″ guard/forward averaged 15 points and 9 rebounds per game this past season for the Skyhawks. Prior to signing with the program, Holden got his start with JUCO Gulf Coast State. There he averaged 20 points per game alone with 10 rebounds per game.
After entering the portal, Talking Jackets, via Pypeline, got an inside track to Holden's recruiting process.
What do you look for now in a school after spending a year in college?
"Finding the right fit for me. I want to be able take a team to another level."
Has Georgia Tech reached out? If so, is there a potential interest in playing for that program?
"No, but I was recruited by Georgia Tech out of high school … if they recruited me I would most definitely have interest in them."
Your commitment date is set for April 1, will that change?
"It may change. I really want make sure this is the right fit!"
How do you feel you can help the next program you join?
"Scoring on three levels, versatility, and making winning plays like taking charges and diving for loose balls."
You almost averaged a double-double last season, if there's one aspect of your game you feel needs the most attention, which would it be?
"I would say my shooting percentage from 3pt .. in JUCO, I shot 36%. This year I shot 26%. So I most definitely will work that part of my game this off-season."
What schools have shown interest since entering the portal?
"Arkansas, Mercer, South Alabama, Temple, UAB, Sam Houston State, Southern Illinois, Wagner, Grambling, Towson, Valparaiso, Robert Morris, New Orleans, James Madison, South Florida, Cincinnati, Illinois State, Georgia State, Purdue Fort Wayne, Troy, NC A&T, UNCW and Milwaukee."
Maybe Georgia Tech hasn't come knocking on Holden's door due to the process of waiting it out on the other players to make their respective decisions, but if his door gets knocked on again by the Jackets, Holden may just answer and put pen to paper.
Holden did tell us his Top 6, but out of respect, we will not be releasing  that info until he is ready for that information to be out in the public.