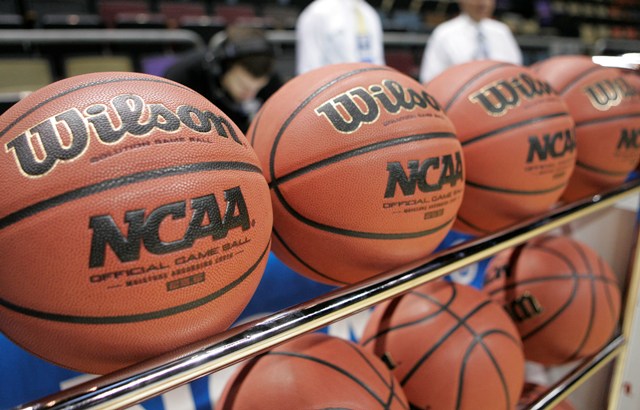 The 2020-2021 college basketball season tipped off this past week and there was a lot of fun action to watch. We are once again set for an absolutely thrilling season of college basketball. Here are Pypeline's Top-25 Rankings and Bracketology after the results of Week 1.
Top-25 Rankings
1. Gonzaga (1-0)
Nobody looked stronger than the Zags in the opening week. 💪

No. 1 Gonzaga earned the first Team of the Week of 2020-21 from @TheAndyKatz! pic.twitter.com/ap4RlMsSGa

— NCAA March Madness (@marchmadness) November 30, 2020
Projected Starting Lineup
Jalen Suggs, Joel Ayayi, Corey Kispert, Anton Watson, and Drew Timme
The Gonzaga Bulldogs looked the part against the Kansas Jayhawks in their first game of the season in the Fort Meyers Tip off 102-90. Then followed it up with a beating of Auburn by a score of 90-67. They are the real deal and so is freshman guard Jalen Suggs.
2. Iowa (2-0) ⬆️ 1
Luka Garza (.933, 14-15) is the first Hawkeye to make 90% of his FGA (min. 10 attempts) in a game since @Aaron_White30 in 2013 (.900, 9-10) vs. UMES. #Hawkeyes pic.twitter.com/GCFtR3N9aC

— Iowa Basketball (@IowaHoops) November 28, 2020
Projected Starting Lineup
Jordan Bohannon, C.J. Frederick, Connor McCaffery, Joe Weiskamp, and Luka Garza
The Iowa Hawkeyes haven't been tested in the early part of the season but it's difficult to find a better group of complementary players. Last year's Naismith Trophy winner Luka Garza, continued where he left off last year posting a 41-point and 9-rebound outing in a 103-76 victory over Southern. They won't be challenged until they take on North Carolina on Dec. 8th in the Big Ten/ACC Challenge.
3. Baylor (2-0) ⬆️ 2
Projected Starting Lineup
Jared Butler, MaCio Teague, Davion Mitchell, Mark Vital, and Flo Thamba
The Baylor Bears had their first game of the season canceled due to COVID-19 concerns but were still able to play two games without head-coach Scott Drew. Baylor made a statement in their second game of the season against an albeit not great Washington team winning by a score of 86-52. Everyone knows about national player of the year candidate Jared Butler, but senior guard Macio Teague has taken a major leap and could be the difference in this group contending for the Big-12 and NCAA Championship. They will take on the Illinois Fighting Illini in a marquee matchup in the Jimmy V Classic on Wednesday Dec. 2.
4. Duke (1-0) ⬆️ 3
Projected Starting Lineup
Jeremy Roach, Wendell Moore, Jalen Johnson, Matthew Hurt, and Mark Williams
The Duke Blue Devils are back and as usual crack the upper half of the Top-25 rankings. Their first game was canceled due to COVID-19 concerns. Their only game this weekend was against Coppin State in which they got out to a 17-point lead and seemed in control. However, they only won the game by a score of 81-71. This isn't too concerning as it was the first game of the season. Duke will take on the Michigan State Spartans in the annual State Farm Champions Classic on Tuesday Dec. 1st. This is a game in which I believe we could see a great contest and inn which Duke will ultimately struggle to win.
5. Illinois (3-0) ⬆️ 3
Winning plays. #Illini | #EveryDayGuys pic.twitter.com/NcWI5BAaZJ

— Illinois Basketball (@IlliniMBB) November 28, 2020
Projected Starting Lineup
Ayo Dosunmu, Trent Frazier, Adam Miller, Da'Monte Williams, and Kofi Cockburn
The Illinois Fighting Illini are a team to watch this year. Everyone knows about its dynamic one-two punch of Ayo Dosunmu and Kofi Cockburn but the headline story was freshman Adam Miller. Miller scored 28-points in his first outing in an Illini uniform, breaking the Illinois scoring debut record. In game three, Illinois struggled to contain Ohio's star in the making, Jason Preston, who recorded 31-points, 6-rebounds, and 8-assists with zero turnovers. While this game will be concerning to most, this was an early test of adversity of which this squad passed. Now the Fighting Illini will have a chance to turn some heads in its marquee matchup with the Baylor Bears on Wednesday Dec. 2nd in the Jimmy V Classic.
6. Wisconsin (2-0) ⬆️ 3
Projected Starting Lineup
D'Mitrik Trice, Brad Davison, Aleem Ford, Nate Reuvers, and Micah Potter
The Wisconsin Badgers returned its entire starting lineup from a year ago and have not disappointed. Although this isn't a prolific offensive squad, it will challenge the Virginia Cavaliers for best defensive team in the country. They weren't tested in their first two contests winning 77-67 over Eastern Illinois and 92-58 over Arkansas-Pine Bluff respectively. They will have two matchups that could challenge them in the next week and a half @ Marquette on Dec. 4th followed by Louisville at the Kohl Center on Dec. 9th. We'll know more about this group by then.
7. Michigan State (2-0) ⬆️ 4
Projected Starting Lineup
Joshua Langford, Foster Loyer, Aaron Henry, Joey Hauser, and Thomas Kithier
Yes, college basketball is back and so is Tom Izzo's Michigan State Spartans. Despite the losses of Cassius Winston and Xavier Tillman, this squad has found production from other players like sophomore guard Rocket Watts and Marquette transfer Joey Hauser. One name to keep an eye on is freshman guard Foster Loyer. He led the Spartans in scoring (20-points) in their victory against Eastern Michigan 83-67. They will take on Duke in a game in which this Spartans squad could have a lot of success.
8. Kansas (1-1) ⬆️ 7
Projected Starting Lineup
Marcus Garrett, Bryce Thompson, Ochai Agbaji, Christian Braun, and David McCormack
Yes the Kansas Jayhawks fell in their first game of the season to the Gonzaga Bulldogs, however they still scored 90-points in a game which they lost by double digits. The next day, they bounced back with a more than convincing victory over a solid Saint Joseph's squad 94-72. The emergence of sophomore guard Christian Braun is one to watch as he cracked the starting line-up in game-two and recorded 31-points, 9-rebounds, 3-assists, and 4-steals. They will get another test against Kentucky on Tuesday Dec. 1st in the State Farm Champions Classic. This should be a game in which Kansas can improve their record and resume come tournament time.
9. Houston (3-0) ⬆️ 7
COOGS WIN!@m_sasser0 | 17 pts | 3 rebs@qdotgrimes | 15 pts | 7 rebs@LaDeeky | 8 pts | 8 rebs | 5 asts

NEXT – vs South Carolina | 7 pm Saturday | Fertitta Center#ForTheCity x #GoCoogs pic.twitter.com/o0SbkcIi3e

— Houston Men's Hoops 🏀 🐾 (@UHCougarMBK) November 30, 2020
Projected Starting Lineup
DeJon Jarreau, Marcus Sasser, Caleb Mills, Quentin Grimes, and Brison Gresham
Yes, the Houston Cougars crack our Top-10 this week. This is an experienced group with a very underrated backcourt of Quentin Grimes and Caleb Mills. The big story this past week was their victory over Texas Tech. Houston jumped out to an early 20-point lead and never looked back. I don't think enough people are talking about this squad that could very well have a 30-win regular season. Keep an eye on this team out of the American Athletic Conference.
10. West Virginia (3-0) ⬆️ 7
Derek Culver was named the #CrossoverClassic MVP after averaging 1️⃣5️⃣ points per game and 1️⃣0️⃣ rebounds per game to lead the Mountaineers!
#HailWV pic.twitter.com/TQHYn8a0VV

— WVU Men's Basketball (@WVUhoops) November 28, 2020
Projected Starting Lineup
Jordan McCabe, Miles McBride, Emmitt Matthews, Derek Culver, and Oscar Tshiebwe
There might not be a better front-court pairing than West Virginia's Derek Culver and Oscar Tshiebwe. As a result, the Mountaineers are off to (3-0) start with a couple of resume building victories over VCU (78-66) and Western Kentucky (70-64) in games two and three respectively. A huge opportunity looms when they take on Gonzaga in the Jimmy V Classic on Wednesday Dec. 2nd. Can they add another quality victory to their resume?
11. North Carolina (1-0) ⬆️ 1
Projected Starting Lineup
Caleb Love, Anthony Harris, Leaky Black, Armando Bacot, and Garrison Brooks
It was a slow start for a rejuvenated North Carolina squad coming off a disappointing 2019-2020 season. Struggling to get separation in its first game of the season, it imposed its will in the second half against a good Charleston squad winning by a final score of 79-60. It will face another test against UNLV on Monday Nov. 30th before having its first marquee matchup of the season against the Iowa Hawkeyes in the Big Ten/ACC Challenge.
12. Villanova (2-1) ⬇️ 10
Projected Starting Lineup
Collin Gillespie, Justin Moore, Caleb Daniels, Jermaine Samuels, and Jeremiah Robinson-Earl
The Villanova Wildcats had a really tough schedule to open up its 2020-2021 season, playing three games in four days. After prevailing in their first two contests of the season against Boston College (76-67) and Arizona State (83-74) respectively, head-coach Jay Wright decided to schedule another game at Mohegan Sun against Virginia Tech. Even after holding as high as a 12-point second half lead, it seemed as though this squad ran out of gas which ultimately led to a overtime loss by a score of 81-73. This squad will be back in the Top-10 in no time and is a championship caliber squad.
13. Arizona State (2-1) 
Projected Starting Lineup
Remy Martin, Alonzo Verge, Josh Christopher, Marcus Bagley, Kimani Lawrence
14. Rutgers (3-0) ⬆️ 5
Projected Starting Lineup
Paul Mulcahy, Montez Mathis, Jacob Young, Ron Harper Jr., and Cliff Omoruyi
15. Creighton (1-0) ⬆️ 5
Projected Starting Lineup
Marcus Zegarowski, Mitchell Ballock, Antwan Jones, Damien Jefferson, and Christian Bishop
16. Kentucky (1-1) ⬇️ 10
Projected Starting Lineup
Devin Askew, Terrence Clarke, B.J. Boston, Keion Brooks, and Olivier Sarr
17. Ohio State (2-0) ⬆️ 5
Projected Starting Lineup
CJ Walker, Duane Washington, Seth Towns, E.J. Liddell, Kyle Young
18. Texas Tech (2-1) ⬇️ 8
Projected Starting Lineup
Kyler Edwards, Nimari Burnett, Terrance Shannon, Joel Ntambwe, and Marcus Santos-Silva
19. Michigan (2-0) ⬆️ 2
Projected Starting Lineup
Mike Smith, Eli Brooks, Franz Wagner, Isaiah Livers, and Austin Davis
20. Tennessee (0-0) ⬇️ 6
Projected Starting Lineup
Santiago Vescovi, Josiah Jordan-James, Keon Johnson, Yves Pons, and John Fulkerson
21. Texas (1-0) ⬆️ 2
Projected Starting Lineup
Matt Coleman, Courtney Ramey, Andrew Jones, Greg Brown, Jericho Sims
22. Indiana (1-0) ⬆️ 2
Projected Starting Lineup
Khristian Lander, Rob Phinisee, Al Durham, Trayce Jackson-Davis, and Joey Brunk
23. Virginia (1-1) ⬇️ 19
Projected Starting Lineup
Kihei Clark, Casey Morsell, Tomas Woldetensae, Sam Hauser, and Jay Huff
24. Richmond (2-0) 
Projected Starting Lineup
Jacob Gilyard, Blake Francis, Tyler Burton, Nathan Cayo, and Grant Golden
25. Louisville (3-0)
Projected Starting Lineup
Carlik Jones, David Johnson, Dre Davis, Jae'Lyn Withers, and Quinn Slazinski
Dropped Out: UCLA (18), Oregon (25)
New Entrants: Richmond (24), Louisville (25)
Bracketology (11-30-20)
TOURNEY SEEDS
| #1 Seeds | #2 Seeds |
| --- | --- |
| Gonzaga | Illinois |
| Iowa | Wisconsin |
| Baylor | Michigan State |
| Duke | Kansas |
| #3 Seeds | #4 Seeds |
| Houston | Arizona State |
| West Virginia | Rutgers |
| North Carolina | Creighton |
| Villanova | Kentucky |
| #5 Seeds | #6 Seeds |
| Ohio State | Texas |
| Texas Tech | Indiana |
| Michigan | Virginia |
| Tennessee | Richmond |
| #7 Seeds | #8 Seeds |
| Louisville | Florida |
| Oregon | Memphis |
| Florida State | Arkansas |
| UCONN | Oklahoma State |
| #9 Seeds | #10 Seeds |
| Maryland | Oklahoma |
| Stanford | Alabama |
| UCLA | Minnesota |
| Marquette | Saint Louis |
| #11 Seeds | #12 Seeds |
| Miami | Furman |
| Purdue/Clemson | Vermont |
| San Diego State | Loyola Chicago |
| Syracuse/TCU | Western Kentucky |
| #13 Seeds | #14 Seeds |
| Georgia State | New Mexico State |
| Yale | Wright State |
| South Dakota State | Winthrop |
| Belmont | Buffalo |
| #15 Seeds | #16 Seeds |
| Montana | Colgate |
| Delaware | Robert Morris/Southern |
| UC Irvine | Abilene Christian |
| Siena | Norfolk State/Liberty |
For more College basketball updates, follow me @asethi03.