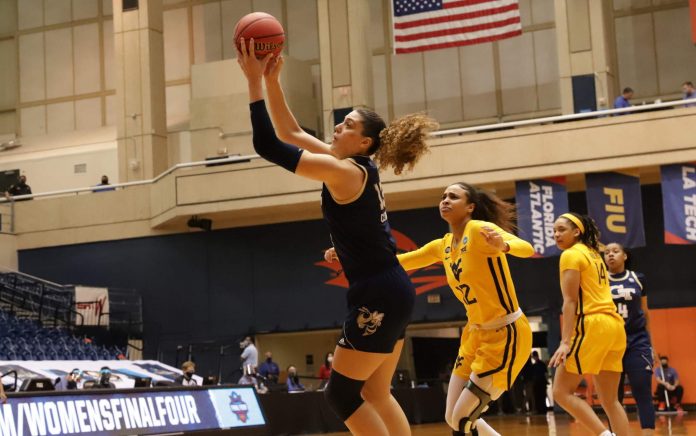 The Lady Jackets have worked their way into the Sweet 16 with wins over 12 seeded Stephen F. Austin and 4 seeded West Virginia.
In it's first game against SFA, it appeared as Georgia Tech would be getting their nest kicked in, but down the stretch the Lady Jackets pushed their way to an overtime thrilling victory, moving them into the Round of 32 against WVU.
Prior to the game, Nell Fortner released this statement in regards to the NCAA and how they handle women's tournament compared to men's, calling it an "afterthought".
— Nell Fortner (@NellOnWheels) March 23, 2021
Round of 32
Maybe her words lit a fire under Tech to start the game, or maybe her words fueled the Lady Jackets in the remaining three quarters as it seemed like the Jackets would be getting a quick ride home early in the tournament as the Mountaineers jumped to a double-digit lead. That quickly faded away as the Jackets cut into the deficit and tailed by only two to start the the second quarter, 17-15.
In the second quarter Tech outscored WVU, 21-15, holding a slight 36-32 lead going into the locker room. It was simple, if tech wanted to advance they'd need to score points and force WVU into uncomfortable situations — they did just that. Outscoring the Mountaineers 22-9 in the third quarter opened up the Jackets lead to 58-41 to start the fourth.
Tech wouldn't look back as it pulled away earning a cruise control 73-56 victory. The win also locked up the Jackets first Sweet 16 appearance since 2012.
CAUTION: WET FLOOR! 🌊⚠️ #ncaaW pic.twitter.com/fL319eNd8l

— Georgia Tech Women's Basketball (@GTWBB) March 24, 2021
WE ARE GOING TO THE SWEET SIXTEEN BABY ☺️☺️☺️💃💃💃

— Sarah Bates (@thesarahbates) March 24, 2021
SWEET 16 BABY ‼️🥰

— Lorela Cubaj (@LorelaCubaj) March 24, 2021
SWEEEEETTTT SIXTEEN !! 🐝🙌🏽 Let's go @GTWBB 💃🏽

— Azalia Cyphers (@AzaliaTheCypher) March 23, 2021
The road doesn't get any easier for the Lady Jackets as it will face the top-seeded South Carolina. It will be a tough match-up for the Jackets as South Carolina can move the ball extremely well, get up and down the court with aggressive attention and make their opponents look lackluster at best. Carolina advanced to the Sweet 16 with wins over 16 seeded Mercer, 79-53 and 8 seeded Oregon St., 59-42.
In order for the Lady J's to get the win, they will need a near perfect game. Little turnovers, execute on open shots, win the rebounding category, make the free throws and Tech could potentially pull off the upset against Carolina. Don't do any of those things mentioned, and Carolina walks into the Elite 8 with ease.