There were only two games last week featuring triangle teams, and man did they not disappoint… well, unless you are a Wolfpack fan. The Pack were in a heavyweight fight with Miami Hurricanes, trading blows all throughout the game, which featured five lead changes. Ultimately, untimely penalties and mental blunders were too much for the Wolfpack to overcome and led a Canes victory, 31-30. This was a devastating loss for NC State but trying to look at the silver lining… all is not lost.
NC State is still in control of its own destiny in terms of who wins the ACC's Atlantic division. If Coach Doeren can right the ship and have his team focus in on Louisville and Florida State, both are must win games if reaching the ACC Championship is still the goal, which would set up a monumental game with Wake Forest. The winner is almost guaranteed to be headed to Charlotte in December.
Speaking of Wake Forest, they were the other team in the triangle to see action last week. Many thought, myself included, that Wake would be in for a tough game and that Army would hang around late into the 2nd half but no one, NO ONE!, thought that Wake would need put up 70 to get a 14 point win over the Black Knights. What an offensive display put on by the Demon Deacons to stay perfect on the season.
In the end, I went 1-1 last week and now stand at 18-9 for the season. Week 9 has to be one of the hardest week's for me to predict. There are three intriguing match-ups, but let's not put it off any longer! To the predictions we go…
---
Duke @ #13 Wake Forest (Saturday Oct. 30th – 4pm)
The Wake Forest offense was on display last week in West Point, NY. The Deacs hung 70 on Army and showed the nation that they are an offense and team to be taken seriously. QB Sam Hartman tallied over 450 yards with 5 touchdowns and completed 79% of his passes. This team just keeps getting better and better as the season wears on. However, this week is a new week and Wake Forest will need to focus on their upcoming game with the Duke Blue Devils. Duke is not on the same level that Wake is on right now. But as we have seen in the last two weeks, no one is immune to a slip up.
Duke looked decent in the first few games of the season but recently has really fallen off. In two of the Blue Devils last three games, they have failed to score more than 7 points. That simply is not anywhere close to enough against this potent Wake Forest offense. This one is simple, Wake has to much fire power on offense for Duke to stop consistently. Plus, Wake Forest is not going to allow Duke to derail their march to the ACC title game and dare I say a shot at the CFP. Deacons win and win big!
Prediction: Wake Forest 45, Duke 17

---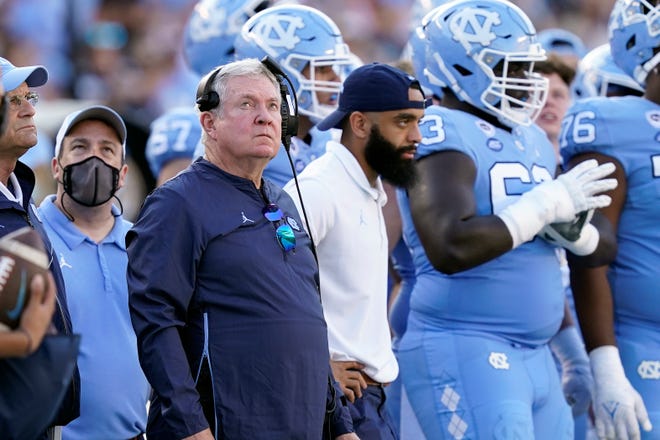 North Carolina @ #11 North Dame (Saturday Oct. 30th – 7:30pm)
When North Carolina travels to South Bend on Saturday to play in front of Touchdown Jesus and a bronze Knute Rockne, there will be one question on everyone's mind…Which Tar Heel team is going to show up? Will it be the one that lit up Virginia and Duke, or the team that could barely tie their offensive shoes against Georgia Tech and Florida State. The best person to answer that is UNC offensive coordinator Phil Longo. Longo must implement a game plan that plays to the Tar Heels strengths. Hint: it is their passing attack, to keep the Norte Dame defense on their heels (pun intended).
Along with having a solid game plan to move the ball on the Irish, it is imperative that North Carolina not get down early. In every game the Tar Heels have lost this season they fell behind early and could never make up that deficit. With the exception of the Virginia game, when the Tar Heels win, they jump on their opponents right from the first kick and rarely look back. To hang with Norte Dame away from home and on a cold fall night, a good start and early lead is the key to UNC's success.
Sadly for those donning Carolina blue, an early lead just will not be enough. The Irish can win by grinding out a low scoring affair or score 45 if needed. They are tough at home, will have 77,000 fans backing them, and are used to playing on chilly October nights. That is the recipe for an Irish win and that is just what they will do… queue the band for the Victory March.
Prediction: Notre Dame 30, North Carolina 20

---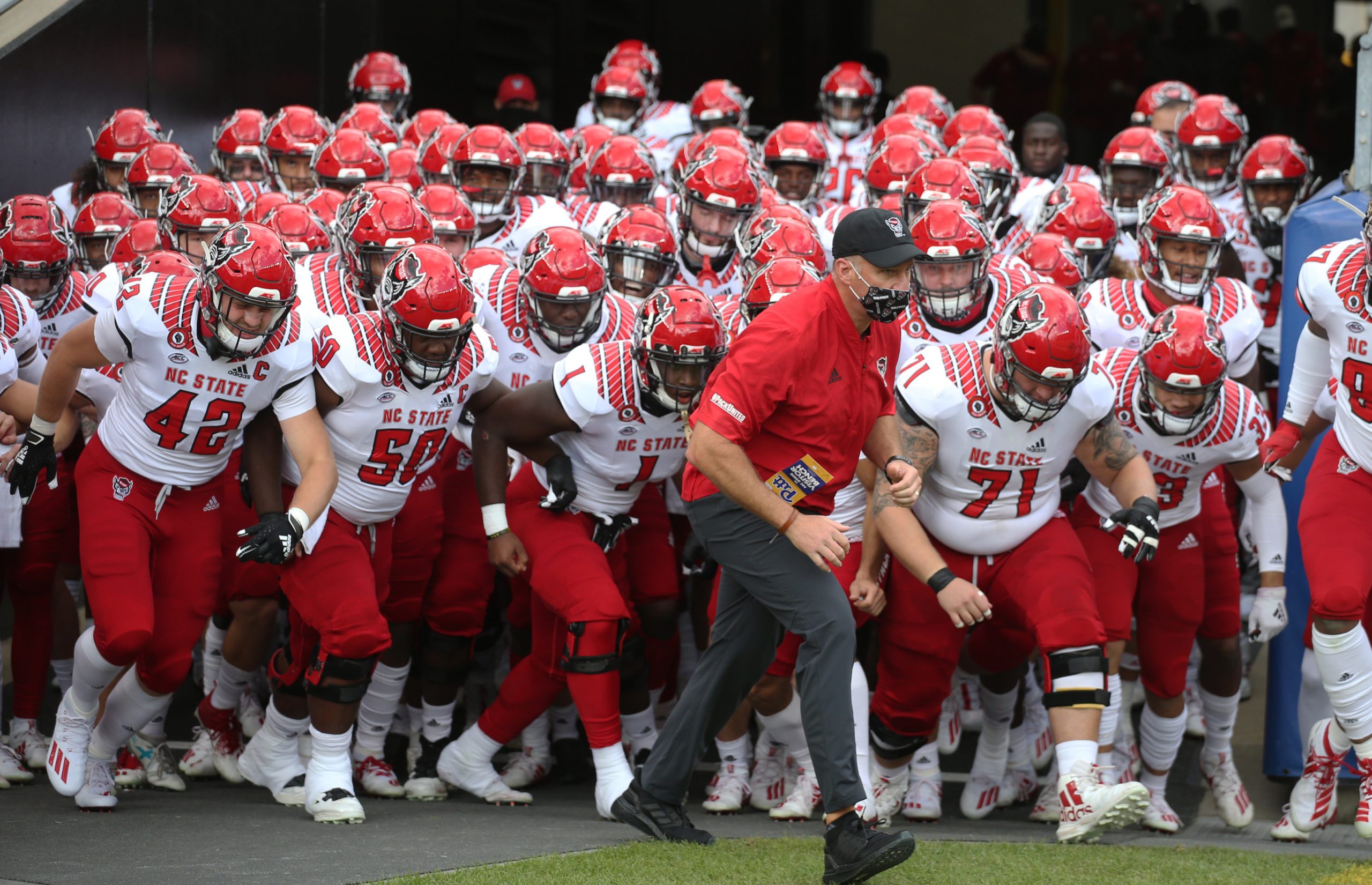 Louisville @ NC State (Saturday Oct. 30th – 7:30pm)
NC State has to have a short memory, if they want to still continue down the path where they meet Wake Forest to decide the Atlantic division. A one point loss to Miami certainly dampers their season, but as I said earlier, all is not lost. To get things back on track the Wolfpack must defeat a tricky Louisville team. Louisville could easily be 6-1, but back-to-back heartbreaking losses to Wake Forest and Virginia have them sitting at 4-3 instead. This match-up comes down to how well a talented, but banged up, NC State defense can contain Louisville QB Malik Cunningham.
Cunningham is truly a dual threat quarterback who leads the Cardinals in both passing stats and rushing stats. Stop him and you stop the Cardinals. NC State must pick which area of Cunningham's game they are going to shut down though. The easy answer is to make Cunningham beat you with his arm. Even without some of their starters, the Pack has the talent at linebacker and across the front four to stuff the run and make the Cardinal one dimensional. The Pack is only allowing their opponents to gain 93 rushing yards a game (3.18 yards per rush). Now, granted this strategy puts a ton of pressure on the Wolfpack secondary, so they must be up to challenge too. In the end, NC State forces Cunningham to use his arm over his legs and the Wolfpack get back on track with a W.
Prediction: NC State 38, Louisville 30

---
I am going to take some advice from Pitt QB Kenny Pickett by enjoying this one (weekend that is), having a cold one and getting ready for some college football.
"I'm going to go have a cold one and then we'll get ready for Miami."

Kenny Pickett 🍺pic.twitter.com/HgUvZRunpB

— The Sporting News (@sportingnews) October 23, 2021
Follow me on Twitter at @SJWoolard for more ACC content and Week 10 predictions next  week.
Also, check out the latest episode of the Pypeline ACC Podcast!!