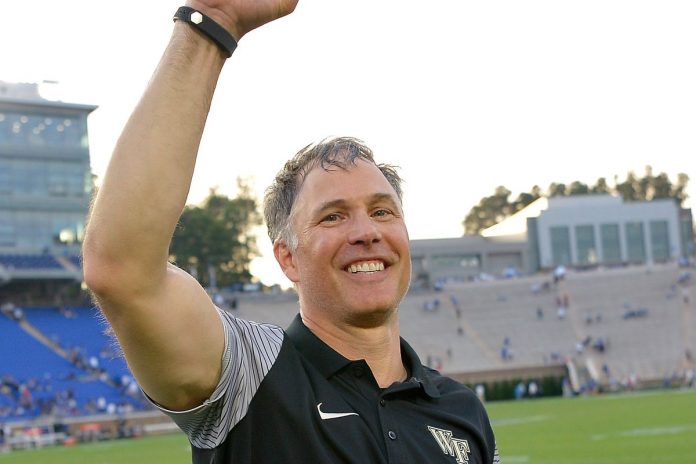 I have given some much deserved attention to the student-athletes for their contributions to their programs, but what about the brains of the operation? As much as the players have to execute game plans, so much of it also comes down to coaching.
If the season ended today, here is where my recognition would go to:
Head Coach of the Year: Dave Clawson, Wake Forest
Started it out with a no-brainer. The Deacs sit at 7-0 as the lone undefeated team in the ACC.
Clawson simply does the most with the least. Despite having very limited resources, and the smallest school in FBS football to work with, he recruits underrated talent, develops them at a high level, and has a mastery of offensive scheme. All of this amounts to a consistent winning performance on the field.
As defensive lineman Miles Fox said on an interview on the Pypeline ACC Podcast, the motto was to transform from "good to great" in 2021. Clawson continues to have his team prepared the same way week after week.
Offensive Coordinator of the Year: Robert Anae, Virginia
Offensive coordinators have traditionally been scapegoats for any degree of struggles a football program may have. Anae has been no different, but he deserves a ton of credit for UVA's breakout in the passing game this year.
I can sit here and write 1,000 words about some of the statistical anomalies regarding this Cavaliers offense. Here's one:
This is genuinely insane.

Virginia has 82 explosive pass plays, tops in FBS.

No. 2 is a tie between Bama and WKU at 60. That's a difference of 22 explosive plays between 1 and 2… which is the same as the margin from No. 2 to No. 46.

— 💫🅰️♈️🆔 (@ADavidHaleJoint) October 27, 2021
However, the process is just as impressive the results. Practically every play involves some sort of motion and obscure formation with football player Keytaon Thompson as the center piece. The former competitor for starting quarterback has seen significant snaps at wildcat, RB, slot WR, outside WR, and variations of TE. Anae has his personnel run these packages effectively all game, which usually leaves opposing defenses feeling lost.
Defensive Coordinator of the Year: Tony White, Syracuse
The ACC has been much more of an offensive-heavy league this year, but White's unit is in the top third of the conference in almost every advanced category. With a secondary that had a significant amount of turnover last offseason, new faces have emerged in the system, most significantly true freshman Duce Chestnut.
White's signature asset is his exotic blitz packages. Liberty phenom QB Malik Willis was sacked six times in a loss to the Orange. Overall, Syracuse is 22nd in the country in standard down sack rate and 5th on passing downs.
Perhaps the most impressive part of Syracuse's win on Friday night was containing Malik Willis and sacking him SIX times.

They have a deceptive way of bluffing blitzes back and forth with LB and S in the box, leaving QB spies as reinforcement.

Cody Roscoe and that DL are legit. pic.twitter.com/bSofCnr264

— Dan Siegel (ACC Content) (@ACContent__) September 27, 2021
Offensive Assistant of the Year: Brennan Marion, Pitt (Wide Receivers)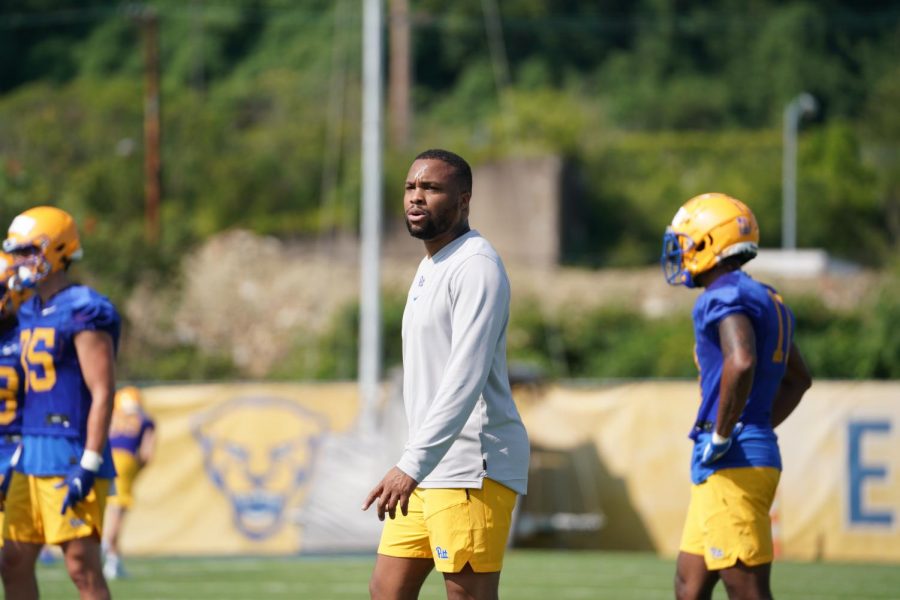 Before the year, I discussed Marion's inspiring story and impressive resume. He has continued his work back to Pittsburgh, developing the group that has become a main catalyst for QB Kenny Pickett's Heisman-caliber season.
In addition to more athletic receivers who can create separation, Pitt's drop rate has dropped by almost 3% since last year, bringing them from the bottom to the upper half of the conference.
Offensive coordinator Mark Whipple has done a great job running the offense, but Marion's Go-Go principles have clearly been embedded into the scheme. A primary example of this is the emphasis on receivers blocking in space, to create more explosiveness.
Defensive Assistant of the Year: Charlie Wyles, NC State (Defensive Line)
Wyles has quite the background and in Raleigh, he's continuing their recent tradition of developing great defensive lines. Even after the departure of Alim McNeill to the NFL, this Wolfpack unit leads the ACC in a number of statistical categories against the run.
| | | |
| --- | --- | --- |
| | Value | FBS Ranking |
| Average Line Yards | 2.07 | 3rd |
| Power Success Rate | 33.3% | 3rd |
| Stuff Rate | 28.7% | 2nd |
The pass rushing unit has been statistically mediocre, but the Pack are not a blitz heavy team. All in all, the former long time Virginia Tech assistant continues to be a problem for opponents in the ACC.
Special Teams Coach of the Year: Jeff Popovich, Georgia Tech (Defense Only)
I think Popovich has figured out the formula for onside kicks. Just bring out Jude Kelley, and kick the ball exactly 10-yards down field towards the opposite sideline. The Jackets have made up 50% of the onside kick recoveries in the ACC this year, using this same play.
WHAT A BOUNCE, GEORGIA TECH RECOVERS THE ONSIDE KICK pic.twitter.com/OpXrPl3Ij8

— The Dylan & Dylan Show (@DylanDylanShow) September 19, 2021
In addition to his creativity, his players are fundamentally sound. Georgia Tech is top three in the conference in both average starting field position on kickoffs and yards against per punt return.