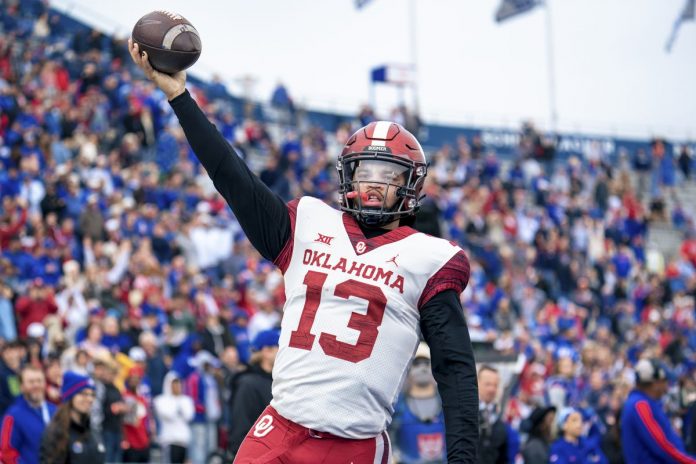 We have done the DFS homework for you, and here are is our breakdown for Saturday's slate of games in college football. We are using DraftKings numbers, so you have $50,000 to pick 8 players ($6,250 AVG). We are specifically targeting the CFB $150K Saturday Kickoff Main Event $50K to 1st contest ($20 entry).
Games
Miami at Pitt
Texas at Baylor
Cincy at Tulane
Indiana at Maryland
Michigan at Michigan State
Iowa at Wisconsin
ISU at WVU
Georgia at Florida
FSU at Clemson
Colorado at Oregon
TTU at Oklahoma
TCU at KSU
Purdue at Nebraska
Duke at Wake Forest
---
Quarterbacks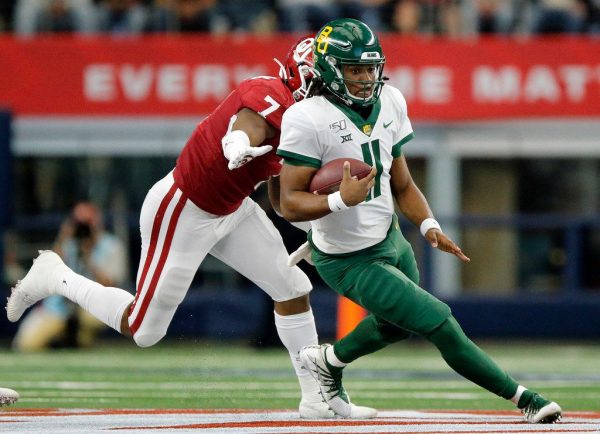 Top Plays
Caleb Williams (Oklahoma) $10,000 – Williams has a good match-up vs Texas Tech, but this price is too high for me. For this price, he has to get you a 40-point game and I'm not banking on that.
Sam Hartman (Wake Forest) $9,000 – Hartman went off last week vs Army for 49.5 points. This week he has another good match-up and he's a good play if you're willing to pay this price.
Kenny Pickett (Pitt) $8,800 – Pickett has been sensational all season and his price is steep. This is a good play if Jordan Addison plays, but check the injury report because Addison is currently questionable.
Desmond Ridder (Cincinnati) $8,300 – Ridder has a great match-up vs a horrible Tulane secondary. The only problem with Ridder is Cincinnati is capable of dominating on defense and relying on the rushing attack. But I will definitely have a few Ridder shares this week.
Best Value Plays
Gerry Bohanon (Baylor) $7,200 – This Texas defense is always vulnerable and Bohanon has had three big fantasy games this season.
Casey Thompson (Texas) $6,900 – Thompson has a high ceiling each week, and even though this isn't a great match-up, you can't beat the price tag.
Taulia Tagovailoa (Maryland) $6,500 – Tagovailoa has scored 11 Fantasy Points in each of his last three games, and that's rather disappointing. Tagovailoa has a decent match-up and should be an excellent value play this week.
Brock Purdy (Iowa St) $6,400 – This isn't a great match-up vs WVU, but Purdy has the experience and skill level to have a productive game vs anyone.
Longshot Plays
Henry Colombi (Texas Tech) $5,400 – Texas Tech just fired their Head Coach, and Colombi struggled last week. However, he has a good match-up and great price tag. I love this play if Colombi starts.
---
Running Backs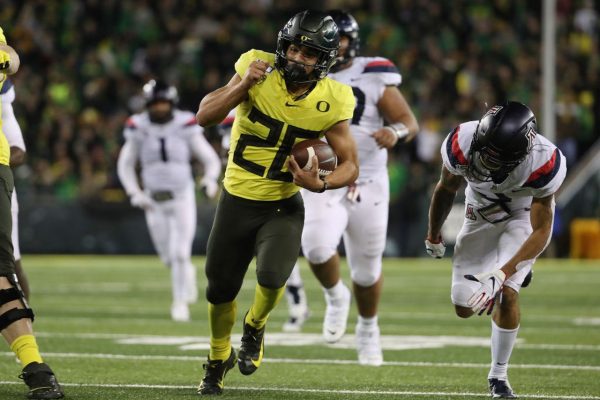 Top Plays
Bijan Robinson (Texas) $9,700 – Bijan is always an excellent play no matter the match-up, but I'm not willing to pay this price for him this week.
Deuce Vaughn (Kansas St) $9,400 – Vaughn gets it done in the passing attack as well as on the ground. I like Deuce, but I'm not paying up for him this week.
Jerome Ford (Cincinnati) $9,200 – Ford has been winning me a lot of money lately, but now DraftKings has caught on and his price his way up. I love the match-up for Ford and he's my favorite high price option this week.
Breece Hall (Iowa St) $9,100 – Hall is averaging 29.5 FPPG and finds a way each week to be productive. This price tag is high, but Hall will get you 15-25 points.
Travis Dye (Oregon) $8,700 – With CJ Verdell out for the season, the Ducks backfield is Dyes. Last week, he had 35.1 fantasy points and he has an excellent match-up this week.
Kennedy Brooks (Oklahoma) $8,400 – Brooks has been great the last few weeks. He has 86.4 points in his last three games and has another great match-up this week.
Best Value Plays
Jaylan Knighton (Miami) $7,900 – Knighton is the lead back in Miami after the Cam'Ron Harris injury. He has 65.1 Fantasy Points the last two weeks. While his match-up vs Pitt isn't the greatest, he will still be productive.
Mataeo Durant (Duke) $7,700 – Durant is the focal point of the offense, and this game could be a high scoring affair vs Wake Forest, who just allowed 56 points vs Army.
Leddie Brown (West Virginia) $7,400 – LB3 had 33.4 Fantasy Points last week and he's the heart and soul of the Mountaineers offense. Even if he has a sub par game, he will still find a way into the endzone at least once.
Abram Smith (Baylor) $7,200 – Smith has a great match-up vs Texas, and this could end up being the best value play of the week. Smith has a high ceiling and just scored 43.2 points last week.
Sarodorick Thompson (Texas Tech) $6,800 – Thompson was a darkhorse play of mine last week, and he delivered with 20 points. This week he has a good match-up vs Oklahoma and should find the endzone at least once.
Longshot Plays
Zamir White (Georgia) $6,000 – LSU ran all over the Gators and I expect the Dawgs will do the same. I could easily see White going for 100 yards and 2 TDs.
Will Shipley (Clemson) $5,700 – This Clemson offense is horrible, but Shipley will get plenty of touches and has big play ability.
Christian Beal Smith (Wake Forest) $5,100 – Beal-Smith is a cheap play with high scoring upside. Wake Forest will be in scoring position a lot in this game, and a goal line score is highly likely.
AVOID
Chez Mellusi (Wisconsin) $6,300
Tyler Goodson (Iowa) $6,200
Dameon Pierce (Florida) 6,000
---
Receivers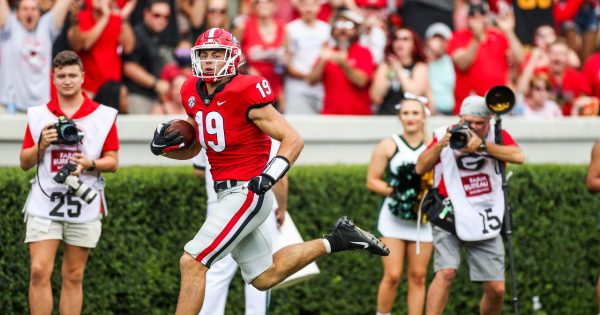 Top Plays
Jaquarii Roberson (Wake Forest) $7,600 & A.T. Perry (Wake Forest) $7,500 – The Demon Deacons are the highest priced receivers on the slate. They have a great match-up vs Duke and both went off last week. I like Roberson more here, but Perry has proven to be a TD Machine.
Jordan Addison (Pitt) $7,200 – Addison is considered questionable. However, if he plays, he's a player I want a few shares of vs Miami.
David Bell (Purdue) $7,100 – Bell has a high ceiling and high floor. That means he has potential for a BIG scoring game, but he will regularly get you at least 9 points. Last week was his worst game of the season, only getting 9.3 Fantasy Points. He's averaging 25.5 FPPG this season.
Best Value Plays
Charleston Rambo (Miami) $6,900 – Rambo has been the top receiver for the Canes all season. Last week, he went off for 36.7 points, and Miami will need another big game from him vs Pittsburgh.
Xavier Worthy (Texas) $6,800 – Worthy is a play that I really like this week. I'd even stack him with Casey Thompson because both are underpriced.
Jadon Haselwood (Oklahoma) $6,700 – Haselwood has a good connection with Caleb Williams and has 42.4 Fantasy Points the last two weeks. I love the match-up this week vs Texas Tech. Haselwood will find the end zone.
Alec Pierce (Cincinnati) $6,600 – Pierce has a FANTASTIC match-up this week with a great price tag.
Brock Bowers (Georgia) $6,500 – The price tag keeps rising for Bowers, and he's probably too expensive for me this week. However, he's been extremely productive, averaging 19.3 FPPG.
Erik Ezukanma (Texas Tech) $6,400 – Ezukanma is an excellent play vs Oklahoma because the Red Raiders will most likely be trailing and throwing a ton. I'd stack him with Colombi at QB.
Jalon Calhoun (Duke) $6,300 – Calhoun won't be highly owned but he's a contrarian play that could win you a lot of money. In a perfect scenario, the Demon Deacons have a lead and the Blue Devils are throwing more than usual. Calhoun is averaging 14.4 FPPG.
Tyquan Thornton (Texas Tech) $6,000 – Thornton has a nice match-up vs Texas and he's averaging 17.5 FPPG.
Longshot Plays
Marvin Mims (Oklahoma) $5,900 – $5,900 for a player with a top tier match-up in a high scoring offense. Sign me up.
Rakim Jarrett (Maryland) $5,400 – If Taulia Tagovailoa goes off, then Rakim Jarrett will most likely be the beneficiary being he's the #1 receiving option now with Dontay Demus out.
Austin Allen (Nebraska) $4,400 – Allen is a massive 6'7″/6'8″ TE and a big red zone threat. For this price, all you need is a TD or 4/5 catches.
Milton Wright (Purdue) $4,000 – Wright is a good value play who will get you 3-5 catches with potential for a TD.
Keyshawn Smith (Miami) $3,700 & Will Mallory (Miami) $3,600 – These two Miami receivers are extremely low priced value plays. Smith is a big play threat out wide, and Mallory is a threat in the endzone. But the Tight End could also get you 5+ catches.
Lineup I Love
QB: Casey Thompson $6,900
RB: Abram Smith $7,200
RB: Zamir White $6,000
WR: Jaquarii Roberson $7,600
WR: Key'Shawn Smith $3,700
WR: Milton Wright $4,000
FLEX: Jerome Ford $9,200
SuperFlex: Henry Colombi $5,400