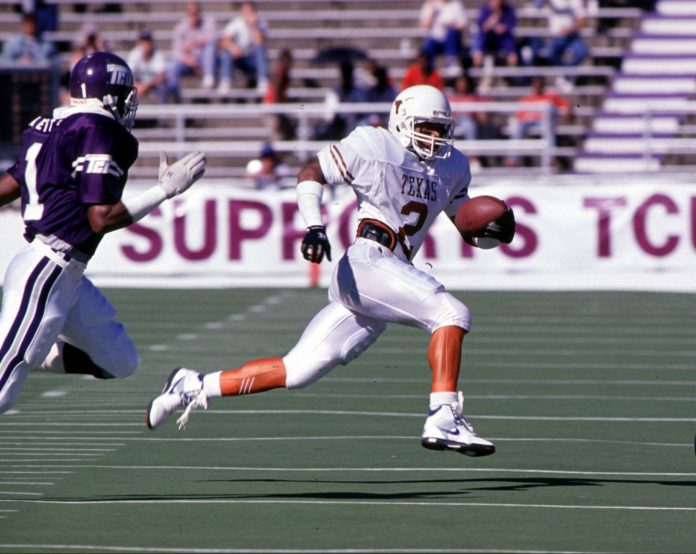 Sunday is a special day in the hearts of those around the country, where we give gratitude to the fathers and father figures that have shaped who we are. In sports, dads are often vital to our success, from teaching us how to throw a ball when we are young, to their daily dose of motivation and contagious passion towards the game.
Here at Pypeline, we would like to celebrate by looking at the fathers in college football that have not only been successful themselves, but have raised sons to continue the family legacy.
Here are the Top 10 historical father-son combinations.
10. Joe and Dan Klecko
Before a dominant NFL career, Joe displayed rare talent for the Temple Owls on the defensive line. Dan followed a similar path, winning Big East Defensive Player of the Year before winning three Super Bowls as a pro. Joe and Dan are both part of the Temple Athletics Hall of Fame.
9. Terry and Eric Metcalf
A family of running backs, Terry began his career playing for the (now extinct) Long Beach State program. Eric followed that up years later by setting several records at Texas. Most significantly, he the only Longhorn to lead the team in all-purpose yards in four separate seasons. Eric also remains the all-time Texas long jump record holder in track and field.
8. Bruce and Clay Matthews
Another pair of west coast legends, the Matthews left their college legacy at USC. Bruce was a consensus all-American as an offensive lineman in 1982. Clay had more modest beginnings, starting off as a walk-on, dominating on special teams, and leaving a vastly successful Trojans program as a top NFL prospect.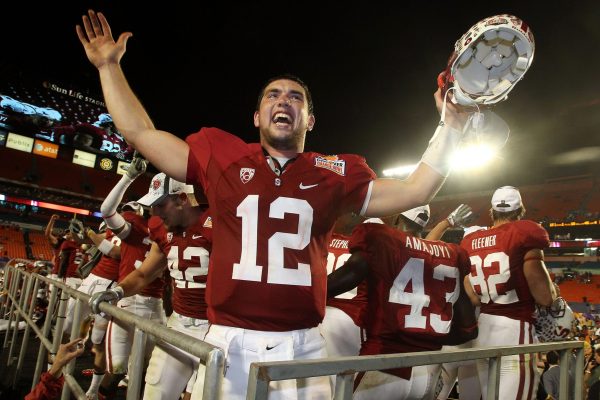 7. Oliver and Andrew Luck
Oliver had a productive career calling signals for West Virginia, which awarded him a spot in the WVU Sports Hall of Fame. However, his biggest achievement will always be giving birth to Andrew. Considered one of the best prospects of all-time, Andrew won Pac-12 Player of the Year twice and virtually every award besides the Heisman in 2011.
6. Ed and Christian McCaffery
Ed and Christian played in different eras but have very similar legacies for Stanford. With Ed as a wide receiver, and Christian as more of a running back, both have their names filled in the school's offensive record books. Combined between the two, the McCafferys have three all-conference and two all-American honors.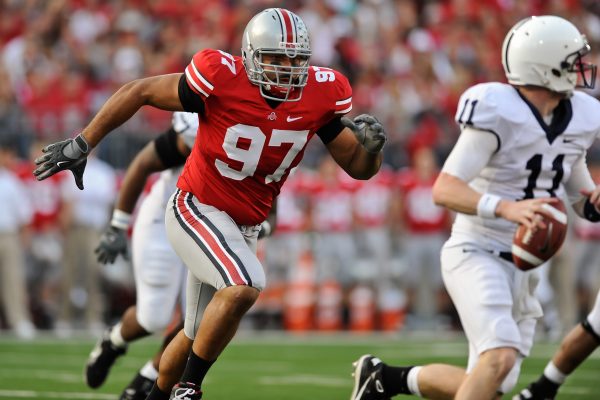 5. Craig and Cameron Heyward
The Heyward family is well-regarded in the city of Pittsburgh, PA. Craig "Ironhead" Heyward joined a long line of historic dominance at Pitt, becoming a consensus all-American in 1987, ranking 3rd all time in rushing yards for the Panthers. Exactly 20 years later, Cameron had the same achievement for Ohio State, before a long NFL career with the Steelers, in which he has appeared in five consecutive Pro Bowls.
4. Howie, Chris, and Kyle Long
Each of the three played at their own college but certainly left their marks. Howie started his Hall of Fame career at Villanova, where he thrived as a defensive lineman and a boxer. Chris stayed home at UVA, where he won the Hendricks Award (best defensive end) by the largest margin in NCAA history. Kyle ended up out west where he became a first round pick as an offensive lineman from the University of Oregon.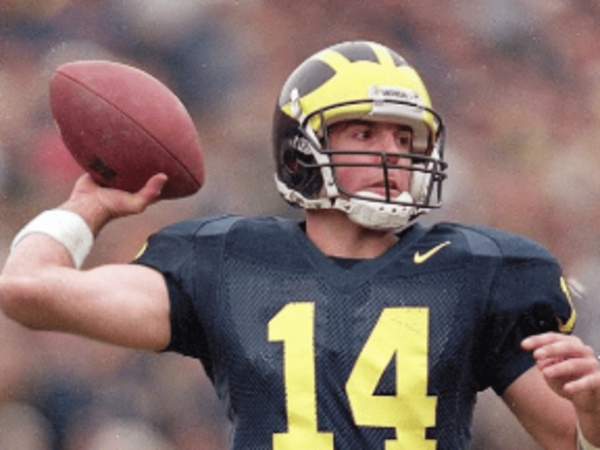 3. Bob and Brian Griese
Bob was a three-sport athlete at Purdue, falling just short in the Heisman race twice as a quarterback. He is considered one of the best athletes to ever put on the Boilermakers uniform. Brian cemented his biggest legacy in 1997, when the all-conference performer led Michigan to an undefeated season and a Rose Bowl victory over Washington State.
2. Kellen Winslow Sr and Jr
A consensus all-American 1978 season as a tight end helped get Winslow senior's number retired at Missouri. Junior had an even more prestigious career, a contributor to Miami's 2001 national championship run, and the Mackey (best tight end) Award winner 2003.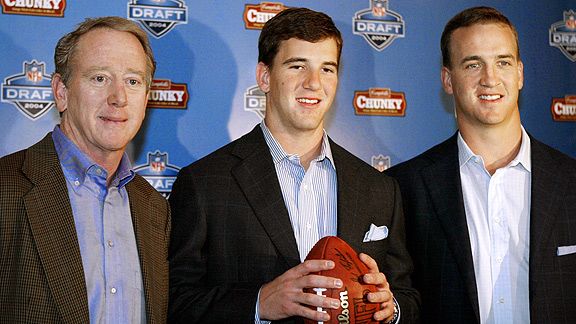 1. Archie, Peyton, and Eli Manning
The Mannings are widely regarded as the most famous family in all of football. All three have SEC Player of the Year honors, and Archie was considered SEC quarterback of the quarter century (1950-75). Both sons have Johnny Unitas Golden Arm awards and own several all-time records in the NFL. Top 2023 recruit Arch looks to continue the family legacy.