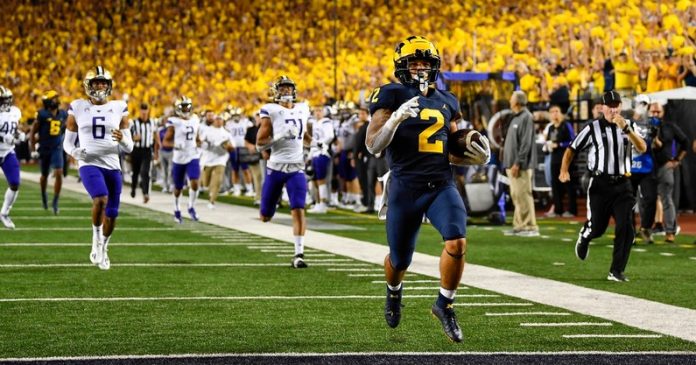 Obviously we have a long ways to go, but who doesn't like a way too early Heisman list. What's funny is that everyone thinks the player on their team is always #1 without actually looking to see what everyone else in the country is doing.
Just Missed
QB Desmond Ridder – Cincinnati
QB Bailey Zappe – WKU
QB Taulia Tagovailoa – Maryland
WR Jahan Dotson – Penn State
QB Sam Howell – UNC
RB Brandon Thomas – Memphis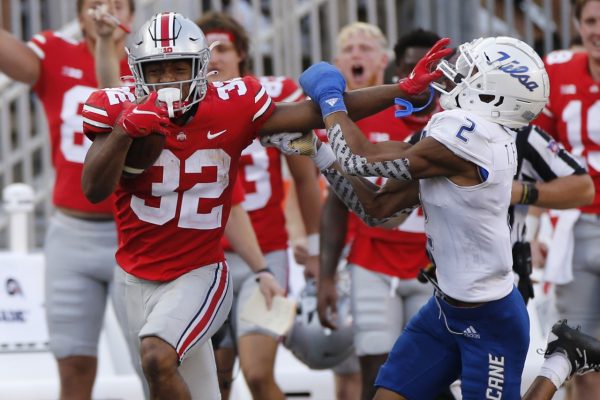 12. RB TreVeyon Henderson – Ohio State
Henderson is a TRUE FRESHMAN people. He literally carried Ohio State to a victory last week vs Tulsa. He's averaging an outstanding 9.1 yards per carry this season and with a big workload going forward, he could legit win the Heisman Trophy as a True Freshman. If I'm Ohio State, I'm feeding this young man the ball until he needs a break. He will continue to rise on this list.
2021 Stats: 346 rushing yards 4 TDs (9.1 ypc). 3 rec 87 yards 1 TD
11. WR Josh Downs – UNC
The athleticism Josh Downs has is unreal. He has breakaway speed and nobody is catching him in open space. Last week vs UVA he made a remarkable diving catch in the endzone for a TD.
2021 Stats: 24 rec 399 yards 4 TDs
10. QB Brennan Armstrong – UVA
It's something about that lefty throws that's beautiful to me. Armstrong has improved on his accuracy this season and he's completing 71.9% of his passes. He's also a threat running the ball and has 2 rushing TDs to go with 11 passing TDs.
2021 Stats: 1,298 Passing yards 11 TDs (71.9 completion %) 2 INTs, 2 rushing TDs.
9. QB Tanner Mordecai – SMU
Mordecai is severely overlooked right now, but he's been on fire this season.
2021 Stats: 1,023 Passing yards 16 TDs 2 INTs (73% completion percentage)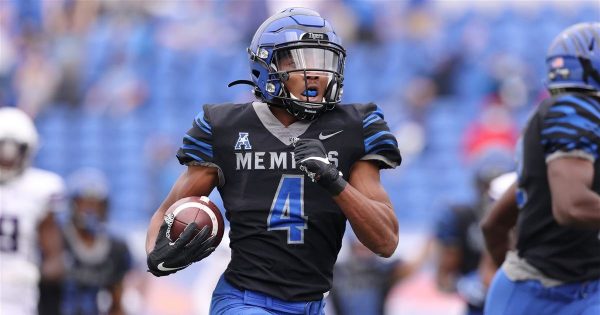 8. WR Calvin Austin III – Memphis
Calvin Austin III has been a machine for the Tigers. He has 21 catches this season and 6 have been for TDs.
2021 Stats: 21 rec 391 yards 6 TDs (18.6 ypc), 1 Punt Return TD
7. DB Kyle Hamilton – Notre Dame
Hamilton is the only defensive player to make my list right now. He's been lockdown for the Irish and should be a Top 5 pick in the 2022 NFL Draft.
2021 Stats: 21 Tackles, 2 Tackles for Loss, 3 Pass Breakups, 3 INTs.
6. QB Jake Haener – Fresno State
Haener is a Washington Huskies transfer who's thriving in Fresno. He led Fresno State to a big upset win over UCLA this past week and made some remarkable throws.
2021 Stats: 1,464 Passing yards 10 TDs 1 INT (73.6% completion percentage), 3 rushing TDs.
5. QB Bryce Young – Alabama
Young will be on this list for the long haul because his team is winning and he's playing error free, while making big plays.
2021 Stats: 811 Passing yards 10 TDs 0 INTs (68% completion percentage).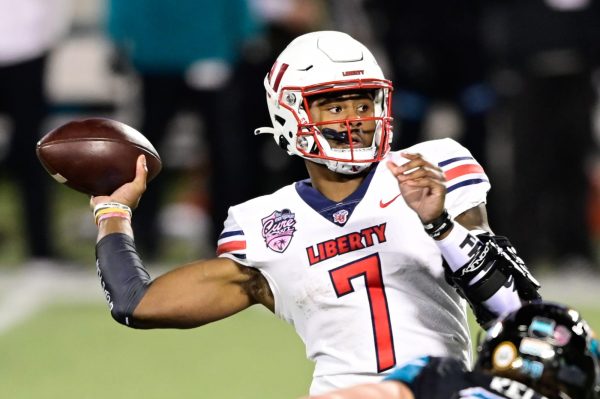 4. QB Malik Willis – Liberty
Willis is the heart and soul for the Flames. He has 1st round potential in the 2022 NFL Draft and he's playing like a 1st rounder.
2021 Stats: 613 Passing yards 7 TDs 0 INTs (71% Completion Percentage), 225 rushing yards 4 TDs.
3. RB Kenneth Walker III – Michigan State
Walker III was a massive transfer addition for the Spartans from Wake Forest. The vision and patience Walker has is unbelievable. He's a big reason for the 3-0 MSU start, and he won't be slowing down anytime soon.
2021 Stats: 493 rushing yards 5 TDs (8.6 ypc) 1 receiving TD.
2. RB Blake Corum – Michigan
I had Corum as a breakout player to watch for this season, but even I didn't think he would dominate like this. He's a threat receiving, a goal line back, and can basically just do it all.
2021 Stats: 407 rushing yards 7 TDs (8.5 ypc) 6 rec 46 yards 1 TD.
1. QB Matt Corral – Ole Miss
This was an easy pick for #1. Matt Corral has been superb and he's lighting up the scoreboard. He's not only lethal though the air but he's also a threat on the ground.
2021 Stats: 997 Passing yards 9 TDs 0 INTs, (68% completion percentage), 158 rushing yards 5 TDs.