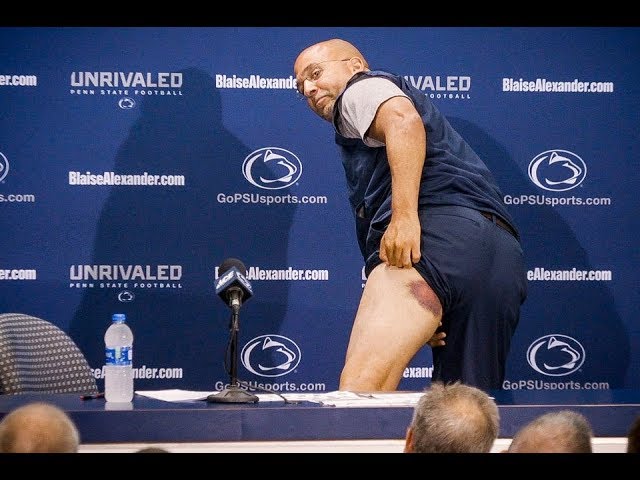 With Week 5 of college football in the books, it's time to take a look back at the weird and wonderful. The funny and flabbergasting. The amazing but accurate. The strange, but true.
Penn St has outscored Maryland 163-6 in their last three meetings: That's a lot
When James Franklin was Offensive Coordinator for Maryland in 2008 under former head coach Ralph Friedgen, it seemed as though he would eventually be Friedgen's successor. However, after the Terps instead named Randy Edsall as his replacement, Franklin moved onto Vanderbilt. And apparently, James Franklin enjoys taking out that frustration on the Terps every time he plays them. To the tune of 163-6 over the last three games. That's an average score of 54-2. Strange, but true. Long story short, you do NOT not hire James Franklin and live to tell the tale.
Nebraska loses 48-7: And the Husker train keeps rolling!
When the Cornhuskers fell down 48-0 to THE Ohio St University late in the 3rd quarter Saturday, things looked bleak. However, you can't keep this team down! Sure, the Buckeyes held Nebraska to 231 yards of total offense. And sure that included holding Adrian Martinez to 47 yards passing, 3 ints, and a higher YPC average rushing (5.4) than a QBR rating (3.4). But they scored. That's right, they scored! Why is that Strange, but true? Because the Huskers haven't been shutout at home in 51 years, when Kansas St beat them 12-0. So they got that going for them. Which is great.
Alabama QB Tua Tagovailoa is having the best year for a quarterback since Alabama QB Tua Tagovailoa
Statistically speaking, in 2018, Tide QB Tua Tagovailoa had one of the greatest seasons for a quarterback in NCAA history. This year? He's on pace to shatter those marks. The following are all-time season records that Tua is on pace to break this year:
Highest QB rating
Most passing touchdowns
Highest passing touchdown %
Most attempts without an interception
Yards per attempt
And he's just slightly below the pace for Highest Completion % in a season. The only other player that might be able to pass Tua in these categories this year is…..wait for it…..Jalen Hurts. Strange, but true.