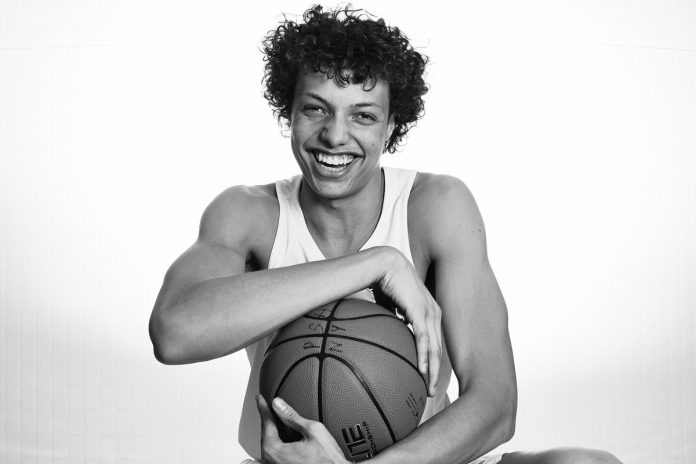 Four-star C Mac Etienne was a late bloomer in terms of his recruitment. Now, he is one of the most sought out prospects in the 2021 class. Etienne started playing competitive basketball in the 7th grade and fell in love with the game. After all, basketball just served as an opportunity for Etienne to have fun with his friends. A year later, Etienne played in a summer tournament against the PSA Cardinals. After performing well, he was offered an opportunity to play for them that fall. The rest is history. Etienne spoke highly about the AAU program. "They've really helped me become the man I am today."
Like many top prospects in the country, Etienne was looking forward to competing on the Nike EYBL Circuit at the Peach Jam event this summer. Unfortunately, he and many prospects won't get a chance to. Last year, PSA advanced to the Final Four and fell to Team Takeover in overtime. Etienne spoke of his memories from last year's competition.
"It was a great game. I think we should've won that game, but we made a lot of silly mistakes. Honestly, I feel like every person on our team is going to remember that game and it's always going to mean something to them. 
After the way we played last year, we were looking to carry the momentum into this summer. And honestly, I think we were easily the best team on paper of the teams that were going to play in the event. I really think we could've won Peach Jam this year."
Competing against the best
Competing against the highest competition at the AAU level is very beneficial to many high school prospects. Not only do they get to gauge their skill-set against the best prospects in their class but they have a chance to experience a college game like atmosphere. The Peach Jam events are an example of this. Etienne offered his thoughts on the benefits of competing at the Peach Jam events.
6'11" big Mac Etienne (@Micawber_e) is putting those PG skills on display at the NEPSAC College Showcase in Hamden.

Young man from @PSACardinals/@Suffield_Hoops ALWAYS brings relentless passion and energy to the floor! Can't teach it and it's valuable as hell… pic.twitter.com/4psRnKx5e2

— The Hustle (@TheHoopHustle) June 29, 2019
"I feel like there's nothing like Peach Jam's environment. The only thing that compares to it in my opinion is a college basketball game. At Peach Jam, especially in the 17u division, you play on the center court with the bleachers packed. You can see people standing all the way to the top. And they can't even see the game. 
That environment closely relates to a college basketball game in my opinion. And I feel like, if you can't play well at Peach Jam, then you're going to have trouble playing at the next level because it's the same type of pressure." 
Micawber Etienne (@Micawber_e)
6'11" Big@Suffield_Hoops/@PSACardinals 2021

Ever-improving big fella's motor & passion are translating into consistent big time numbers. For an unselfish dude like Mac, it also = TEAM SUCCESS!

8 Pts/17 Reb/7 Blk in the W…. pic.twitter.com/Bsq4qQcHIA

— The Hustle (@TheHoopHustle) December 8, 2019
Being Innovative During a Pandemic
At 6-10, 220 pounds, playing center has been the right fit for Mac Etienne. His size allows him to bang down low with some of the best high school prospects. He is also very skilled with his back to the basket. Rebounding and defending the paint are also strengths of his game. However, that's not all he can do. Etienne spoke about some of the underrated aspects of his game.
"I've been working a lot on my face-up game. Also, I've been working a lot on my passing and it has gotten a lot better. I really try to make my teammates look better. So I think my passing ability is definitely an underrated part of my game. 
I've also been working on developing my three-point shot, being able to guard hard hedges, and just having the ability to switch and defend smaller players. I'm trying to work on things that translate to the NBA. I'm just trying to do everything I can to have an all-around game and to eliminate my weaknesses." 
2021 Mac Etienne is a top 50 recruit that has seen his stock 📈 this season! Since we saw him last at our Larry Hughes Elite Camp, Mac has picked up offers from: Texas A&M, Miami, Georgetown, Illinois, Seton Hall, Rutgers, UCLA! #RLHoops pic.twitter.com/y6UN9riV1y

— RecruitLook Hoops (@RL_Hoops) December 31, 2019
Many training facilities around the country have been closed as a result of the pandemic. And understandably, there is a concern that high school prospects might have their growth and development stunted. As a result, their development is even more in their hands. High school prospects around the country continue to be innovative in finding ways to continue their development. Etienne is no different.
"There aren't a lot of places I can go. But when I can, I go to my high school and do a lot of track work, stairs, air squats, and push-ups with a weighted vest on. I also go in my garage and dribble a basketball to work on my ball handling. 
Also, I've been watching two games of most of the schools recruiting me. I watch one win and one loss. That way I can get a better feel for the programs and learn about the college game."
Recruiting
A year ago, Mac Etienne was barely inside the Top 100 player rankings. After a stellar junior year in which he averaged 15 points, 13 rebounds, and 4 blocks per game, he saw a significant increase in his ranking. Now ranked in the Top 60, Etienne is the top prospect in Connecticut. A player of his caliber looks for certain characteristics in the programs that are recruiting him. Etienne addressed some of them.
"I'm really looking for a program with a great point guard. I feel like if you have a great point guard, that leads to a lot of success for the team. I'm also looking to win a National Championship. I feel like that's a goal that everyone should have. And that's what I'm going to college for. 
I also want to be able to play my freshman year. I want to go to a program that can give me a lot of game reps because I think that can be very beneficial in the long term for my development. On the academic side, I want to make sure the school I decide to go to has the major I want to study. I still haven't decided what I want to study, but I am interested in the culinary field or sports nutrition."
Visits
After hearing from Etienne himself, he has more scholarship offers than has been reported. He has 29 scholarship offers highlighted by Arizona State, Georgetown, Georgia, Illinois, Iowa, Kansas, Louisville, Marquette, Ohio State, Rutgers, St. Johns, Syracuse, Seton Hall, UCLA, UCONN, Wake Forest, and Xavier. He offered his thoughts on some of the visits he's taken so far.
Official Visit 1: Marquette
"The visit was great. It felt like a family atmosphere. I had a lot of fun with the team and learning about the campus. Also got to attend "Marquette Madness" and that was a great environment. 
I have a great relationship with Coach Woj and Coach DK. They've been recruiting the longest. I talk to them all the time. And they stress that I would be a great fit at replacing Theo John. They also have a great 2021 class with a lot of great players. They keeping telling me they'll have a really good team that year that can compete for a National Championship." 
Virtual Visit: Kansas
"Coach Roberts and Coach Self have been in contact with me. They've been stressing they need a frontcourt guy to fit the scheme that they have. Coach Self mentioned the Morris twins and Joel Embiid as examples of guys that were drafted at my position. 
They were also the number one seed last year who were favorites to win the National Championship. Coach Self also mentioned his success in the Big 12 conference. All of that shows the tradition and how great the program is." 
In addition to these visits, Etienne has had multiple Zoom calls with Louisville. They've had discussions about the campus, their success in developing big men, and their need for Etienne. Etienne tells me, "they had a really successful big man last year in Steven Enoch. Coach Mack has been telling me they are losing a lot of their frontcourt. And that I'll have a chance to win a National Championship, play with a great point-guard, and play as a freshman."
Highlighting Illinois' Recruitment
Mac Etienne 💪@Micawber_e #Illini | #EveryDayGuys pic.twitter.com/aYVhAfoWL7

— Illini Creative (@IlliniCreative) April 20, 2020
Illinois offered Etienne back in December when he attended a PSA event hosted by Illinois. Etienne spoke highly of the Illini staff saying, "I have a great relationship with both Coach Antigua and Coach Underwood and I talk to both of them a lot. I think they are both genuine people and I like that a lot. You can really see how they've developed Kofi and at the rate he's improved. Now, he's an NBA prospect. That's very intriguing about Illinois." In addition, Etienne used his second official visit to visit Illinois between March 6-8. He was able to see Illinois victorious against Iowa. Etienne spoke about his visit.
"The campus was great. I got to stay in the area that the players are in before a game. It was a great place. It's a huge campus, which I really love. There was just a really great feel all-around. 
The game was great to watch. I loved how Illinois used Kofi and his strengths to outperform Luka Garza and ultimately win the game, which was great to see. The atmosphere was amazing. You can tell how much support there is, what it means to the fans, and how much of a basketball school it is."
Etienne has also been rumored to be exercising a decision to reclassify into the 2020 class. Illinois figures to be one of the programs he is considering if he reclassifies. He offered his thoughts about playing with the Illini's 2020 recruiting class.
"They have a great class coming in. I think they're getting one of the best point-guards in the country in Andre (Curbelo) because he just makes his teammates better. Then you have Adam Miller and Coleman (Hawkins). That's a great class there. And with the addition of me, we would definitely have a chance to win a National Championship." 
Final Thoughts
Mac Etienne has been contemplating a decision to reclassify into the 2020 class. A timetable for that decision will depend on receiving more clarity from the NCAA regarding in-person recruitment activities. Finally, Etienne has not released a top schools list and has no timetable for when he might release one saying, "With corona, I'm really just trying to figure out a timetable for everything."
For more on Illinois basketball, follow me on Twitter @asethi03.