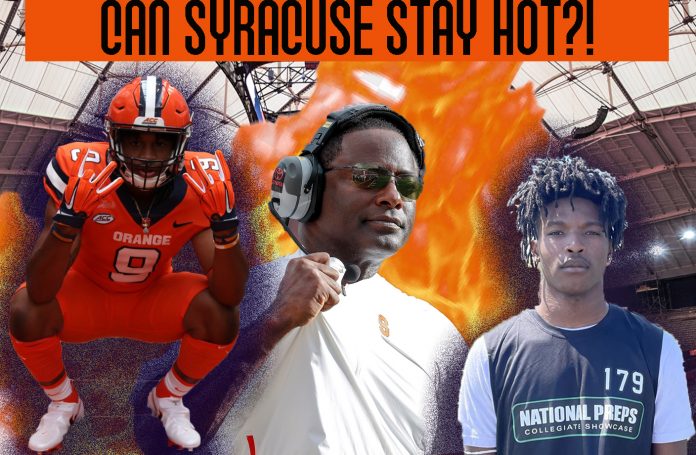 The past few days have been action packed for Syracuse Football. On Wednesday, the Orange added their first 2022 commit since late March in 3-star defensive back Jeremiah Wilson.
100% committed 😁🍊 pic.twitter.com/fJZi1ijt0V

— Jeremiah Wilson (@Jerem14hW) June 30, 2021
About 24 hours later though, 'Cuse lost talented in-state quarterback Henry Belin IV to ACC foe Duke.
Committed✍🏾… @ShawnAntoineII #UpHayes pic.twitter.com/r8hRYz4Ki7

— Henry Belin IV (@HenryBelin) July 1, 2021
A Quick Rebound
Before the critics could even make a big fuss about losing the 3-star signal caller, Dino Babers plucked high priority linebacker target Mekhi Mason from the Sunshine State. Mason's pledge certainly weathered the storm that Belin's decommitment created and is another prime example of head coach Dino Babers and Company's continued efforts to land talent from the hotbed that is Florida.
COMMITED 🍊@CuseFootball @CoachBabersCuse @CoachNJ_Monroe @CuseCoachTW @DP214EVER @Coach_UEd @TheRealCoachMoe pic.twitter.com/0FxPsMrCLi

— Mekhi Mason (@khi_lyfe) July 2, 2021
Orange looks to keep the momentum
So Syracuse has burst back onto the scene with the pair of verbal commitments. The Orange were previously sitting idle in the recruiting rankings and just falling week after week. The 2022 SU class now ranks 62nd in the country and eleventh in the ACC with its six commits.
'Cuse has never had a recruiting class finish better than 10th in the conference since joining in 2013. That fact could become a thing of the past if the Orange can stay hot on the recruiting trail.
Three-star defensive back prospect Quan Peterson is set to choose his destination tomorrow (July 4th) at 5:00 p.m. The South Carolina native is heavily favored to pick Syracuse, according to 247 Sports.
i will be committing July 4th @ 5pm Eastern Time !!

— The Biggest 6. (@Quannyp1) June 17, 2021
The Palmetto State recruit visited Central New York in mid-June and received an offer from SU back in May. Defensive Coordinator Tony White has been the primary representative of Syracuse, which is a big deal. Peterson has only owned an offer from the Orange for two months and has just one other power five offer in Georgia Tech.
💍 @CuseFootball @CuseCoachTW pic.twitter.com/g9N982CT51

— The Biggest 6. (@Quannyp1) June 23, 2021
When the DC himself is leading the way with a recruitment it means that he really wants that player. Don't be fooled by the fact that the defensive back recruit has largely flown under the radar.
Should Peterson choose Syracuse, he'll be the seventh commit in the '22 class and sixth defensive pledge.
Keep an eye out on my Twitter @john_eads3. I'll have updates on Peterson's commitment and more SU football news throughout the summer!