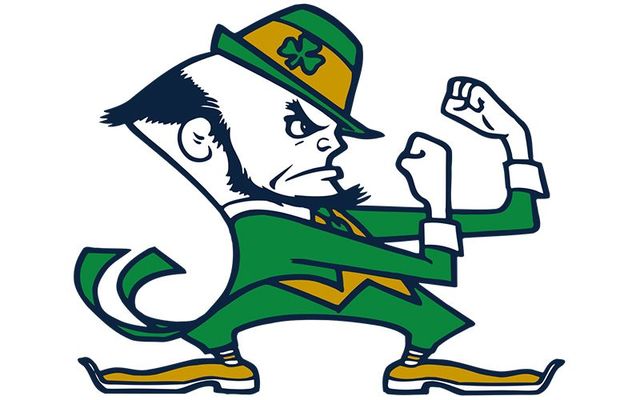 When it comes to football recruiting, Notre Dame has been on absolute fire recently. The Golden Domers have 8 commitments on the year, 5 of those coming within the last 4-5 days. Today the Fighting Irish received another commitment from Kyle Hamilton. Hamilton is a Peach State native, and one of the fastest rising recruits in the 2019 class.
Very excited to announce that I am committed to The University of Notre Dame! Thank you to everyone that has helped me get to this point. Go Irish☘️! #FightClub19 pic.twitter.com/W3KHvNPZjC

— Kyle Hamilton (@kham316) April 24, 2018
Although Kyle is listed as a 3-star prospect, his offer list is a testament to just how talented he is. Hamilton chose the Fighting Irish over offers from Michigan, Clemson, UGA and many others. The talented safety was also selected as first team all-state in Georgia in 2017. Georgia is one of the most talent rich states in football recruiting year in and year out.
There are many reasons for the Fighting Irish to be excited about this pickup. His size being one of those reasons. He will definitely need to add weight, but that will not be a problem with his long frame. Hamilton uses his length to cover ground in the passing game. However, his strength seems to be tackling. Kyle is able to wrap up and bring down the opposition with ease.
Mike's Take
Notre Dame has continued to build an impressive class for 2019. The addition of safety's coach, Terry Joseph, has already started to affect the quality of recruits they are getting in the defensive secondary. It is early, but with commitments from 4-star S Litchfield Ajavon, 4-star CB KJ Wallace, and now Kyle Hamilton, the Fighting Irish might have one of the best secondary classes so far. The combination of the 3 will be exciting to watch in South Bend.
Although Hamilton might have the lowest rating of the 3 d-backs, he arguably has the most upside. His athleticism really stands out, and allows for him to make plays on the ball. Under the wing of Terry Joseph, Hamilton will become a top notch NFL prospect. His offer list speaks for itself and it will only continue to grow. The only question will be whether or not Notre Dame will be able to hold on to this valuable commitment. This commitment will not stop other programs from calling for Hamilton's services. However, we predict that this commitment sticks and the Irish continue to build on this impressive 2019 class.