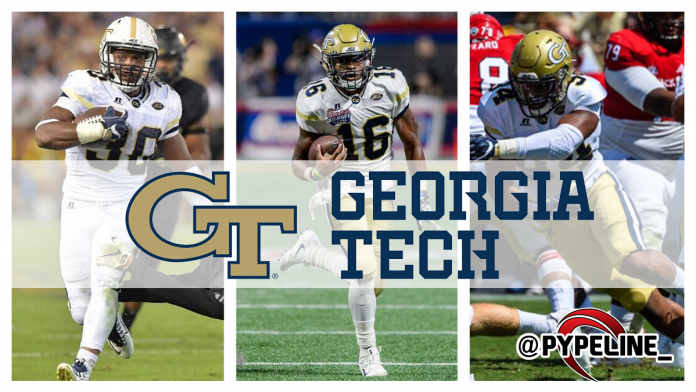 In order for Georgia Tech's head coach Paul Johnson's triple option offense to be a well-oiled machine, there has to be plenty of discipline. Discipline can usually stem from experience. Luckily for the Yellow Jackets, it seems that their offense will have no shortage of experience this upcoming year. Their projected starting lineup consists of all juniors and seniors. Most importantly, they will be returning their starting QB, Taquon Marshall. Marshall will be a senior in the 2018 season, after a very impressive junior campaign in 2017. Although most teams have a RB lead their offense in rushing yards, that isn't the case for GT. Marshall lead the team with 1,146 yards on the year and reached pay-dirt an impressive 17 teams.
While the Yellow Jackets did not make a bowl in the 2017 season, just a few plays ended up being the difference. They finished the year 5-6, but 2 of those losses were by 1 point each. These 2 losses were against #25 Tennessee and in-conference opponent #11 Miami. Although they didn't win, it showed just how competitive this team can be.
Offense
After finishing the 2017 season with the #5 ranked rushing offense in the nation, the Yellow Jackets seem like they will only continue to push forward. As stated above, they will be returning their QB, SR Taquon Marshall. The QB position is particularly important in the wishbone offense as the success of their running plays is based solely on the decisions of the QB. So the return of Marshall is most important.
Marshall will have to take the next step in the passing game, for them to be a much more potent offense. A completion percentage of 37.1% is not going to cut it for head coach Paul Johnson. Johnson set the bar pretty low for the veteran QB, stating that if he completed just 50% of his passes he would be "pretty good." Jalen Camp and Brad Stewart are expected to get the nod at the WR positions, and they are certainly hoping that Marshall can take that next step in the passing game as well. Neither receiver reached the 100 yard mark last season and combined for just 5 receptions, so that position group is certainly a question mark.
Week 3️⃣ of #GTSpring18 underway #TogetherWeSwarm 🐝🏈💪 pic.twitter.com/TSiVe771xS

— Georgia Tech Football (@GeorgiaTechFB) April 9, 2018
The Ga Tech offense will also be returning it's second leading rusher in RB KirVonte Benson. Benson is a bowling ball of a RB standing at just 5'9″ and is around 215 pounds. He also ran for over 1000 yards last season and rushed for 6 touchdowns. Expect plenty of explosive plays, as this offense returns 6 players that individually had at least one rush that was 40 yards or more.
Defense
The Yellow Jackets are hoping for a big turn-around on defense this upcoming season. After being disappointed in 2017, Paul Johnson decided to make a change at the top. Ga Tech hired Appalachian State defensive coordinator, Nate Woody, as their own DC. Johnson is hoping that Woody will be able to improve the Ga Tech defense in almost all aspects. The Yellow Jackets were 63rd in scoring defense, 49th in rush defense, and 101st in turnover margin.
He will be transitioning the Ga Tech defense from a 4-2-5 to a more traditional 3-4 style defense. This will allow for the Yellow Jackets smaller front 7 to fly all over the field. The return of senior Victor Alexander at the linebacker position and defensive end Anree Saint-Amour will be big. Alexander lead the team in tackles last season with 60 and Saint-Amour had 5.5 TFLs and 2.5 sacks. Saint-Amour should end up having a much better season as he is considered small for a d-lineman and this scheme will play in his favor. With the exception of senior safety, AJ Gray, the Jackets are is looking at an almost entirely new secondary.
Final Analysis
We expect for Ga Tech to be a slightly better team this upcoming season. Their offense is as potent as ever. However, with absolutely no passing game and a brand new secondary it will be tough for them to compete for an ACC title. Taquon Marshall will have to improve his throwing accuracy for them to take that next step on offense. However, the Yellow Jacket running game will continue to be strong. We predict that Ga Tech finishes as a Top 3 running team by years end. Defensive Coordinator Nate Woody is presented with a big task as well. Although any improvement on the defensive side of the ball will be good. Once he gets his own recruits that fits his system, they could be a fun defense to watch.
Prediction: 6-6