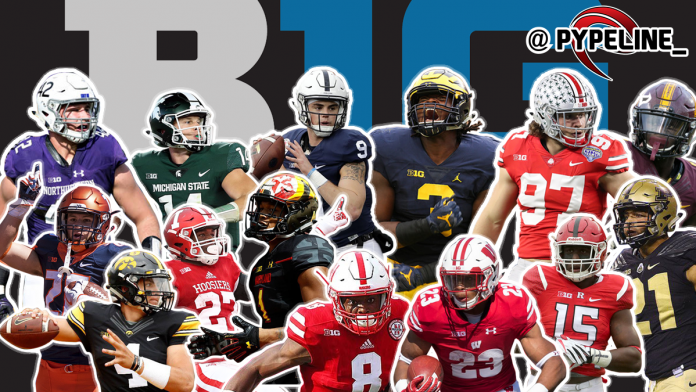 We have gathered some of the sharpest minds across the interwebs to breakdown and predict how each B1G team's 2018 season will go.
2018 Illinois Football Preview
Welcome to the 2018 Illinois Fighting Illini football preview. We'll discuss the Pros/Cons of the blue & orange, take a look at their over/under total, check out a potential impact newcomer, & see what their ceiling is on offense. [Read more…]
2018 Indiana Football Preview
Welcome to Indiana, where the football team is used as an excuse to drink until basketball starts and most people can't tell you the team's record from last year. Things in the past have not been bright for the Hoosiers during football season. With the team being the losing-est team in FBS history (we're #1!), Bloomington has often been ready for basketball season by early October. That being said, there are some highlights to look forward to this year. [Read more…]
2018 Iowa Football Preview
I-O-W-A and Wave to the kids, we are gearing up for the 2018 Iowa Hawkeyes. Last season the Hawkeyes were inches away from knocking off Top 10 Penn State, and absolutely embarrassed Top 10 Ohio State on their way to an 8-5 finish, including a victory over Boston College in the Pinstripe Bowl. However, the stars of yesteryear are gone. Josh Jackson and the Outlaw Josey Jewell have left for the retirement league (NFL) and the new faces will be asked to take their place. [Read more…]
2018 Maryland Football Preview
By week 3 of the 2017 season the Maryland Terrapins had lost both their first and second string QBs. In fact, the injury bug has been so bad for head coach DJ Durkin that he has had 7 different QBs at the helm of the offense in the last 2 years. Fortunately, the tide seems to be turning, as Maryland will be heading into the 2018 season with what seems like their "healthiest" team they have had in a long time. [Read more…]
2018 Michigan Football Preview
Michigan is back! Yet, again! We've been hearing this for quite some time now, ever since head coach Jim Harbaugh stepped on campus. But are they really back? Back in a way that they'll be competing for Natty Titles? We take a look at the Pros/Cons for this year's team, discuss their over/under total, check out a potential impact newcomer, and offer up a prediction on the year. [Read more…]
2018 Michigan State Football Preview
Michigan State had arguably the best turnaround of any team in the 2017 season. Coming off a 3-9 record in 2016 the Spartans were able to achieve a 10-3 record. Head Coach Mark Dantonio and the rest of the Spartans are hoping to keep that trend going. Luckily for Sparty, Michigan State returns 19 of their 22 starters from that 10-3 season. As a result, it seems that MSU will likely have a great shot at being a B1G contender in 2018. After winning at Michigan and against Penn State last season, the expectations are rightfully at an all-time high. [Read more…]
2018 Minnesota Football Preview
The Minnesota Golden Gophers are looking for their shine again after a 5-7 season in 2017. But now it's time to rebuild, as their second-year head coach PJ Fleck prepares for the forthcoming breakout in the future. In our preview, we'll take a look at the Pros/Cons of this year's team, the over/under win total, potential impact newcomer, and a little history lesson. [Read more…]
2018 Nebraska Football Preview
When former Nebraska great Adam Carriker was young, he didn't dream of being an All-American, a 1st round NFL draft pick, or playing in the NFL (although, all those did happen). He dreamed of playing for the Cornhuskers. He lived, breathed, ate, slept, and drank it. And still does. So who better to sit down with to discuss the upcoming Husker season than the Nebraska Hall of Famer? We talked about the team's Strengths/Question Marks, the over/under win total, potential impact newcomer, and what the future holds for the Sea of Red. [Read more…]
2018 Northwestern Football Preview
Ideally, your doctor should screen you during regular physical exams for risk factors that can lead to a heart attack. Tests include Electrocardiogram, Blood Tests, Chest X-ray, and being a Northwestern fan. Each minute after a heart attack heart tissues dies or deteriorates. To minimize negative effects restore blood flow quickly as possibly. Consider taking Aspirin. [Read more…]
2018 Ohio State Football Preview
Once again the Ohio State Buckeyes are projected to be one of the top teams in the country this year. Their preseason ranking stands at No. 3 in the country, and they boast another Top 10 incoming recruiting class. All in all, the talent is there for a chance to defend their B1G Ten Championship and make another run at a CFB Playoff berth. [Read more…]
2018 Penn State Football Preview
The Penn St football program was a program that was embroiled in a salacious scandal. They had one foot in the grave and the other on a banana peel. Well, after former head coach Bill O'Brian saved them from oblivion, enter current head coach James Franklin. Since he took over for the Nittany Lions 4 years ago, he's gone 36-17 and returned them to the glory years of yore. They are now a national powerhouse who not only are consistently highly ranked in the polls, but also have become a premier recruiting program. [Read more…]
2018 Purdue Football Preview
The 2017 campaign created a lot of excitement for the Purdue football program. The arrival of Jeff Brohm and his explosive offensive system brought seven wins and their first bowl win since 2011. Now, Coach Brohm has had an entire year to hit the recruiting trail and the excitement for Purdue football is growing with every commitment. This 2018 team is no longer viewed as an easy win on the schedule. [Read more…]
2018 Rutgers Football Preview
It's safe to say that things have not gone swell in Piscataway, New Jersey since Rutgers moved to the Big Ten. Between two head coaches, the Scarlet Knights have compiled an 18–31 overall record, including a 7–27 mark in conference play. Led by second-year head coach Chris Ash, Rutgers won just four games in 2017, one of which was a shutout victory over FCS Morgan State. They were outscored by an average of over 17 points per game against FBS competition, and registered just one win against a team with a winning record.
The good news? There's nowhere to go but up. [Read more…]
2018 Wisconsin Football Preview
First and Ten, Wisconsin! Boasting a 13-1 record, topped with a cherry in the form of an Orange Bowl victory over Miami, and the 2017 Badgers were the winningest team in school history. They've enjoyed a good run in the last 2 decades. They're happy to be here, but they not just happy be to here. In 2017, the Badgers suffered constant criticism from a schedule perceived as weak. Pay no mind to that. Wisconsin had the 2nd best total defense, 3rd best scoring defense, the best 3rd down conversion percentage among Power 5 teams. At 12-1 the Wisconsin Badgers were not even part of the playoff conversation. What do the Badgers have to say about this? Nobody cares, Work harder. [Read more…]