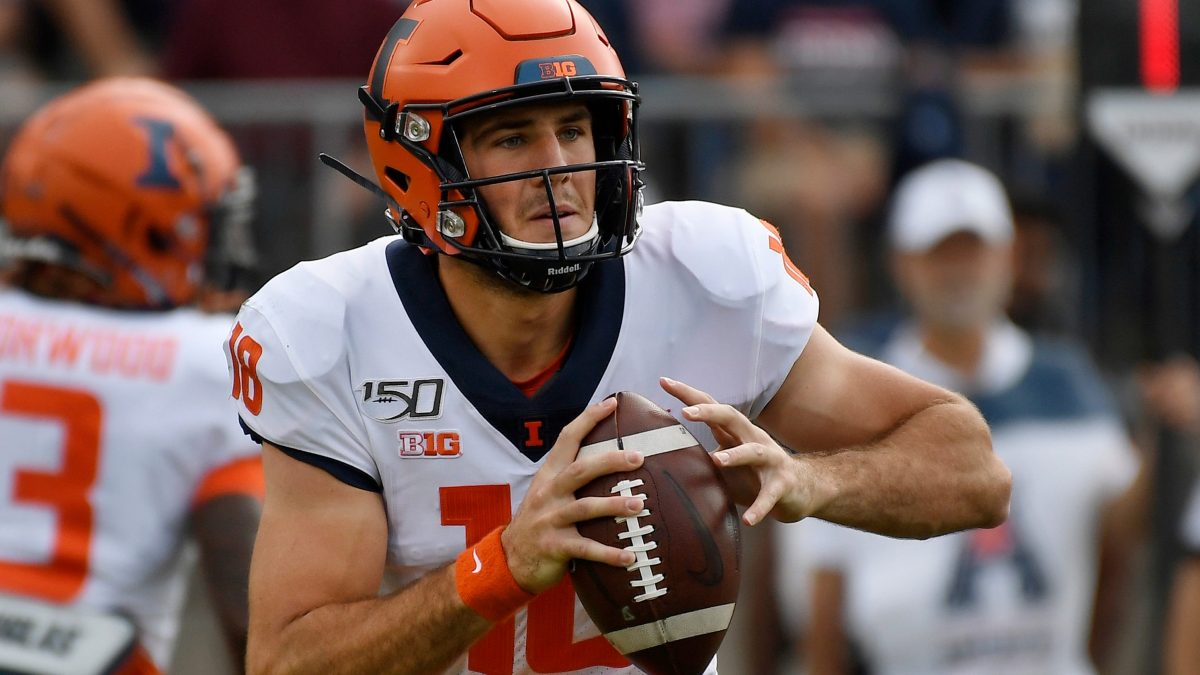 October 12, 2019
Kickoff: 12:00 PM ET
Television Network: ABC
Spread: MICH -23
Week 7 of the 2019 College Football season is already here! This week I'll be previewing #16 Michigan at Illinois, a less than intriguing match-up to most college football fans. However, in the words of the legendary Lee Corso, not so fast. I'm going to tell you why this is the match-up of the day for all you sports gamblers. Let's break it down.
Michigan Wolverines
Michigan entered the 2019 season with high expectations, including challenging for a spot in the College Football Playoff. And then, just like most of their previous seasons, Michigan was brought back down to Earth following a pathetic performance in a marquee showdown. This time it was against the then 13th ranked Wisconsin Badgers.
The offense has been stagnant in most of its contests this season. Led by quarterback, Shea Patterson, Michigan will need to fix these offensive woes quickly. I am optimistic, not confident that Patterson can this week against a reeling Illinois defense, who gave up 487 total yards to a middle of the pack Minnesota offense last week. Despite this trend, Michigan has fumbled the football seven times already this season which ranks 13th in the Big Ten Conference. While Illinois' defense has recovered eight of their nine forced fumbles to lead the Big Ten Conference.
Michigan's Key to the Game: The offensive line
Illinois Fighting Illini
Lovie Smith's fourth season at the helm of the Illinois football program hasn't gone quite as planned. Or has it? For most fans, the expectation for the program was to go to a bowl game in year 4. After a narrow victory against UCONN, many fans began to temper their expectations from the program's 2-0 start. And rightly so. In the following three games, the defense has given up around 39 points per game. That's just not going to get it done and simply isn't winning football. Thankfully, Illinois gets a Michigan offense that has averaged 28 points per game. And if you take their Rutgers game out, their points per game drops to 22 points per game. That's a touchdown difference.
The strength of this Illinois offense is the energizer bunny, Reggie Corbin. Corbin is one of the best running backs in the country totaling 382 rushing yards on just 58 carries. Expect Illinois to run their offense through him early and often. Also, the quarterback situation is a major development. Head coach, Lovie Smith, failed to announce a starter at the position following an upper body injury to junior quarterback, Brandon Peters. The clear choice would be redshirt freshman, Matt Robinson, if Peters were unable to play. However, I know Illinois fans are hoping to see the dynamic freshman, Isaiah Williams, in action this season. And this would be the perfect opportunity for him.
Illinois Key to the Game: Linebackers Jake Hansen/ Dele Harding
Pick:
Pick the under in this one. Michigan will be overlooking Illinois and shouldn't be. That means that this game will be close for at least the first half of the game. The third quarter is key. If the Michigan defense can impose their will, this game could get ugly. If not, Illinois will have a chance at pulling off the upset.
Michigan 24, Illinois 14