We have done the DFS homework for you, and here are is our breakdown for Week 6 in college football. We are using DraftKings numbers, so you have $50,000 to pick 8 players ($6,250 AVG).
CFB $150K Saturday Kickoff $50K to 1st $18 Entry
Games
South Carolina vs Vanderbilt
Texas vs Oklahoma
Virginia Tech vs UNC
NC State vs UVA
Florida vs Texas A&M
Duke vs Syracuse
Tennessee vs Georgia
Texas Tech vs Iowa State
UTSA vs BYU
Arkansas vs Auburn
Kansas State vs TCU
Pittsburgh vs Boston College
---
Quarterbacks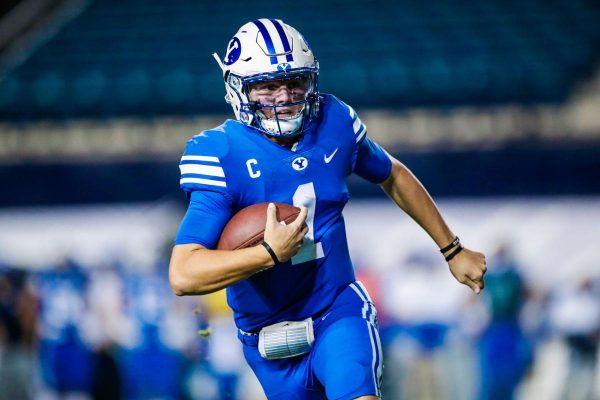 Top Plays
Zach Wilson, BYU, $9,500

Wilson has been on 🔥 this season. He's averaging 33.7 FPPG and has a great match-up vs UTSA.
Sam Ehlinger, Texas, $9,200

The Red River Shootout should be high scoring since both teams have struggled on Defense. Ehlinger is averaging 38.3 FPPG so he's been a DFS star.
Spencer Rattler, Oklahoma, $8,900

Rattler is averaging 29.6 FPPG this season and has 10 TDs. Rattler has been a good play in DFS but his 4 INTs have been heavy factors in the Sooners 0-2 Big 12 start.
Best Value Plays
Brock Purdy, Iowa St, $7,400

Purdy has a great match-up vs Texas Tech who cant stop anyone. Purdy is only averaging 13.1 FPPG this season so he's due for a breakout week, no better opponent than Texas Tech to get things going.
Max Duggan, TCU, $7,300

Duggan has a decent matchup vs Kansas State and he's been reliable in 1.5 games of action this season.
Sam Howell, UNC, $7,000

Virginia Tech was without 6 or so DBs last week and could be without a few this week. The forecast is showing rain but if it's clear I expect Howell to have a productive day.
Brennan Armstrong, Virginia, $6,800

The NC State defense was shredded by Kenny Pickett and Armstrong is also a capable runner. Armstrong showed toughness & potential vs Clemson, this is a quality play this week.
Collin Hill, South Carolina, $6,400

This could be the best value play of the week at QB. You get Hill for a decent price and the matchup is solid vs Vanderbilt.
Tommy Devito, Syracuse, $5,500

Devito is a scary play let's be honest but you get a starting QB for a great price who's capable of getting you 10-15 Fantasy Points.
Avoid 🚫
Jarrett Guarantano, Tennessee $6,100

The Georgia defense is legit. This is a bad match-up for Guarantano.
Running Backs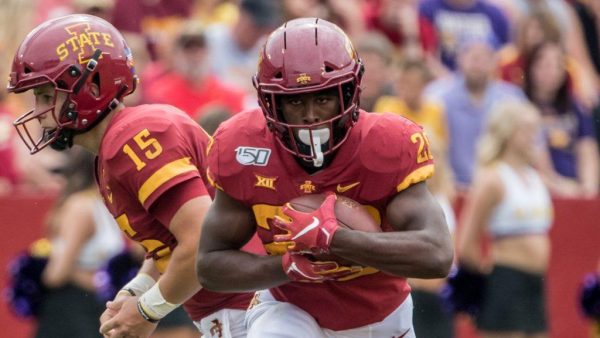 Top Plays
 Breece Hall, Iowa St, $8,600

Hall is averaging an outstanding 30.5 FPPG and has an excellent match-up vs Texas Tech.
Khalil Herbert, Virginia Tech, $8,100

Herbert leads the nation with 12 yards per carry. The VT O-Line is incredible. Expect Herbert to be the go to guy on Saturday.
Best Value Plays 
Zamir White, Georgia, $7,200

White is the RB1 in an offense that wants to establish the run, I expect at least 1-2 TDs from White vs the vols.
Lopini Katoa $6,800 & Tyler Allgeier, BYU, $6,600

The BYU RB duo are both great plays as far as the match-up. I expect both to score in this game. The biggest question is which is the better play? To be honest it's a coin flip each week. So if you're not sure, play both.
Kevin Harris, South Carolina, $6,700

Harris is a tough, physical runner who impressed me last week vs Florida. This season he's averaging 22.6 FPPG and has a good match-up vs Vanderbilt.
Wayne Taulapapa, Virginia, $6,200

Wake Forest and Virginia Tech shredded the Wolfpack Defense running the ball and UVA has an experienced O-Line which should result in a good game for Taulapapa.
Mateo Durant, Duke, $4,000

This is a great value play if you're looking for a low priced RB to load up at QB and WR.
Avoid 🚫
Sincere McCormick, UTSA $6,400

McCormick is a great RB who's averaging 24.7 FPPG but this match-up isn't ideal.
Wide Receivers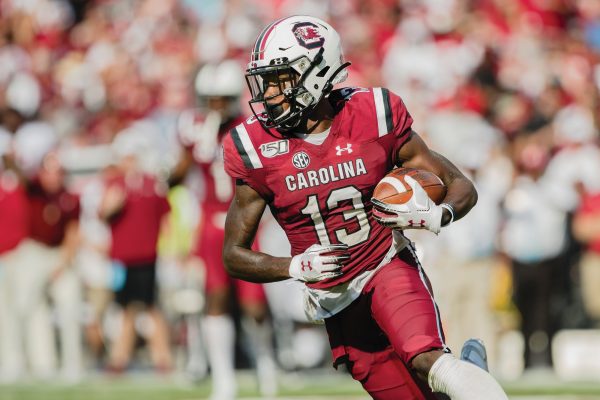 Top Plays
Gunner Romney, BYU, $8,200

Romney has been incredible all season and he has speed. He's averaging 24.8 FPPG and has another great matchup.
Shi Smith, South Carolina, $7,600

Smith is averaging 29.6 FPPG and is the Gamecocks go to target.
Joshua Moore, Texas, $7,500

You can't go wrong with a Longhorn or Sooner receiver in this game.
Kyle Pitts, Florida, $7,200

Pitts has 6 Touchdowns in 8 quarters of play. He's the Gators #1 Target and #1 Redzone Target.
Best Value Plays 
Charleston Rambo, Oklahoma, $7,000

Rambo is only averaging 14.7 FPPG this season but he's the sooners #1 WR with a great matchup this weekend.
Dax Milne, BYU, $6,800

Milne is the #2 WR for BYU but he's caught more passes than Romney. He's averaging 18.8 FPPG this season and has an excellent matchup.
KeSean Carter, Texas Tech, $6,400

Carter has been a good play every week in DFS averaging 22.5 FPPG. Henry Colombi is a viable backup QB so don't let Bowman potentially being out stop you from playing Carter.
Hunter Long, Boston College, $5,900

Long has 25 catches for 270 yards 2 TDs in three games this season. He's a big red zone threat and one of the top TEs in CFB.
Dyami Brown $5,600 and Dazz Newsome $5,400, UNC


If the weather is clear these two will be good plays especially if multiple VT DBs are out again.
Jake Smith, Texas, $5,200

Smith returned last week after missing the first two games and hauled in a TD.
Terrell Jana, Virginia, $4,800

Jana is the Hoos WR1 and NC State gave up over 400 yards through the air last week.
Tre Turner, Virginia Tech, $4,100

Turner is the Hokies top Wide Receiver and he's from the state of North Carolina looking to have a big game in his home state. VT uses Turner in the Jet Sweep game a lot as well.
Noah Gray, Duke, $4,000

Gray is always a great price on DraftKings and he always provides points. This season he has 19 catches for 203 yards and 2 TDs.
Lavel Davis, Virginia, $4,000

Davis the 6'7″ true freshman is a match-up nightmare and big red zone threat. For the price on DraftKings, you get good value with this play.
My Lineup
QB: Brennan Armstrong $6,800
RB: Khalil Herbert $8,100
RB: Kevin Harris $6,700
WR: Jake Smith $5,200
WR: Tre Turner $4,100
WR: Noah Gray $4,000
FLEX: Breece Hall $8,600
SuperFlex: Collin Hill $6,400