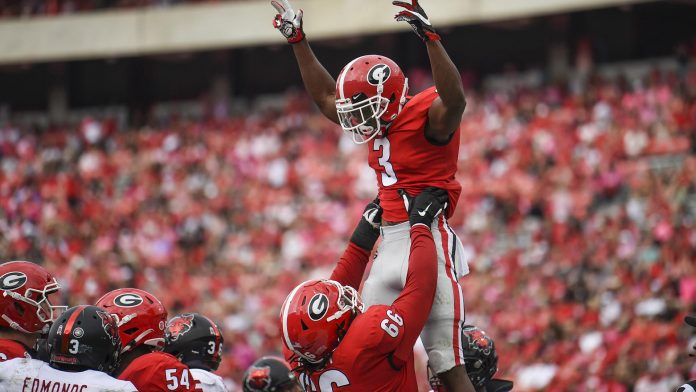 We have done the DFS homework for you, and here are is our breakdown for Saturday's slate of games in college football. We are using DraftKings numbers, so you have $50,000 to pick 8 players ($6,250 AVG). We are specifically targeting the CFB $200K Saturday Kickoff $50K to 1st contest.
Games
Missouri at Boston College
Georgia at Vanderbilt
LSU at Mississippi State
Texas Tech at Texas
SMU at TCU
Notre Dame vs Wisconsin
Boise State at Utah State
Texas A&M at Arkansas
Louisville at Florida State
Clemson at NC State
Iowa State at Baylor
Rutgers at Michigan
---
Quarterbacks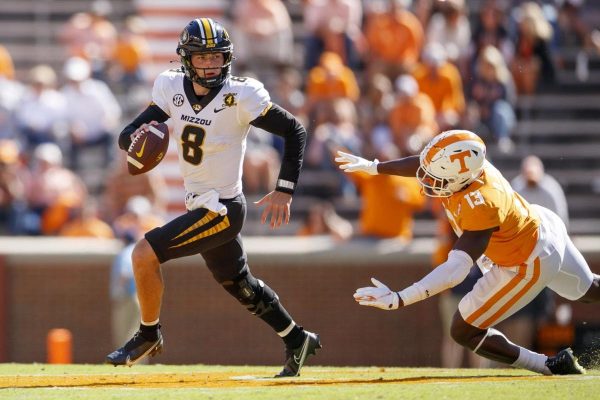 Top Plays
Tanner Mordecai (SMU) $9,000 – Mordecai has 16 TD passes this season, but his price is too high for me this week. I don't love the match-up.
Malik Cunningham (Louisville) $8,800 – Cunningham had a great game last week and now DraftKings has jacked up his price. I don't trust him enough to pay this much, and his match-up vs FSU is good but not great.
Max Duggan (TCU) $8,700 – Duggan has an excellent match-up. However, just like Cunningham and Mordecai, I'm not sure I'm paying for him this week when there are a bunch of value QB plays this week.
Max Johnson (LSU) $8,300 – Johnson is averaging 28.2 FPPG and has a decent match-up.
JT Daniels (Georgia) $8,100 – Daniels has a great match-up vs Vanderbilt, but don't be surprised if the RBs thrive in this one.
Best Value
Will Rogers (Miss St) $7,800 – One thing Mississippi State is going to do is give the QB a ton of opportunities to make a play. Rogers threw 67 passes last week. The volume he's getting makes him a valuable play almost every week.
Hank Bachmeier (Boise St) $7,300 – This is one of my favorite plays of the week. Love the value and match-up.
Casey Thompson (Texas) $7,200 – Thompson will start this week for the Longhorns and his match-up isn't too bad. If he wants to takeover the starting job, he needs to make a statement here.
Brock Purdy (Iowa St) $6,900 – Purdy has a decent match-up vs Baylor and his price is reasonable.
Connor Bazelak (Missouri) $6,800 – Bazelak is averaging 24.9 FPPG this season and for this price and with the match-up I love this play.
Tyler Shough (Texas Tech) $6,500 – Shough is averaging 21.4 FPPG this season and his match-up vs Texas has potential to be a really good one.
Jack Coan (Notre Dame) $6,300 – Coan goes up against his former team Wisconsin and is an interesting match-up for the price.
Darkhorse Plays
McKenzie Milton (Florida St) $6,100 – Jordan Travis is dealing with an injury. Keep an eye on that injury because if Milton starts, I could see this being a cheap contrarian play.
Logan Bonner (Utah St) $5,600 – Bonner is extremely cheap and will most likely be passing with Utah State trailing. He's got some experienced receivers, and I could see this being an excellent play.
---
Running Backs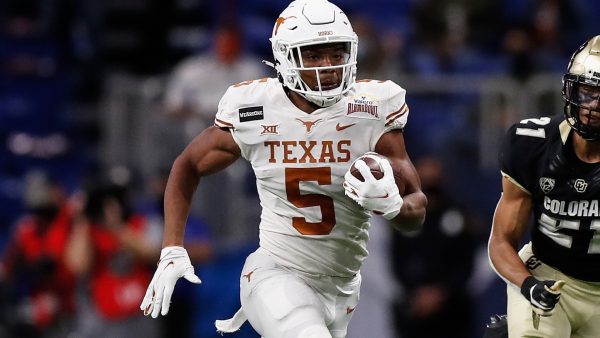 Top Plays
Bijan Robinson (Texas) $7,200 – Bijan had 36.1 Fantasy points last week. He's one of the top RBs in CFB, and he's better with Thompson at QB.
Breece Hall (Iowa St) $7,000 – Hall will get a heavy workload like always. The match-up is against Baylor who hasn't really played anyone who will test them like the Cyclones will.
Tyler Badie (Missouri) $6,900 – Badie has been on fire this season averaging 34.2 FPPG, and he has 6 rushing TDs.
Best Value
Blake Corum (Michigan) $6,700 – Corum is #2 in my latest Heisman Rankings. He's going up against Rutgers and he'll be able to have another productive day.
Zamir White (Georgia) $6,300 – White has an excellent match-up vs Vanderbilt and his price has a ton of value.
Zach Evans (TCU) $6,200 – Evans is one of my favorite plays of the week. The Horned Frogs should feed him the ball a ton, and he has a great price tag.
Will Shipley (Clemson) $5,800 – Shipley seems to be the RB1 for Clemson and Lyn-J Dixon has now transferred. This isn't the best match-up, but Shipley should get plenty of volume.
Calvin Tyler Jr (Utah St) $5,500 – Tyler Jr is averaging 19.9 FPPG this season.
Darkhorse
Corey Kiner (LSU) $4,900 – Kiner rushed the ball 12 times last week, and it seems like he could be in line for more volume in the future.
---
Receivers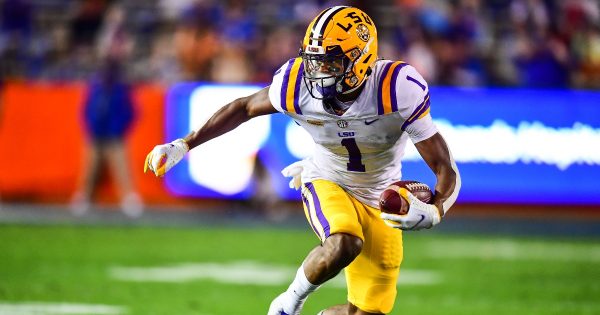 Top Plays
Deven Thompkins (Utah St) $8,000 – Thompkins is averaging 31.9 FPPG this season and has 3 TDs. He's an under the radar pick, who most people don't know about. But he's a superstar.
Kayshon Boutte (LSU) $7,700 – Boutte is the WR1 for LSU, and he's averaging 27.1 FPPG this season.
Khalil Shakir (Boise St) $7,400 – Shakir is one of my favorite plays of the week and my favorite WR play. He has a good piece and match-up.
Best Value
Rashee Rice (SMU) $6,300 – Rice is in a high powered offense, and he's averaging 18.2 FPPG this season. He gets a lot of volume each week and has a good price tag.
Makai Polk (Miss St) $6,200 – Polk caught 11 passes last week, and he seems like he could be a player that starts getting more volume.
Michael Mayer (Notre Dame) $5,700 – Mayer had his worst week of the season last week vs Purdue. He only caught 1 pass for 5 yards. He had 16 catches the previous two weeks combined. This week vs Wisconsin the Irish will need him to step up big.
Darkhorse Plays
Jaden Walley (Miss St) $4,800 – Walley has 3 TDs this season and gets a ton of targets. I like this value play this week.
Xavier Worthy (Texas) $4,700 – Worthy is a true freshman who's starting to emerge as a top receiving option. Last week, he caught 7 passes, and he has excellent value this week for the price.
Reggie Roberson Jr (SMU) $4,500 – There is a ton of value here. The volume is there for Roberson, and he has a high ceiling.
Jalen Wydermyer (Texas A&M) $4,300 – Wydermyer is always a red zone threat and always a good price.
Deion Smith (LSU) $4,000 – Smith caught 5 passes for 135 yards last week, and for this price, all you need is a few catches or a TD.
Justin McGriff (Utah St) $3,900 – McGriff has a low floor, which worries me. However, there is a ton of value for the price.
Lineup I like
QB: Logan Bonner $5,600
RB: Zach Evans $6,200
RB: Breece Hall $7,000
WR: Xavier Worthy $4,700
WR: Khalil Shakir $7,400
WR: Reggie Roberson $4,500
FLEX: Bijan Robinson $7,200
SuperFlex: Hank Bachmeier $7,300