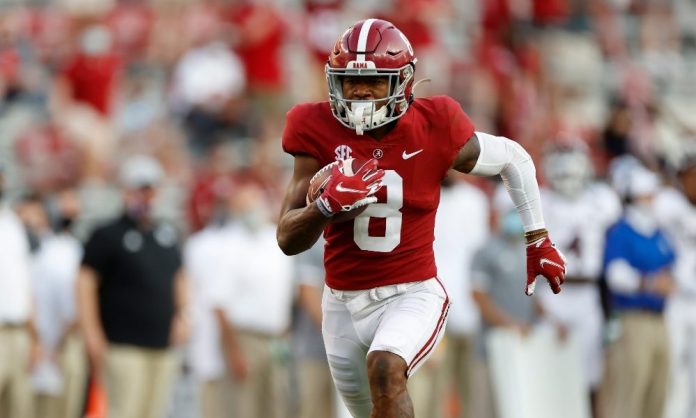 We have done the DFS homework for you, and here are is our breakdown for Saturday's slate of games in college football. We are using DraftKings numbers, so you have $50,000 to pick 8 players ($6,250 AVG). We are specifically targeting the CFB $200K Saturday Kickoff $50K to 1st contest.
Games
Nebraska at Oklahoma
Coastal Carolina at Buffalo
Michigan State at Miami
Virginia Tech at West Virginia
Cincinnati at Indiana
Minnesota at Colorado
Purdue at Notre Dame
Georgia Tech at Clemson
Alabama at Florida
USC at Washington State
Florida State at Wake Forest
Tulsa at Ohio State
---
Quarterbacks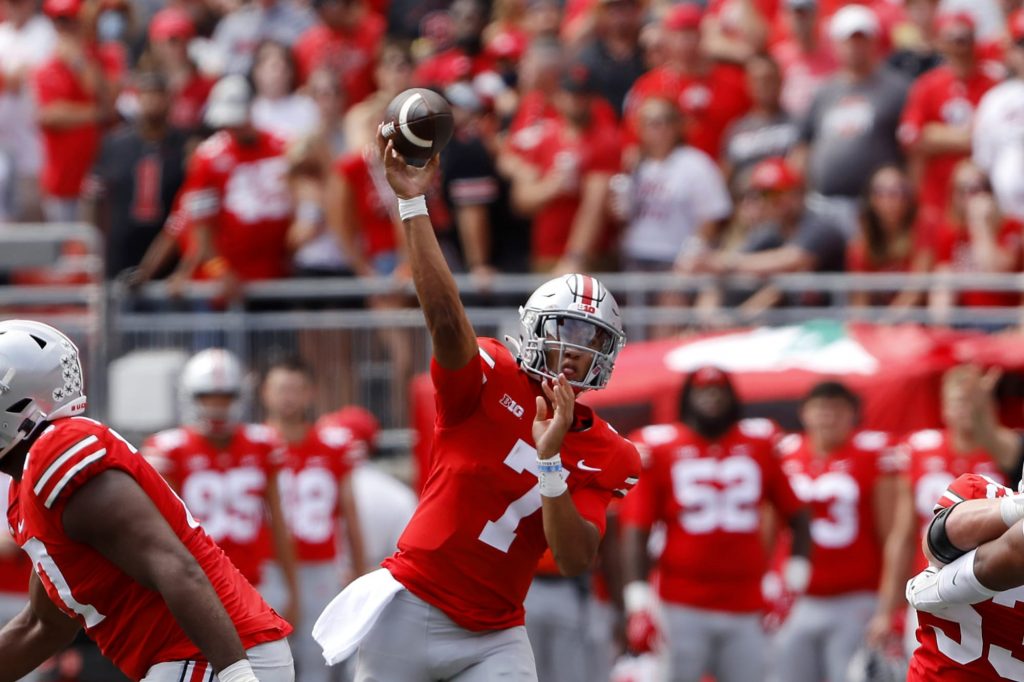 Top Plays
CJ Stroud $10,000
• Stroud has an excellent matchup but I'm not paying this much for a QB when the Buckeyes will most likely rely on the rushing attack.
Spencer Rattler $9,500
• Rattler has an excellent matchup, I don't recommend paying this much for a QB but Rattler is guaranteed 20+ points.
Bryce Young $9,200
• Young goes up against Florida. The game won't get out of hand like some others where it's a chance Young gets pulled in the 2nd half, you could see that happening with Stroud and Rattler. I like this play this week even though that's a steep price.
DJ Uiagalelei $8,800
• Uiagalelei goes up against a Georgia Tech team where he should thrive.
Desmond Ridder $8,600
• I'm not paying this price for Ridder vs Indiana but he's always a good play with his rushing workload.
Grayson McCall $8,300
• Based on the matchup and price, this is possible the best play of the week at QB.
Best Value
Jack Coan $8,100
• Coan has a solid matchup vs Purdue and this game has shootout potential.
Sam Hartman $7,800
• Hartman goes up against a broken and shattered FSU team. It's not the greatest matchup but it could get you 15-20 points.
Jayden de Laura $7,400
• de Laura goes up against a USC team that just fired their HC. USC was shredded by Stanford and I could see de Laura getting you 18+ points.
Longshot Plays
Adrian Martinez $7,300
• Let's face it, This is a scary play but the Sooners defense was shredded by Tulane and Nebraska will need to throw since they'll most likely be trailing.
Kedon Slovis $7,200
• I really like this play, Slovis has excellent value and a good matchup.
Payton Thorne $7,000
• Thorne has a matchup at Miami, last week Chase Brice threw for 199 yards and 1 TD. I'm not playing Thorne this week but if you need a cheaper QB then give it a try.
Jarret Doege $6,200
• Doege gets you absolutely nothing on the ground and his matchup vs VT isn't the best but he has to play good for WVU to win. He has a reasonable price and I could see him throwing for 200 yards 2 TDs.
McKenzie Milton $6,100
• Milton looked rusty last week, a lot of short passes only averaging 7 yards per completion. He has a decent matchup vs Wake Forest and FSU needs a big game from him.
Kyle Vantrease $5,600
• If you want a starting QB for a cheap price this is the play. The matchup isn't the best but if Buffalo wants to make it a game Vantrease will need a big gain.
---
Running Backs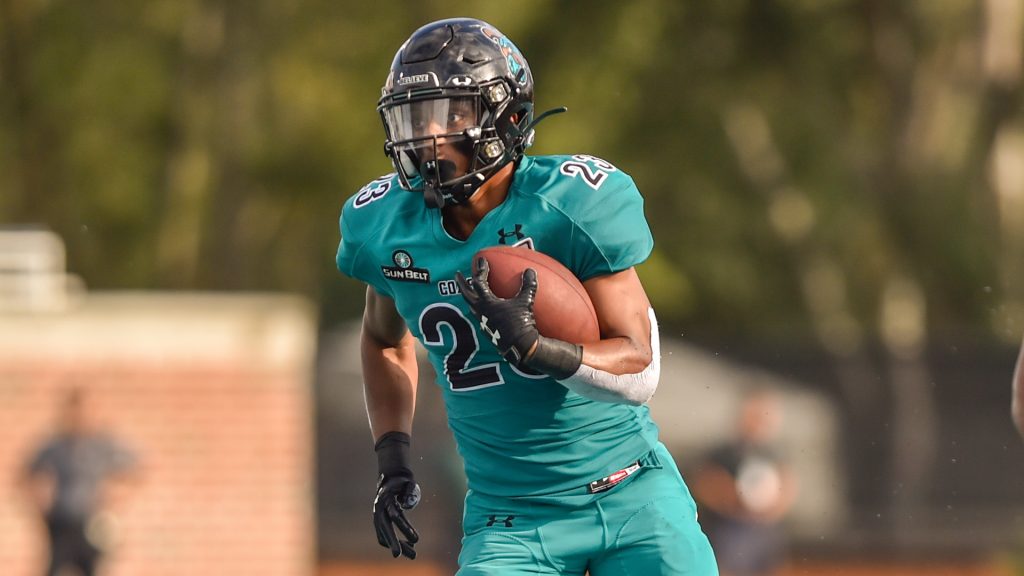 Top Plays
Reese White $7,700
• White had a great game last week with 3 TDs. He has an excellent matchup vs Buffalo, this is a must play.
Miyan Williams $7,500
• Williams has an outstanding matchup vs Tulsa, this is a great play. My only problem is I'm worried he might split reps when the Buckeyes get a big lead.
Treyson Potts $7,300
• Potts has a tough matchup vs Colorado but he's the workhorse RB for the Gophers since Ibrahim was injured, he will get 20+ touches easily.
Kyren Williams $7,200
• Williams has a good matchup vs Purdue and the Irish need to make a statement. I could see Williams find the end zone 2 times or more.
Kenneth Walker III $7,100
• Walker III has been one of the best RBs in CFB early on. His matchup vs Miami isn't the best, but it's not horrible either. Walker is averaging 32 FPPG this season.
Best Value
Jerome Ford $7,000
• Ford is averaging 28.2 FPPG this season. He's a workhorse back for Cincy and should get 25+ touches.
Leddie Brown $6,900
• Brown is the focal point of the Mountaineers Offense. He will get 20+ touches and has a good opportunity to find the end zone.
Jashaun Corbin $6,800
• Corbin has been a bright spot for the Noles. He's averaging 23.5 FPPG and this matchup isn't too bad.
Max Borghi $6,700
• Borghi is averaging 17 FPPG and he's always a threat in the passing attack.
Brian Robinson Jr $6,400
• Robinson is only averaging 11 FPPG but with Alabama you always have to he ready for a big game from a RB.
Kevin Marks Jr $6,000
• Marks Jr is a workhorse back for UB. I hate this matchup and I'm staying away from this play but he will get plenty of touches.
Longshot Plays
Cam'Ron Harris $5,400
• I'm not a big fan of Harris, he's probably the 3rd or 4th best RB on the team but guess what, the top two RBs are OUT. This matchup isn't the best but harris will get plenty of touches and all you need is 10+ points for this price.
Will Shipley $5,300
• I'm expecting Clemson to beat the hell out of GT. I could see Shipley getting a lot of action this week.
Eric Gray $5,200
• The Sooners rushing attack is frustrating, Gray is only averaging 9.8 FPPG but has potential for a big game any week.
Treveyon Henderson $5,200
• I'm expecting a blowout win in this game for Ohio State. Henderson is the most talented RB on the team and I believe he finds the end zone in this one.
King Doerue $4,600
• $4,600 for a starting RB, if you want to load up at QB or WR this isn't a bad play.
---
Receivers (WR/TE)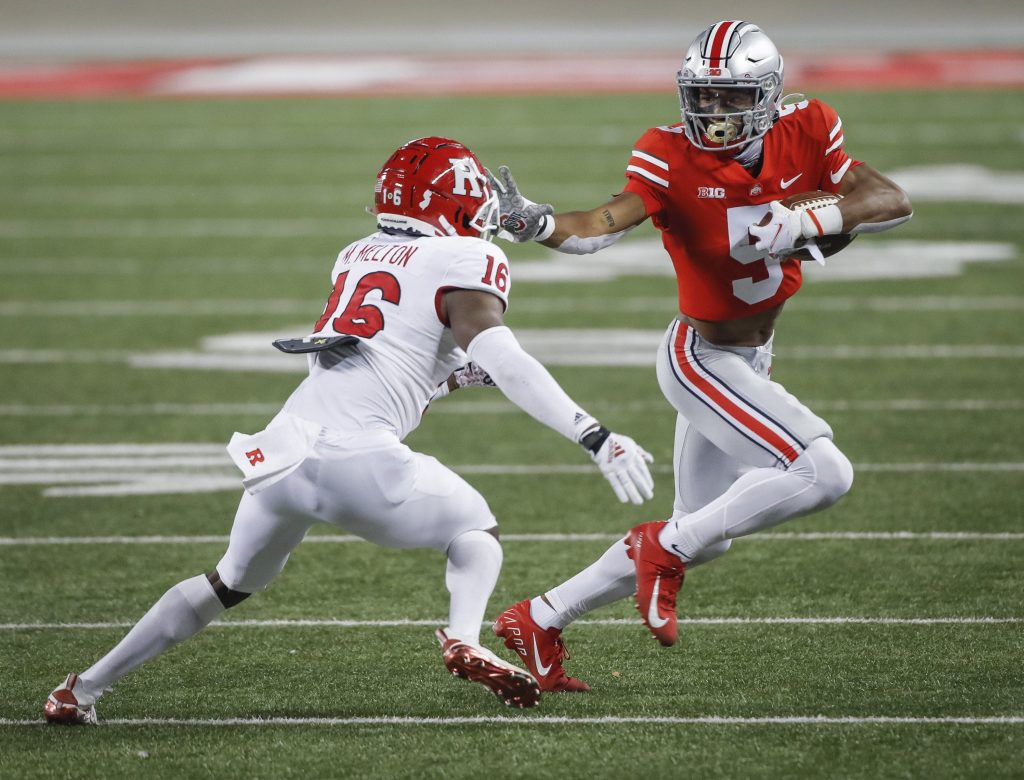 Top Plays
Jaivon Heiligh $8,300
• Heiligh is averaging 27.8 FPPG this season. He's the #1 receiving option for the Chanticleers and has an excellent matchup.
Chris Olave $8,100
• Olave is averaging 29.2 FPPG this season and he seems to be the #1 option for Stroud.
David Bell $7,700
• Bell is outstanding, and produces every week. This season he's averaging 33.1 FPPG. This isn't the best matchup and I'm staying away, but I can't blame you if you decide to play Bell.
Marvin Mims $7,500
• Mims has an outstanding matchup vs Nebraska. I expect the Sooners to score 31+ points and for Mims to have a productive game.
Michael Mayer $7,300
• Mayer is averaging 28.6 FPPG this season and he's the best TE in CFB. I love this matchup for him and I expect 6+ catches.
Best Value
John Metchie III $7,100 & Jameson Williams $6,700
• Usually playing vs the Gators DBs would worry me but not with Alabama. These two will probably both have productive games.
Jayden Reed $6,900
• Reed a former WMU transfer has been extremely efficient for MSU. Michigan State will need to hit some big passes to win this game and reed is the go to guy.
Jaquarii Roberson $6,800
• If you have Roberson in Fantasy he's always a must play. In DFS I like to pick my spots and I'm actually not going to play him this week but there is value here with the price.
Payne Durham $6,600
• Durham has been one of the most productive TEs in Fantasy. He's averaging 24.3 FPPG and while I don't like the matchup vs Notre Dame I can see him getting 6+ Targets.
Garrett Wilson $6,400
• Excellent price, great matchup!!!
Justyn Ross $6,200 & Joseph Ngata $6,000
• Clemson has a good matchup vs GT and I expect them to score 38+ points.
Samori Toure $5,600
• Toure had 2 catches last week and both were for TDs. He's the best receiver on the team and I expect him to get a ton of targets with Nebraska most likely trailing vs Oklahoma.
Travell Harris $5,500
• Harris had 2 receiving TDs last week. He looks like the go to receiver for WSU.
Jaxon Smith Njigba $5,500
• Smith Njigba is the WR3 for Ohio State but in an offense that can score a ton he has high upside every week. I love this play & matchup.
Tre Turner $5,000
• Virginia Tech gets Turner involved on jet sweeps and short passes but also looks for him deep like vs UNC.
Longshot Plays
Tayvion Robinson $4,600
• Robinson catches passes, runs on jet sweeps, returns punts. With James Mitchell out I expect his production will have to increase if Virginia Tech wants to do anything on offense.
Isaiah Likely $4,400
• Likely is averaging 10.2 FPPG. He's always a low price on DraftKings and always gets 4-6 catches. When he finds the end zone he's a player who could win you the top prize.
Key'Shawn Smith $4,400
• Smith isn't as known as some of the Miami WRs but he's actually impressed me. I don't like this matchup but his price is extremely low.
JuanCarlos Santana $3,800
• Santana led Tulsa in receiving yards last week and has a matchup vs Ohio State which hasn't looked too impressive on Defense. Tulsa will be trailing & passing which will make Santana a good value play.
Braden Galloway $3,800 & Davis Allen $3,200
• If you want a very cheap play for roster construction then play a Clemson Tight End. These two players most likely won't get you 6 catches for 100 yards 2 TDs but they have potential for a TD and should get you 2 or 3 catches.
Will Mallory $3,600
• Mallory only has 5 catches for 28 yards this season. That's not what most people expected and the Canes need to get him more involved. If you need a cheap option this week who has potential for a good game this isn't a bad play.
Jeremy Ruckert $3,100
• This is an extremely cheap price & Ruckert has a good matchup.
Nick Gallo $3,000
• Gallo will replace injured TE James Mitchell for the Hokies. He's the cheapest available price & just 2-3 catches or a TD will get you a good return on your investment.
---
Potential Lineup
QB: DJ Uiagalelei $8,800
RB: T. Henderson $5,200
RB: Reese White $7,700
WR: John Metchie $7,100
WR: Jeremy Ruckert $3,100
WR: Will Mallory $3,600
Flex: Eric Gray $5,200
SuperFlex: Bryce Young $9,200