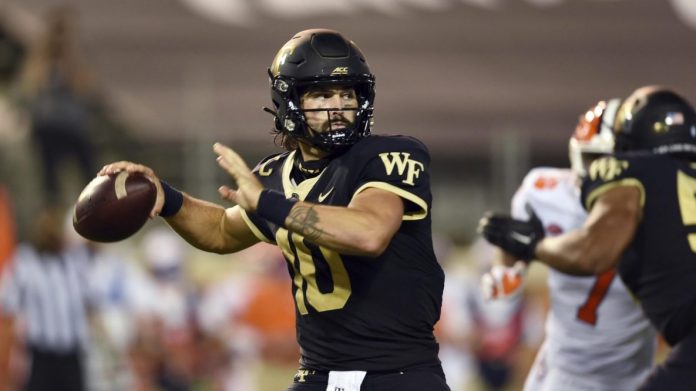 We have done the DFS homework for you, and here are is our breakdown for Saturday's slate of games in college football. This is my preview for the DraftKings $200K Saturday Kickoff contest. A $15 entry gets you in the contest which pays out $50,000 to 1st place. We are using DraftKings numbers, so you have $50,000 to pick 8 players ($6,250 AVG).
Games
South Carolina at Arkansas
Missouri at Kansas State
Wake Forest at Vanderbilt
Alabama at Texas
Southern Miss at Miami
Ohio at Penn State
Marshall at Notre Dame
Tennessee at Pittsburgh
Appalachian State at Texas A&M
Washington State at Wisconsin
Colorado at Air Force
Iowa State at Iowa
Houston at Texas Tech
UVA at Illinois
---
Quarterbacks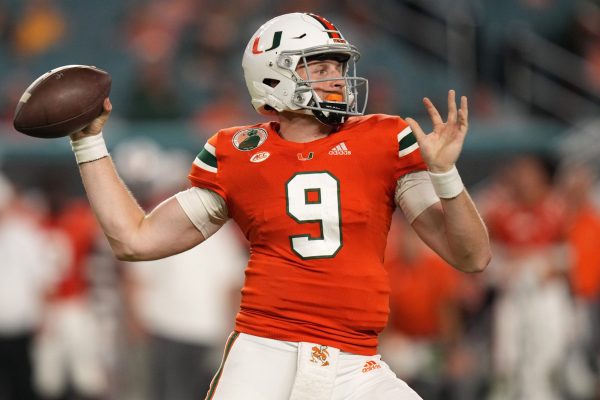 Top Plays
Bryce Young (Alabama) $10,200
Sam Hartman (Wake Forest) $8,000
Hendon Hooker (Tennessee) $7,800
Bryce Young is the obvious top play, but his price will keep me away from him. If you play a QB over 10K, you'll need to go cheap at Receiver/RB. The 8K price on Sam Hartman was set before it was announced he'd return this week, so this is great value vs Vanderbilt, and he's a top play for me. Hendon Hooker faces off vs Pittsburgh. This game should be competitive, which means he will need a big game, and I expect one from him.
Best Value Plays

Sean Clifford (Penn St) $7,300
Clayton Tune (Houston) $6,500
Tyler Van Dyke (Miami) $6,400
Brennan Armstrong (Virginia) $6,300
Clifford has a great match-up vs Ohio and should get you 20 points or more. Tune faces off vs Texas Tech, and this could be another back and forth like last week vs UTSA. Anytime I can get TVD and Brennan Armstrong for $6,400 or $6,300, I'm jumping on it. TVD has an excellent match-up vs Southern Miss, and Armstrong faces off vs Illinois. The Illini have a decent defense, so Armstrong will need a big game.
Longshot Plays
Tyler Buchner (Notre Dame) $6,000
Mike Wright (Vanderbilt) $5,400
Buchner had a tough match-up last week vs Ohio State, but I see potential in him. This week he goes up vs Marshall, who have a decent defense themselves. However, for this price, I like the play. Mike Wright is an excellent Dual Threat QB who should get you 15-30 points vs Wake Forest.
---
Running Backs
Top Plays
Jahmyr Gibbs (Alabama) $8,700
Deuce Vaughn (Kansas St) $7,600
Braelon Allen (Wisconsin) $7,000
These plays will be spectacular this week. Gibbs will go off vs Texas. Deuce Vaughn faces off vs Missouri and should be in line for a 15-25 point game. Allen has great value at 7K, and he goes up against WSU. He could get 100-125 rushing yards and 2 TDs.
Best Value Plays
Chase Brown (Illinois) $6,400
Henry Parrish Jr (Miami) $6,300
Chase Brown is a workhorse RB, and the Hoos could be vulnerable defending the run. Expect him to have a big game. Parrish Jr showed last week that he can contribute rushing and catching passes, and I like his match-up vs Southern Miss.
Longshot Plays
Kaytron Allen (Penn St) $4,400
Khalan Laborn (Marshall) $4,200
Allen showed last week that he has potential. Even though he's in a 3-man RB committee, he has a good match-up and PSU should be up big running the ball. Laborn has a bad match-up vs Notre Dame, but he's going to get 10-15 touches, and for this price he could be good value.
---
Receivers

Top Plays
Jermaine Burton (Alabama)$8,100
Cedric Tillman (Tennessee)$7,300
Burton is the alpha WR for the Crimson Tide. He had two TDs last week and has an excellent match-up this week vs Texas. Tillman is Hendon Hookers' #1 target and the Vols will need him to step up big vs Pitt.
Best Value Plays
A.T. Perry (Wake Forest) $6,900
Dontayvion Wicks (Virginia) $6,300
Donovan Greene (Wake Forest) $6,200
Parker Washington (Penn St) $6,100
Nathaniel Dell (Houston) $6,000
Perry and Greene are outstanding values now that Hartman is back. Wicks and Washington are good contrarian plays in my opinion because a lot of ownership will come in on Dell at 6K. Speaking of Dell, this is a very cheap price for a player of his skillset. I love this play vs Texas Tech.
Longshot Plays
Trey Knox (Arkansas) $4,100
Tyler Harrell (Alabama) $3,900
Michael Mayer (Notre Dame) $3,900
Lavel Davis Jr (Virginia) $3,500
DraftKings always undervalues Tight Ends. Knox had two TDs last week, and he's a big weapon for KJ Jefferson. Getting him at $4,100 is a huge steal. I absolutely can't believe I can get Mayer at $3,900. He has a great match-up, and the Irish will want to get Tyler Buchner going in the passing game vs Marshall. Harrell could win you the week at $3,900, if he plays vs Texas. Alabama has a lot of weapons at WR, but at $3,900, all you need is 4 or 5 receptions or a TD. Lavel Davis Jr is a 6'7″ option at WR for Brennan Armstrong, and he had a TD last week. Adding him to your lineup for $3,500 allows you to load up at other positions.
Mock Lineup
QB: Mike Wright $5,400
RB: Chase Brown $6,400
RB: Braelon Allen $7,000
WR/TE: Michael Mayer $3,900
WR/TE: A.T. Perry $6,900
WR/TE: Mitchell Tinsley $5,700
Flex: Jahmyr Gibbs $8,700
SuperFlex: Tyler Buchner $6,000