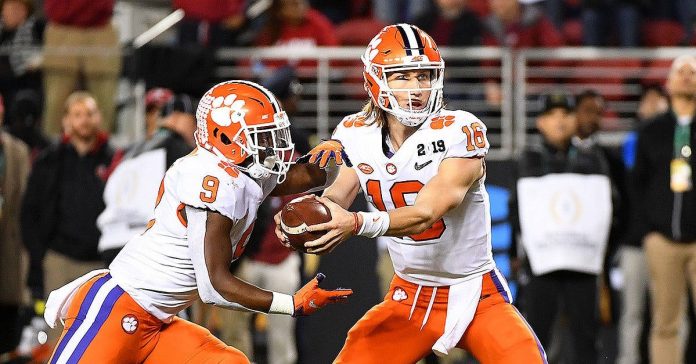 In football, the skill position players are critical for the success of the team. They are the playmakers, the guys who will put the ball in the end zone. These are the best combo of QB, RB, and WR trios in the college football.
Clemson
QB – Trevor Lawrence
RB – Travis Etienne
WR – Justyn Ross
This trio is absolutely unbelievable, and all three are future first round NFL Draft picks. Trevor Lawrence will undoubtedly be the #1 pick in the 2021 NFL Draft. Last season, Lawrence had 3,280 passing yards, Etienne had 24 rushing touchdowns, and Ross had 1,000 receiving yards.
Alabama
QB – Tua Tagovailoa
RB – Najee Harris
WR – Jerry Jeudy
Tua is my 2nd ranked QB in College Football and Jeudy is my #1 Wide Receiver. Harris is a player I'm expecting to have a huge season and he averaged 6.7 ypc last year. Jeudy is the best route runner in college football. That led to 1,315 receiving yards & 14 touchdowns last season.
Oklahoma
QB – Jalen Hurts
RB – Kennedy Brooks
WR – CeeDee Lamb
The Sooners have a proven winner & leader with Jalen Hurts at QB. RB Kennedy Brooks averaged a whopping 8.9 yards per carry last season and had 12 touchdowns. CeeDee Lamb is a top 5 WR in CFB and last season had 11 receiving TDs.
North Texas
QB – Mason Fine
RB – DeAndre Torrey
WR – Rico Bussey
These are three great players who put up huge numbers last season. Fine is one of the best QBs in college football, and last season threw for 3,793 yards. Torrey had 15 rushing touchdowns and Bussey had 12 receiving touchdowns.
Nebraska
QB – Adrian Martinez
RB – Maurice Washington
WR – JD Spielman
Martinez had a big season as a freshman last year and showed a lot of potential. He had 17 passing TDs and 8 rushing TDs. Washington is a breakout candidate in 2019, and JD Spielman is one of the most explosive WRs in CFB.
Texas
QB – Sam Ehlinger
RB – Keaontay Ingram
WR – Collin Johnson
Ehlinger is a tough player who had an outstanding season in 2018 with 25 passing TDs and 16 rushing TDs. Ingram is set for a breakout season, and Johnson is a 6'6″ receiver who had 985 receiving yards last season and has NFL Scouts intrigued.
Ohio State
QB – Justin Fields
RB – J.K. Dobbins
WR – KJ Hill
Fields has a lot of hype heading into this season. He's proven nothing yet on the field, but  expect a big breakout season from him in 2019. Dobbins had a huge year in 2018 with 1,053 rushing yards and 10 rushing TDs, and Hill is the leading returning receiver with 885 receiving yards from last season.
UCF
QB – Brandon Wimbush
RB – Greg McCrae
WR – Gabriel Davis
Wimbush was just announced the starter for the Knights. He gives UCF a weapon on the ground with his legs and he has the experience needed to lead a team. McCrae is one of my favorite RBs in CFB. He's got quickness and toughness which led to 8.9 yards per carry last year. Gabriel Davis is the leading returning receiver after having 815 receiving yards in 2018.
Georgia
QB – Jake Fromm
RB – D'Andre Swift
WR – Demetris Robertson
This group is led by Fromm and Swift, as receiver is a presumed weakness for the Dawgs this season. However, I really like Demetris Robertson. As a freshman in 2016 at California, he had 50 receptions for 767 yards and 7 TDs. The Dawgs will count on Robertson to step up big this season.
Memphis
QB – Brady White
RB – Patrick Taylor Jr
WR – Damonte Coxie
Patrick Taylor was overshadowed by Darrell Henderson last season, as the Tigers had a three headed rushing attack with Henderson, Tony Pollard, and Patrick Taylor Jr. Taylor rushed for 1,122 yards and 16 Touchdowns in 2018. Brady White was impressive at QB with 26 Passing TDs, 7 of which went to Coxie.
Houston
QB – D'eriq King
RB – Patrick Carr
WR – Marquez Stevenson
King is one of the most dynamic players in college football. Last season before being injured, he had 2,982 Passing yards 36 TDs and 14 rushing touchdowns. The RB rotation could be by committee in 2019. However, last season Carr had 873 rushing yards 5 TDs, and Marquez Stevenson had 75 receptions for 1,019 yards 9 TDs.
Notre Dame
QB – Ian Book
RB – Jafar Armstrong
WR – Chase Claypool
Last season, all three of these guys played an integral part in the Irish reaching the College Football Playoffs. Book threw for 2,628 yards and 19 TDs, Armstrong had 7 rushing TDs, and Claypool caught 50 passes for 639 yards.
Washington State
QB – Gage Gubrud
RB – Max Borghi
WR – Tay Martin
The Cougars landed EWU transfer Gage Gubrud who threw for 9,984 yards and 87 touchdowns at the FCS Level. Borghi had a breakout season as a freshman in 2018 with 8 rushing TDs, and Tay Martin hauled in 8 receiving touchdowns.
Oregon
QB – Justin Herbert
RB – CJ Verdell
WR – Jaylon Redd
Herbert is a Heisman contender and potential first round pick in the 2020 NFL Draft. Last season, he threw for 3,151 yards and 29 Touchdowns. Verdell had a huge breakout season as a freshman in 2018 with 1,018, rushing yards 10 TDs, and Jaylon Redd hauled in 5 receiving touchdowns.
Appalachian State
QB – Zac Thomas
RB – Darrynton Evans
WR – Corey Sutton
One of the most underrated trios resides in Boone, NC. Thomas had 31 touchdowns last season (21 Passing, 10 Rushing). Evans was spectacular rushing the ball averaging 6.6 ypc while rushing for 1,187 yards, and Sutton used his 6'4″ frame to haul in 10 touchdown passes.
Florida
QB – Feleipe Franks
RB – Lamical Perine
WR – Van Jefferson
Franks made a big improvement in 2018 throwing for 24 Touchdowns and rushing for another 7. Perine is a dynamic rusher who had 826 rushing yards 7 touchdowns, and Jefferson had 6 receiving touchdowns.
Liberty
QB – Buckshot Calvert
RB – Frankie Hickson
WR – Antonio Gandy-Golden
This is a trio you may not know as much about. Buckshot Calvert is a gunslinger. Last season after Liberty moved up to the FBS, his numbers dropped a bit. However, he still threw for 3,068 yards 21 TDs. Hickson is a RB who is often overlooked by CFB Fans. Last season, he had 1,032 rushing yards and 11 TDs. Antonio Gandy-Golden could find himself drafted in the 1st Round of the 2020 NFL Draft with his 6'4″ 220 frame. Last season, AGG had 1,037 receiving yards and 10 Touchdowns.
Texas Tech
QB – Alan Bowman
RB – Ta'Zhawn Henry
WR – TJ Vasher
Bowman and Henry both had impressive seasons in 2018 as freshmen. Bowman threw for 2,638 yards and 17 TDs, while Henry rushed for 341 yards and 8 TDs. Vasher is a big 6'6″ receiver with incredible hops, who if healthy in 2019, could catch 15+ TDs.
Washington
QB – Jacob Eason
RB – Salvon Ahmed
WR – Aaron Fuller
The Huskies defense lost a lot of production. So the team will rely heavily on these three to carry the load. Eason is a former 5⭐ recruit and Georgia transfer who has a big arm and should light up the Pac 12 this season. Ahmed served as Myles Gaskins backup, but it's his turn to takeover. Last season, Ahmed rushed for 608 yards averaging 1 ypc more than Gaskin. Fuller is a speedster who caught 58 passes last season for 874 yards and 4 TDs.
Cincinnati
QB – Desmond Ridder
RB – Michael Warren III
WR – Rashad Medaris
Ridder really matured and developed quickly last season as a freshman. He had 2,445 passing yards, 20 TDs, and 583 rushing yards with 5 touchdowns. Warren was arguably one of the top RBs in all of college football, and he rushed for 19 touchdowns. Medaris is the leading returning receiver for the Bearcats in 2019, after hauling in 26 passes for 472 yards last season.
Missouri
QB – Kelly Bryant
RB – Larry Rountree III
WR – Johnathan Johnson
The Tigers lose Drew Lock to the NFL, but they were able to land Clemson graduate transfer Kelly Bryant. Rountree is an overlooked player in CFB, and last season he rushed for 1,216 yards and 11 TDs. Johnson is the leading returning receiver for Mizzou in 2019, after a 737 yard performance last season.
Minnesota
QB – Tanner Morgan
RB – Mohamed Ibrahim
WR – Tyler Johnson
Morgan made a name for himself last season as a freshman. He had 1,401 Passing yards and 9 TDs in limited action. Ibrahim is 1 of 3 excellent RBs for the Gophers, and Johnson had 12 receiving touchdowns in 2018.
Michigan
QB – Shea Patterson
RB – Christian Turner
WR – Donovan Peoples-Jones
Patterson had a 64.6% completion percentage last season, while throwing for 2,600 yards and 22 TDs. Turner is a player I'm expecting to have a big breakout season. DPJ really turned it on last year and had 47 receptions for 612 yards and 8 TDs.
Other Trios to Watch

D. Thompson-Robinson, J. Kelley, T. Howard – UCLA
K. Mond, J. Corbin, Q. Davis – Texas A&M
P. Ramsey, S. Scott, N. Westbrook – IU
J. Bentley, T. Feaster, B. Edwards – South Carolina
B. Barnett, J. Cronkrite, R. St-Felix – USF
J. Mcmillon, D. Bradwell, D. Mooney – Tulane